Last year Sonicbids and Bonnaroo teamed up to bring emerging music to the stages of Tennessee's biggest party, Roo! And to spice things up, we even let music lovers around the world help send two talented artists to one of most anticipated festivals of the summer. This year, we are looking for 10 more artists to join this year's lineup. To spread the word we caught up with last year's winner, Kellee Maize. Read on to hear how she landed the gig of her life.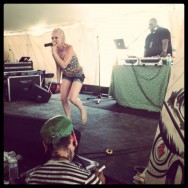 For those who may not be familiar, tell us a little bit more about your history and when you first started making music.

I have been serious about making music for the last few years and have had a passion for performing, writing and rapping since I was 9 but rarely had the confidence to share it. I started my company about 6 years ago and have made music on the side since then. Currently it is my primary focus.

Do you have any memories or standout experiences from playing Bonnaroo 2011?

I think the greatest memory is having one of my best friends, DJ Bonics make it in time to see me. He is Wiz Khalifa's DJ and I didn't think their tour bus would get there in time and about 1/3rd of the way trough my set I saw him there watching. Also, some people in the crowd who were also from Pittsburgh waving terrible towels. It is crazy to be so far away and see people you know in the crowd and didn't expect.

You were one of two Sonicbids artists selected to play Bonnaroo last year because you kicked ass at rallying fans for the Road to Roo voting competition. When you found out you won, what was the first thing you did?

I texted and called all of my friends and family who were tirelessly rallying people to vote on my behalf. I was so shocked at some of my friends. I thought I was going hard at asking for votes but my one roommate actually stayed up all night messaging each of her friends individually! And, people in my family who don't even use facebook went to great lengths to vote. And, of course I announced and thanked all the fans who did the same thing. The support was overwhelming and affirming.

What tips or advice can you offer bands who'll be entering Road to Roo this year to help them engage their fans?

I think just showing my fans that I really wanted the opportunity was the key. I haven't really asked my fans for much and I give away free music constantly so I think they felt like it was a chance to give me something. So, my biggest advice is give back! And, same goes with my friends, I always try to help when if they need it and in turn then went all out spreading the word. I got so many new fans that way too!

What's been going on with you guys these days? Any new releases, videos or tours we should be on the look out for?

Right now I am working fulltime on new music in my studio. A few other highlights:

My last album came out on 11/11/11 and is free for download at Amazon or http://kelleemaize.com - I already have over 200,000 dowloads primarily from Frostwire, my site and Jamendo.

I released several new videos since Bonnaroo which can be viewed at my youtube channel. But, here is the latest that I haven't even released on youtube yet - http://vimeo.com/38894454

If you want to hit the Road to Roo make sure you submit by March 29th.