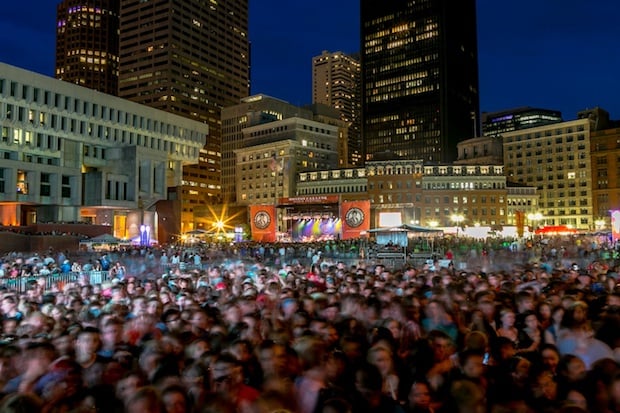 Boston's biggest music festival is back for its third installment, and we're giving your band the opportunity to perform.
Boston Calling is a three-day, two-stage festival taking place from May 23-25, 2014. With headliners including Jack Johnson, Death Cab for Cutie, Modest Mouse, Edward Sharpe and the Magnetic Zeros, and The Decemberists, City Hall Plaza will once again be packed with tens of thousands of music fans from Boston and beyond.
One performance slot on Sunday, May 25th is still open, and Boston Calling is tapping the Sonicbids community to find the perfect artist for it. Below, Boston Calling co-founder Mike Snow gives us all the details about the festival and shares what he's looking for in bands that apply. The submission deadline is fast approaching, so make sure you apply by April 29th for your shot to perform!
Why was Boston Calling created?
My partner and I had done many events on the plaza and throughout the city. After a few years running these events and attending a few festivals, we knew Boston would be the perfect home for this project. We are both musicians and see the reaction people get by seeing a band they love, and that was always a huge motivator to pull this off.
What makes Boston Calling different from other music festivals?
The backdrop of all the buildings, the accessibility from so many parts of the Northeast, getting to come and go as you please to enjoy the neighborhood during the show, and never missing a band – we have no overlapping entertainment like many other festivals do.
Will this year's fest be different from last year's in any way?
We've changed the layout a bit since the Government Center T station is now closed, but everything else will be pretty much the same. Great talent, delicious food and beverages.
What kind of people attend the festival?
All kinds! Mostly 18- to 35-year-olds, but kids under 10 are free, so we do see a lot of parents showing their kids what a concert feels like – which is just amazing, being a father myself.
What's the overall vibe of the festival?
Pretty laidback and courteous when it comes to the people. Everyone complains about people being in a rush or not that friendly [in Boston], but we have a much different feel [at Boston Calling]. Last May when the weather was terrible, people formed tight bonds against it to have a great time! People were telling stories about how it rained on their May graduation day or wedding, and they were just making the best of it. As for the bands, they shape the whole attitude of the day. If they're up there feeling the crowd and loving their set, it translates through the whole site, versus a larger festival that has multiple stages at once.
What do you look for in bands who apply to play Boston Calling?
The love of playing live. Some bands are amazing in the studio, some [are amazing] live, and some both. If artists love the music and their live show is killer, they are a perfect fit. Take Royal Teeth from last year – amazing storytellers and just crush live. No one will walk away bored from that set even if they've only heard one song before they've seen it. I know that someone will tell everyone how good that band was all day long.
Why should bands apply to play the festival?
Purely for the experience. Being on that stage, having a team of people work with you to get your show together, and then seeing how your professional career could be one day is worth it.
Describe one of your favorite moments from the festival.
My favorite moment was seeing the sunset on Sunday of the May 2013 festival after the weather cleared and people just going crazy.