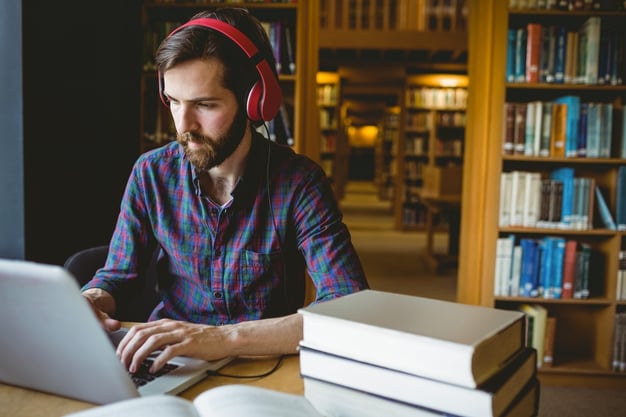 Image via Shutterstock
Most bands and artists are scattered all over the internet: music on Bandcamp, photos on Instagram, band-approved memes on Facebook, funny commentary on Twitter, show listings on Bandsintown, and so forth. Of course, that's just one example out of the endless possible combinations. It's important to maintain a presence on all of those sites – so why are websites for bands even necessary?
The fact that there's content in so many places is the very reason to offer a consolidated, simplified version of everything available. Build a website, and you'll streamline the discovery process for booking agents and press who want to see it all. Fans, both existing and new, can also appreciate that, for once, they won't be shuffling between multiple sites as they try to keep up with or learn about the music they love.
Our top three options for music websites are detailed below. We've unpacked each according to the tools they offer – integration of other sites, promotional options, and more. The winning site in the battle of Squarespace vs. Bandzoogle or Wix vs. Squarespace is up to you – your selection should be based on your needs and budget – but you can't really go wrong with any of the three.
Why we love it: Just as its name implies, this service caters specifically to music-makers. The team behind Bandzoogle is full of artists and superfans who truly understand what a musician or band needs from a website: The right tools to grow and serve your fanbase, ease of use, and stellar (and customizable) design. Plus, Bandzoogle's got experts available seven days a week if you need any help or tips in perfecting your site.
Ecommerce and budget: With the basic package, you can offer music downloads. Move up to the mid-tier standard package to sell merch (about $150 per year), or go for pro (around $200 per year) to sell tickets, incorporate download codes, offer discount codes, and track inventory. The latter is the only option that reports to Soundscan. All three levels are commission-free, so you'll get 100 percent of whatever you're selling.
Promo tools: Bandzoogle includes a mailing list option in all its packages, but the subscriber caps vary (pro offers unlimited). Calendars for shows and tours are available at all levels. Plus, the site automatically handles SEO to make sure your page is easily found (and you can customize it if you prefer).
Integration: You can add just about any of your existing sites or content: Streaming platforms like SoundCloud or Bandcamp, social icons, or feeds (Instagram, Facebook, Twitter), and more. You can even opt out of Bandzoogle's calendar option to include Bandsintown or GigSalad instead. See the full list of sites you can integrate here.
Templates: There's more than 100 mobile-ready themes to choose from. Check this page for samples.
Why we love it: Artful template designs make Squarespace especially appealing, and visuals can be boosted by features like video backgrounds, free access to high-quality fonts, and superior image quality with focal point control for thumbnails or resized images, and a responsive image loader that detects the right size for viewing on every device.
Ecommerce and budget: It's relatively simple to set up tracks or merch in an online shop under the Business plan ($216 annually or $26 per month), under which Squarespace charges three percent for every sale.
Promo tools: You can incorporate your MailChimp list. Squarespace's own email campaign feature is still invite only and not yet available to all customers. (It also looks like it'll be priced separately.)
Integration: As long as the external platform you want to include – e.g. Bandcamp – has an embed code available, you can add it to your site using the Embed Block. (Note: For videos, there's a separate Video Block.) You can also connect socials like Instagram, Facebook, or Twitter.
Templates: There are only a handful of music-specific templates offered, but they're all really beautiful, generally centering visuals, and accented by sleek scrolling effects.
Why we love it: The drag-and-drop method Wix uses for adding elements to websites makes it simple for beginners to build a website. Plus, Wix allows outside developers to offer apps in the App Market alongside Wix-made apps, so the selection there is impressive. You'll find anything else you might need there, like apps for stores, image galleries, calendars – plus plenty of extras you didn't realize you wanted, like an app for a members-only section that could be used for special fan content.
Ecommerce and budget: A commission-free shop is available through the Business and eCommerce plans, which start at $20 per month. (Be sure to choose one of these if you plan to sell music or merch; the other website packages don't include the option to accept online payments.)
Promo tools: The ShoutOut newsletter feature on Wix is free for up to three emails per month, or 5,000 total – after whichever comes first, you'll need a premium plan. (Alternatively, you can incorporate a subscription signup from MailChimp or other services.) Calendars are also available – you can use Bandsintown or a number of others, all available in the App Market.
Integration: Feeds from socials and share buttons are easy to integrate, and there's bonus options like this Live Messenger app that makes messaging directly from your website possible. For music streaming sites, the option to add SoundCloud, Spotify, and iTunes players are built in, as is the Wix Music Player feature. Other sites where you have media hosted – like Bandcamp or YouTube – have to be embedded separately using embed codes.
Templates: Wix's music-minded templates are all great-looking, and there's tons to choose from. Check them out here.
Next up: 4 More Budget-Friendly Ways to Build a Band Website if You Don't Know How to Code
Jhoni Jackson is an Atlanta-bred music journalist currently based in San Juan, Puerto Rico, where she juggles owning a venue called Club 77, freelance writing and, of course, going to the beach as often as possible.