This flyer by Puerto Rican artist Javi Matu is stellar as-is, but it's even cooler as a GIF.
While we definitely consider a great flyer a piece of art, there's a special place in eye-catching DIY marketing reserved for GIF flyers. They're just beginning to make a mark, so now's an ideal time to excite your followers by promoting an upcoming show with your own take.
That's right: you can easily create your own, even if your experience crafting the traditional kind is somewhat limited. Like with any artwork, principles like balance, harmony, and proportions totally matter. But here, the skill is in selecting what moves or changes... you know, the properties that make it a GIF.
Check out three inspiring, impactful GIF flyer examples to spark your creativity, then learn the basics of achieving a similar impact with your own.
1. Marquee-style light-up letters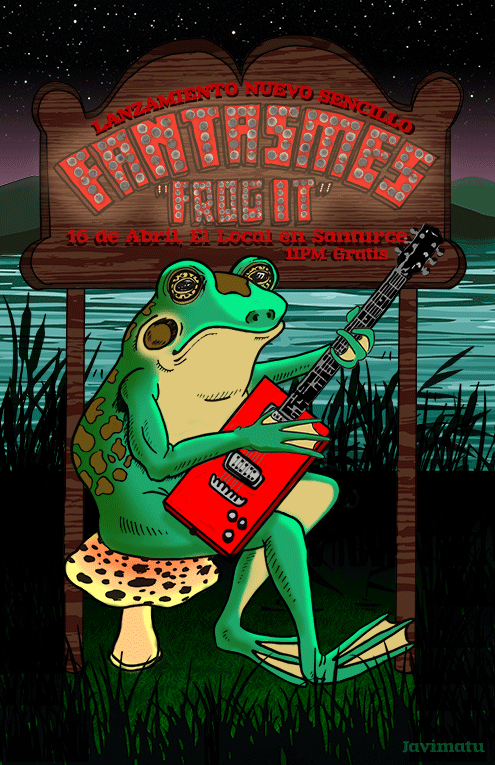 Image via giphy.com
We love the light-up lettering in this flyer for Puerto Rican psych-rock act Fantasmes. The artist, Javi Matu, definitely gets high marks for skill for the frog's seamless strumming. Generally, though, he kept the GIF aspects simple, allowing the illuminated letters to do the bulk of the attention-grabbing.
2. A mesmerizing background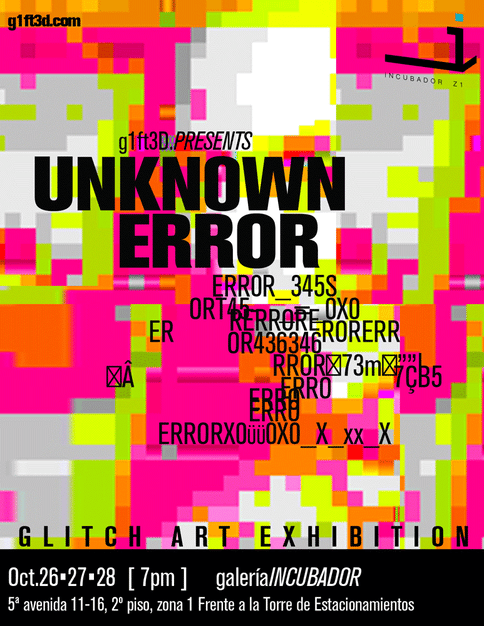 Image via giphy.com
The perpetually shifting pixels that comprise the background of this one (which is actually for an art exhibition, not a concert) make for a can't-stop-looking magnetism. It was created by a seasoned GIF and glitch artist called G1FT3D, a former #GIF tag editor for Tumblr who's based in Guatemala.
3. Shifting sizes and angles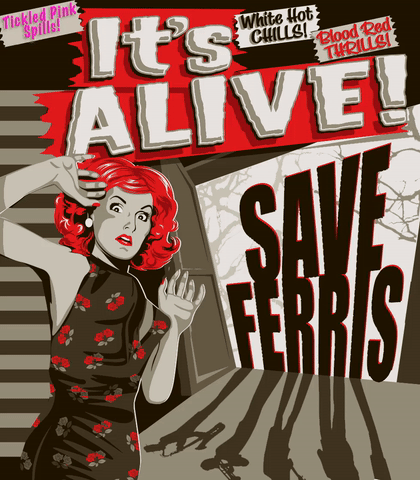 Image via giphy.com
Leroy Patterson created this one for the band Save Ferris, rather than an actual show, but its features could easily be applied to a flyer. The enlargement of the image of the woman and band name make it feel like both elements are getting closer, and the see-sawing of "It's ALIVE!" that runs in front of and behind the "Blood Red Thrills" tag above it is an inescapable lure.
How to make your own simple but effective GIF flyer
There are two ways to do it: one is to create a video that you'll later convert to GIF, and the other is to use a series of images to convey movement. For beginners, the latter is the perfect place to start.
Once you get the hang of things, you can incorporate more elements, of course. For now, though, let's stick to uncomplicated, easy means of getting the job done.
Note: The trick here is to plan for the GIF before you make your flyer.

For newbies, we recommend GIFMaker.me. This animated icon site is super simple to maneuver, and despite being a free service, it doesn't slap a watermark on your design.

Take a gander at the main page: you've got the option to upload a slew of images. On the right, under Control Panel, you can change the canvas size, which you'll likely need to do. (It's best to use large images, then scale them down. That way you avoid ending up with a blurry, pixelated GIF.) You can also change the speed of the animation. How long you want each image to show will depend on the design you've created.
You can ignore the option to add music, and it's not necessary to alter the repeat number. (It's automatically set to zero for an infinite loop.)
Now, consider your flyer. What elements can GIF-ify? It could be text, an image within the artwork or the entire background. Choose something simple for your first go 'round. You can always go back and spiff things up even further once you've got a good grasp on the process.
Think about the transitions that will make those movements possible. For example, if you want text that changes colors, save a version of your flyer with the starting text. Then change the shade, and save it again.
Change it a third, fourth or however many times you like, saving each version as its own separate file. Then head over to GifMaker.me to upload, adjust the size and fine-tune the look by slowing or speeding up the slides.
This same method, make an image, save it, then make another, then save it, and so forth, works for a whole bunch of tricks. Try text that appears letter by letter by saving an image with each letter, then combining.
Make an image move across the page by saving a file for every time you change its position; slight moves for a seamless effect, broad ones for to make it pop and jump around. Flashing lights are possible, too. Just save "off" versions and "on" versions, then mash 'em all together in one GIF.
Once you've finished your GIF, download it, then upload to GIPHY.com (or another GIF hosting website) to get the links you'll need for sharing on social media and an embed code, all of which you will be saved on your account there for future reference.
The further along you get in mastering GIF-making, the more creative your ideas will become. We can't wait to see what you come up with.
Jhoni Jackson is an Atlanta-bred music journalist currently based in San Juan, Puerto Rico, where she juggles owning a venue called Club 77, freelance writing and, of course, going to the beach as often as possible.