With the new year barreling toward us like an F5 tornado, we wanted to round up the coolest new products for musicians of 2015. From the NAMM Winter Convention, music blogs, and newsletters, we've chosen products ranging from new software instruments, effects plugins, and must-have gadgets that will enhance and possibly transform how you interact with music in the new year.
Software instruments
Miroslav Philharmonik 2 by IK Multimedia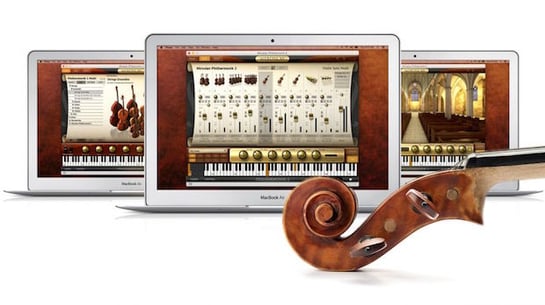 Image via musicradar.com
Made in collaboation with master musician Miroslav Vitous, EastWest brings you a stunning 55GB sound library of over 2,500 emotionally expressive instruments. Even with the illustrious Vienna Symphonic Library's holiday discounts that run through the end of the year, Miroslav's string sounds are extremely impressive.
IK Multimedia delivers high-resolution audio with multiple articulations, over 30 effects that are actually useful, three playback engines, a synthesizer section, a built-in mixer, and tons more. From flowing legatos to animated pizzicatos, from aggressive spiccatos to elegant staccatos, and from the subtlest pianissimo to the most triumphant fortissimo, Miroslav Philharmonik 2 gives you the power to effortlessly draw raw musical feeling and emotion from every note.
Price: $400 for the pre-order download. Check out the multiple pricing options from upgrading or crossgrading IK products.
Composer Cloud by EastWest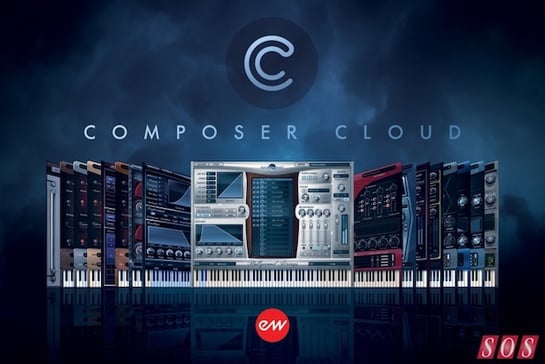 Image via soundonsound.com
Composer Cloud is an award-winning, internationally acclaimed digital instrument collection subscription service with over 9,000 of the most detailed, professional-quality virtual instruments, delivering over $12,500 of value for a monthly subscription cost of $29.99. It's super intuitive and works on an on-demand download basis that integrates seamless compatibility across most major DAWs. The sound bank you'll get is unbeatable, and if you're a composer/arranger, there's no other comparable, cost-effective alternative out there. The best part is that iLok security keys are no longer necessary with optional electronic licenses stored on your computer.
Price: $29.99 a month. EastWest gives students a discounted monthly rate of $14.99, and you'll be sure to find holiday discounts and exclusive offers on products like the highly anticipated Hollywood Solo Instruments through the end of the year.
Rapture Pro by Cakewalk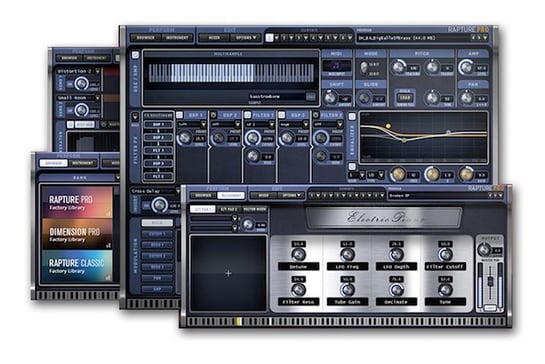 Image via sonicstate.com
Cakewalk's Rapture soft synth has been completely reworked and re-imagined with better graphics, El Capitan/Windows 10 support, remastered sound banks, a better mixer, and plenty of other improvements with Rapture Pro. The massive 4,000-sound library features three separate sound banks that will occupy around 13GB of space on your hard drive. The new sounds have been sourced from a group of professional musicians, producers, and DJs including Dom Kane, Ben Cantil, Andrew Hlynsky, and Sound On Sound contributor Craig Anderton. If you've used the Elements editor, you'll love the redesigned interface with a six-layer sample instrument or a six-oscillator synth.
Price: Try it for free, or get it new for $150.
Session Keys Electric R by e-instruments
Jazz keyboardists, get ready! This Rhodes emulator was sampled based off a specially modified Mark I Stage from 1976, and may be the best attempt at recreating the real thing to date. The Session Keys works with Kontakt and features two electric piano environments: studio and live. There are also plenty of useful features in sound design to craft the exact sounds you're looking for, including a pentamorph controller and scripting engine that enable totally unique sounds.
Price: On sale now for $59.
Hardware controllers
Ableton Live 9.5 and Push 2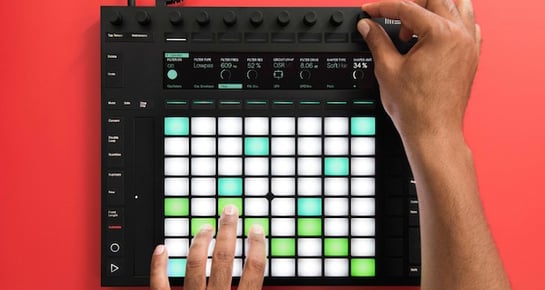 Image via digitaldjtips.com
Ableton's 9.5 update has a completely redesigned Simpler, and Live's simple sampler has been given a complete overhaul. The standout features are a new interface, warping and slicing capabilities, and new analog-modeled filters. Featuring analog-style characteristics such as self-resonance, the filters have been developed by Cytomic and will be included in Simpler, Sampler, Operator, and Auto Filter.
No longer developed in conjunction with Akai, the new hardware takes on a raft of improvements including larger, high-resolution RGB screen, larger touch strip with 31 LEDs for navigation, and more pad controls that promise to be softer, smoother, and more responsive. You can play and tweak samples, slice beats, initiate one shots, or mangle samples with warping through real-time manipulation.
Although not available just yet, Ableton promises the release of Link – a syncing technology that allows you to perform in real time with multiple instances of the collaborative network and a growing number of iOS apps (Korg's SyncKontrol and iKaossilator, iMPC Pro, Patterning, Audiobus, and much more).
Live 9.5 price: We recommend starting with the Intro package with limited sounds and effects at $99.
Push 2 price: Current Push 1 owners can get 30 percent off Push 2 through May 2016 with the company's progressive trade-in policy to give back to music education. For new users, it comes at a hefty $800 brand new.
Tom Cat by Akai Professional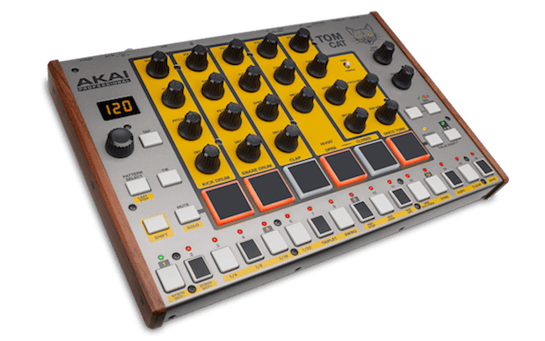 Image via synthtopia.com
Following the buzz they created with the Rhythm Wolf drum machine last year, Akai Professional unveiled the Tom Cat analog drum machine at NAMM 2015. This five-voice drum machine serves up kick, snare, and clap sounds, plus chromatically tunable toms. The parameters vary by channel, but the Tom Cat gives you the control to dial in everything from punchy house grooves to throbbing hip-hop beats and much more. Once you've got your sounds dialed in, you can trigger sounds live on the classic MPC-style pads, with the built-in 32-step sequencer, your DAW via MIDI, standard MIDI, or even with the analog gate input.
Price: $200
Headphones
Ultimate Ears Pro Remastered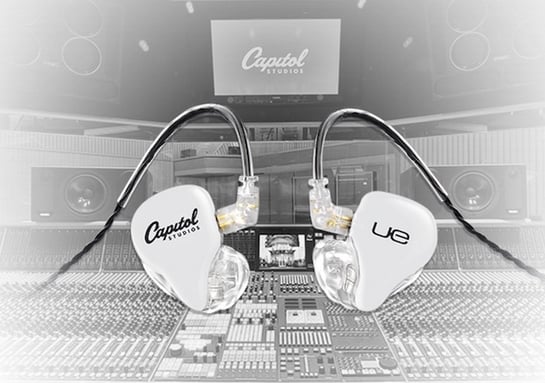 Image via hifiinsider.com
For serious DJs and studio engineers/mixers, these in-ear monitors are certainly something to add to your wish list. The high-resolution studio reference monitors were developed in collaboration with Capitol Studios and boasts a flat response up to 18 kHz. They attempt to mirror Capital Studio's Studio B control room, emulating the sound output of a Neve 8068 console from PMC QB1-A monitors. The UE monitors offer pristine imaging, maintaining high fidelity with harmonics and overtones most professional headphones lack. The frequency response from 5 Hz-25 kHz extends to ranges outside most adult's perceivable hearing.
Price: $999
Special Edition ATH-M50XDG by Audio Technica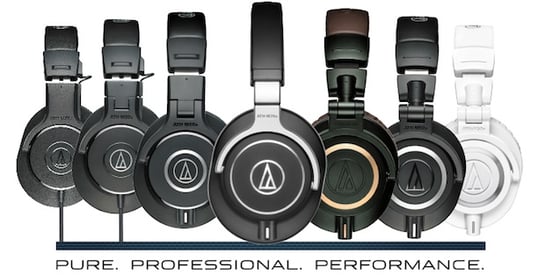 Image via audio-technica.com
These special edition studio monitors are a great holiday gift, coming in white, dark green and gold, and classic black. These flagship headphones are industry standards, featuring 45mm drivers with rare earth neodymium magnets and copper-clad aluminum wire voice coils that offer a flat response from 15 Hz to 28 kHz. Simply put, these over-ear monitors sound fantastic, and you can trust your mix confidence while using them at home, in the studio, or on the go with their space-saving collapsible design, swivel earcups, and detachable cable.
Price: $169
Best new amp
Blackstar ID:Core BEAM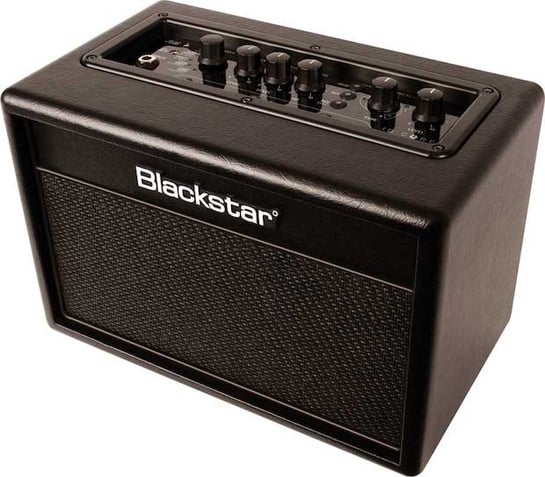 Image via davidsguitar.com
This Bluetooth amp lets you stream gorgeous tones wirelessly and becomes the central hub for instruments and stunning music playback in your home or studio. BEAM stands for Bass, Electric, Acoustic Music, with the ID:Core BEAM featuring six electric guitar voices and well as two bass, two acoustic, and two acoustic simulator voices, with built-in vintage-style effects for each.
Price: $299
Most innovative app
StaffPad by Sibelius
StaffPad is a fully functional music notation app that can handle entire orchestral scores. The app will transform your handwritten notation into a beautifully typeset score, which you can then edit, play back, print, and share. For composers and musicians, StaffPad revolutionizes the art of writing music. For an in-depth analysis of all the app's functionality, check out the write-up on Sibelius' blog.
Sadly, the app is not available for iOS devices, but we're hoping with the release of the iPad Pro and Apple Pencil, an update will be occurring in 2016. NotateMe ($40) is an Apple-friendly music notation app, but it falls seriously short of StaffPad's capabilities.
Price: $70 for Microsoft Surface
Have any cool products to add to this list? Let us know in the comments!
Caleb Hsu is an independent vocal producer and freelance recording engineer based in Los Angeles. As a classically trained pianist and composer, he enjoys writing music technology features that combine his psychology background with current industry trends.