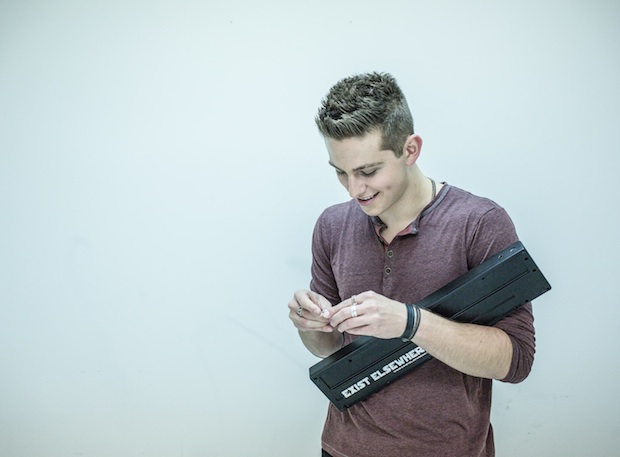 Exist Elsewhere has partnered with NVEEE for their REACH 2014 anti-bullying tour.
70 percent of young people in the U.S. say they have seen bullying in their schools.
Noah Benardout, frontman of Exist Elsewhere, knows what it's like to be bullied – and he's using music to do something about it. The L.A.-based band (which includes Benardout, drummer Elijah Wood, guitarist Josh Jaramillo, and bassist Mark Pacificar) has partnered with anti-bullying organization NVEEE for their REACH 2014 U.S. high school tour in hopes of directly reaching and connecting with teenagers about the widespread issue.
"I was bullied in middle school and high school," Benardout says. "Being excluded was a big thing that I felt affected me early on… but I learned to channel out the negative energy and use my music as an escape where I could be whoever I wanted to be without judgment."
The tour kicked off on March 7th in Riverside, CA, and the band will hit 14 cities in six different states throughout the month. Each performance includes an accompanying lecture about how to beat bullying through music and a Q&A with the students.
"Music… provides anyone being bullied [with] an escape. [It's] something they can listen to, relate to, and even create," says Benardout. "It takes the focus off of the negative things… and instead gives the victim a positive outlet where they can connect with music…. It gives them the strength and support needed to overcome situations they may be going through."
Through strong determination and a little help from Sonicbids, Exist Elsewhere has built up enough of a reputation and fanbase to provide them with the platform they need to create positive social change. In 2013 alone, the independent band raised over $20,000 through their IndieGogo campaign to complete their EP, was selected for a Sonicbids Office Gig, was the first place winner of iNDIE iNNOVATION, and released their EP, 413.
"I think artists have a responsibility to spread a positive influence and support things they strongly believe in," Benardout says. "Being an artist can put you in a very powerful position. You're able to get in front of a lot of people and have a huge impact on the way your fans think, and the way they interact with the world. If you have that chance to shine a light upon a serious issue, help make it better, and cause a change in the world, then you should do so."
Exist Elsewhere will be performing at SXSW on March 14th and 15th. Visit www.existelsewhere.com/reach for full tour dates and more information.