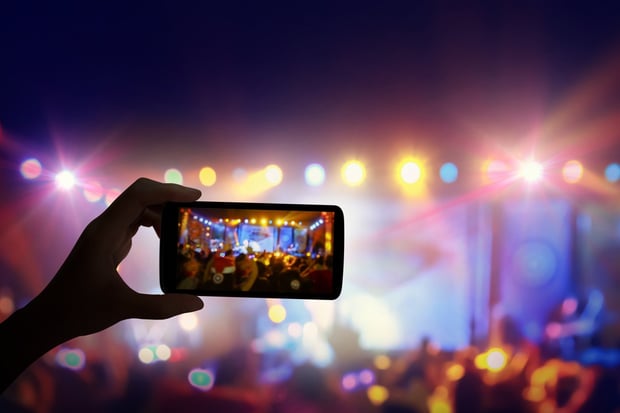 Image via Shutterstock
As someone who has always been a little camera shy, I completely understand the resistance to embracing all that Facebook Live has to offer. I mean, for one thing, it's live, so you can't edit it to perfection. (Did I mention this is also a major plus?)
Second, you can feel a little silly talking to an audience you can't see and hoping (trusting) they'll interact with you either as the broadcast goes out live or when they watch the replay. Tip: Many people tend to watch and comment on replays, so don't be discouraged if you don't get a huge turnout straight away.
But the fact remains that as Facebook continues to push Live to its users, the potential for growing your audience and engaging fans becomes all the more important. Because we know it can be a little nerve-wracking, here are a five ways to get started.
1. Host weekly live concerts
This is the simplest way to get started with Live, and it involves doing something you're already comfortable with — performing. Once a week, get the band together or do your own acoustic set of a select three-to-five songs, preferably audience favorites and maybe even featuring a cover song the audience chooses prior to your live stream. You can play a few songs, give a little insight into one or two of your standout tracks, and give fans insight into what goes into your process. It's an intimate experience they won't soon forget.
[Everything Artists Need to Know About Live Streaming]
2. Create a tutorial
This could be as basic as a tutorial on how to play one of your songs or a cover song of one of your favorite artists. It could also be something less music specific and more brand aligned. For instance, if you're a band that's deeply into environmental protection and have a strong brand identity around saving the environment, maybe stream for 10-15 minutes on how fans can get involved in their community, including links and actionable steps.
3. Go behind the scenes
Take fans behind the scenes of your next show, tour, or simply a "day in the life" to give fans a taste of what it's like to be in your shoes. It may feel self-indulgent at first, but the truth is, fans will love seeing what you're up to and connecting to your day to day.
For tour days, start with a Facebook Live stream and early and give them a taste of some of your pre-show rituals, where you like to grab dinner, how you pick out what clothes to wear, a few other bands on the bill, and even a few minutes of your set. You can make a whole evening of it!
4. Make announcements
Another fun way to use Facebook Live is to make special announcements, such as new shows, or to preview or tease new merch that you're working on. You can take audience questions and give viewers a taste of the new music or merch by playing or showing short clips. It'll take your engagement to another level when they see the excitement in your eyes and hear it in your voice — making you all the more accessible and engaging.
5. Throw a virtual launch party
When you're ready to release a new song or play an exciting new show, using Facebook Live to kick things off with a pre- or post-show/event party can be a really fun way to make your audience feel like they're right there with you.
If you're having a physical kick off, live stream parts of the event so fans can really feel like they're there and get a taste of the action. If you're not, no worries! You can still make things special by performing rarities like unreleased songs, covers you don't normally play, or by taking audience requests, as well as sharing personal stories about your songs and music career.
Next up: 5 Tips for Making the Most of Facebook Live as a Musician
Angela Mastrogiacomo is the founder and CEO of Muddy Paw PR, where her artists have seen placement on Alternative Press, Noisey, Substream, and more. She's also the owner of music blog Infectious Magazine.. She loves baked goods, a good book, and hanging with her dog Sawyer.