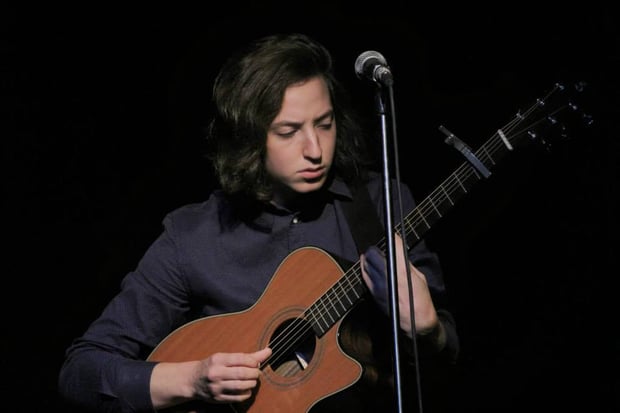 Photo courtesy of Danny Olliver
You may have never been to Regina, the capital city of the Canadian province of Saskatchewan, but may have heard of the Regina Folk Festival. Contrary to its name, it's not just for folk artists – it draws an eclectic mix of talented acts in nearly every genre from all over. And while Regina may not be a major music city like Austin or New York, it has some remarkable local talent.
One such artist is Danny Olliver, an up-and-coming singer-songwriter who has been touring internationally with his soulful, folk-driven sound. But still, one of his fondest accomplishments thus far was performing at the Regina Folk Festival in his very own city. First of all, who doesn't dream of playing a major festival that's just a short bus ride from your house? Second of all, as you're about to see, the performance really catapulted Olliver's music career to the next level.
Through Sonicbids, you were selected to play at the Regina Folk Festival — congratulations! Were you already a big name in the Regina music scene? What do you think made your application stand out?
I wouldn't exactly say "big name," but I think I definitely have some great fans in Regina. I don't play here as much as I would like to. For the last two years, I've been pretty focused on touring the rest of Canada.
As far as applications go, I think it's always very important to keep your profile updated. I look at applications for gigs the same way I would for any other job. If you meet the hiring criteria for any particular gig, your application should reflect that. Always add your most recent shows, singles, press, etc.
Had you performed on a stage that big before? What did you do to prepare for the festival?
I have performed on quite a few stages over the years: theaters, festival stages, bars, pubs, small venues, churches, etc. It wasn't necessarily the size of the RFF stage that was daunting, but the crowd at the festival. I mean "daunting" in the most flattering way possible. It seemed to me that people attending this particular festival were truly there to enjoy new music. There was such an overwhelming support at the festival for local artists.
To prepare, I made sure that I had my set tight. I wanted people to see me for the first time and tell their friends, "Hey! That guy is from here!"
What do you think separates this festival from all the other music festivals out there? Did your experience performing there shed new light on it?
I believe that, for me, the main thing that set this festival apart from others I have played is its locale. I am a local Regina guy, and playing a festival in my hometown is something completely new to me. I loved being able to play for the entire day, take in all the other great artists, show my support, and then return to my own bed in the evening. It sounds silly, but for playing a festival in your hometown, that has to be the biggest perk.
Did your performance there have any effect on the international tour you're preparing for now?
Playing a festival or a show can never hurt your résumé, especially a festival like RFF, which garners a lot of attention both locally and provincially. This festival was a precursor to a short two-week tour I did in Europe at the start of September. It really helped set the mood for the festival atmosphere, and helped me prepare for Reeperbahn in Germany.
You live in a small city, but it's obvious that your music is making a global impact. Where are you touring this year, and how did you book those shows? Are you working mostly on your own or with a team?
So far, I have remained a largely independent artist. I am making my music work for me with the help of friends and close contacts I've made over the years. In May of 2016, I will be touring in the U.K., Germany, Austria, Switzerland, and Poland. This is something I would not be able to do without the support of SaskMusic and Creative Saskatchewan.
As far as booking goes, I'm getting some help from a German label called DevilDuck Records, as well as a British agency called Sound Diplomacy. I have been lucky enough as an artist to be surrounded by people who really believe in my music.
The Regina Folk Festival is seeking up to five Sonicbids artists to perform in 2016! Click here to apply.