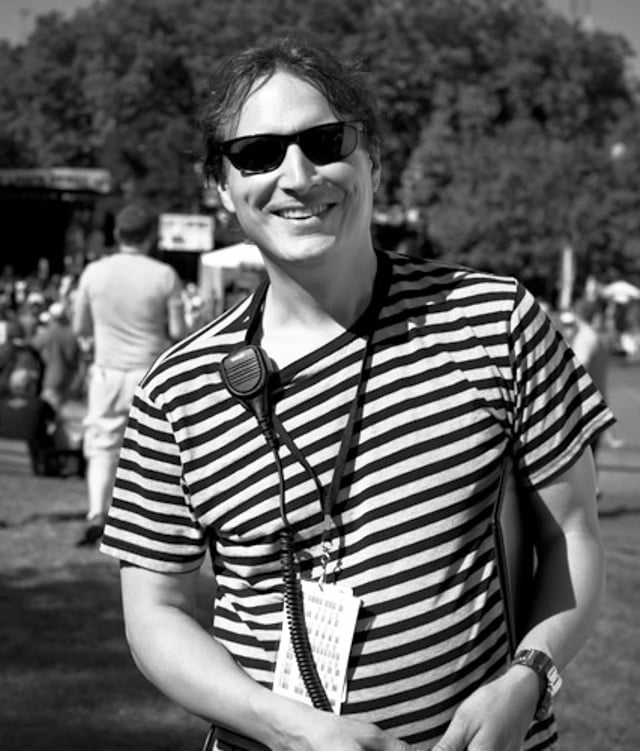 Anyone who's been to Seattle's Bumbershoot festival in the past 17 years has enjoyed the work of Chris Porter, whether they know it or not. As Head of Music Programming for the festival, Porter oversees every aspect of the booking process. Ten months out of the year, Porter puts together what he refers to as the "jigsaw puzzle" on a large whiteboard in his small office. Before moving to Seattle, Porter worked as a booker at such beloved Boston area venues as Bunratty's and The Middle East, and as a band manager and musician.

We recently caught up with the man himself to talk about his humble beginnings, Boston vs. Seattle and what advice he has for those coming up in the business.
Sonicbids: Can you tell me about the history of your involvement with the festival?
CP: One Reel is the production company. We work on other events as well, but Bumbershoot takes 80% of our work time. I've been at the company for 17 years. Prior to that, I booked nightclubs in Boston and Cambridge for most of the '90s. I'm programming director, so I oversee all programming aspects of events we're doing. That's it in a nutshell.
The festival was started by the city of Seattle in the early '70s. One Reel became producers of it starting in the early '80s. And that evolved to One Reel totally taking it over and being the main promoter of it.
SB: What do you think is the biggest difference between booking clubs in Boston and doing programming for Bumbershoot?
CP: Obviously, the scope is much larger. I was booking everywhere from 200 to 800 cap rooms on Boston, and then I'm doing a festival that would have 30,000-50,000 people attending it in one day. There can be some creativity in booking a venue or a nightclub…you're largely just filling up a calendar. But here, I'm able to be much more creative putting a festival together. Especially in a festival like Bumbershoot, because we do delve into so many genres and arts disciplines. We really are a multi arts festival…music takes up the bulk of the programming but we also have comedy, theater, spoken word performance, visual arts, I could go on. While we lean towards rock and hip hop and indie rock and some electronic music, we certainly have other genres like jazz, blues, folk, Americana, world music…it really opens up my world as a programmer. While I had some expertise in many genres, I was able to work and learn about all kind of different music and arts. Bumbershoot is a multifaceted event that caters to all different ages and backgrounds.

Everything I would book in a 2-3 month span at a club venue, I'm booking in a three-day period at Bumbershoot…it's a lot of what I would have done back in the day, but it's condensed into one weekend.
SB: Moving from Boston to Seattle is a big move. What was it that drew you to working in Seattle?

CP: It's all about timing…I was getting a little weary of what I was doing, I had been booking clubs for a little over seven years. I was starting to be unhappy with my situation at the last venue. I felt like I needed a change, but I wasn't sure what. I managed bands, was in a band, booked bands…I found being a talent buyer and promoter was really the niche I had found and did well, but I kind of hit a ceiling in Boston. Then, in late '96, I had a call out of the blue from one of the heads at One Reel. This is a networking business, and I'd happened to meet this person earlier that year at a business conference in LA. And then, out of the blue, she asked me if I'd like to come out to Seattle to work on a festival. I'd never really thought about working on a festival, the dynamic is different, you're building something up for this one weekend, and I was used to having things happen all the time, every week, every night. That was getting a little draining for me and I was interested in some kind of change. And it was a great offer, I'd traveled to every city except Seattle. I'd lived in Massachusetts all my life prior to that, but it was a good opportunity…I felt like I was getting finished in Boston anyway, so it would be worth trying. If it sucks, the plane goes both ways, I can come back. 17 years later, I guess I liked it. I was middle management for 12 years and then was promoted to directorship.


Seattle struck me when I first got there…it's sort of like a huge version of Cambridge. Both are neighborhood centric and have a distinctive feel to them. While Boston's much older, they both are medium sized cities and I found the transition pretty easy. I fell in love with Seatlle right away and I was very welcomed here. I'm able to be creative, I look at putting a festival together as an art. It's rare that I get up in the morning and I don't want to go to work. I love what I do.
SB: What advice do you have for those looking to break into the music industry in terms of becoming a booking agent or something along the booking/organizing side?
CP: Have as many experiences as you can within the business. Do internships in some different realms if you can. With a managing company, nightclub, publisher, promoter…whatever you can. Somebody once said 80% of success is just showing up, and I underline those words all the time. Who are the go getters? I have so many former interns who've turned into staples in our music community in Seattle. It's really getting out there and learning as much as you can. No job is too small or too big. Go to conferences, meet up with people. Go to shows, get to know the musicians and people in the community. If there are any local organizations, like the local Recording Academy office, or any sort of local music promoter entity, try to join every group you can. Get out there and have fun looking.
There are music business courses at some universities and that's good, but most people in the industry didn't go that route. I went the DIY route…I was turned down for some internships and I had to learn this stuff on my own. A lot of it is common sense and hard work, and a passion for what you do. So if you have all those things, and you get out there to meet people and work hard at it, that'll go a long way. I just happened to be at the right place at the right time when a woman came up to me who'd been booking a few nights a week at Bunratty's. She was about to drop out and asked, "is this something you'd like to do?" Opportunity knocked! Be tenacious without being annoying.


Want to be a part of it all? You're in luck!
The Bumbershoot Application Deadline has been extended to April 4th! Apply today: