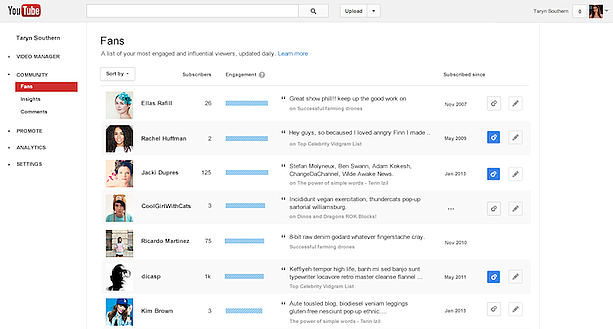 Guest post by Mike Baldo, Senior Account Manager of Video Services at The Orchard. This article originally appeared on The Daily Rind.
You know how many views your YouTube channel is getting and generally where they are coming from. But is each fan created equal? Sure, you love all of them, but wouldn't you like to know which ones are having the most influence on your content? Now, there's a way to see which fans are interacting with your content the most and sharing it with others.
YouTube's recent addition to Channel Insights and Analytics is the Fans page. This gem allows you to creep on your viewers just enough for you to make some actionable production decisions. If your channel has at least 1,000 subscribers, this page will populate with your channel's most "influential" viewers. Influence is based on a combination of the number of subscribers that viewer has on his own channel and his level of engagement on yours. Engaging actions from fans can be anything from likes, comments and shares to playlisting your videos.
The best part about this new functionality is its counterpart, titled simply, "Insights." Not to be confused with your channel's YouTube Analytics and Demographics section, Insights is much more powerful and linked directly to your Fans list. If you already have access to the Fans page (i.e. you have 1,000 subscribers or more), you can enable Insights by linking your channel to Google+ and creating a new circle. If you've been putting off using Google+, this new feature alone is reason enough for you to finally jump in.
When you visit the Insights page for the first time, you'll be prompted to create a new circle. For those of you who don't know, a circle is simply a grouping of fans/followers. YouTube will auto-populate this circle with the profiles from your Fans section, but you'll be able to edit this however you'd like. Once this is saved, your new Insights page will fill in key information about this specific group of fans.
This is where your decision making and promotional plans come into play. For each fan in your Insights section, you'll see his or her recent activity with your channel (likes, comments, shares), other channels and videos they've viewed, and a demographics overview. By reviewing this information, you can carefully assess how fans are reacting to your channel, as well as other channels they may like. Don't be afraid to pivot slightly to cater to what these fans seem to like most about you (or others).
Once you've gotten to know your fans, you'll probably want to reach out to them and reward them for being so great. The most powerful tool in Insights is the ability to send updates and videos exclusively to this group. You can share private and unlisted videos with only your Fans Circle to give them special messages and premium content. This behavior encourages others to follow your channel more closely and subscribe to gain access to this elite group. Drive fan loyalty and reward your top fans!
After you've gotten used to the Fans and Insights pages, be sure to update your circle regularly. Watch for new top fans and add them to the circle once you feel they're similar to others in that group. It's also important to note that these new features work best if your fans are also following your page on Google+. YouTube is making an effort to encourage fans to follow you, but you should be sure to do the same.
Though these new features could border on the stalker side of social media engagement, the real value is in being able to gain insight on your fanbase. Before now, fans were just numbers and statistics. Being able to interact more directly and focus on core groups of fans separately could mean a big boost to your brand's following. Use responsibly!