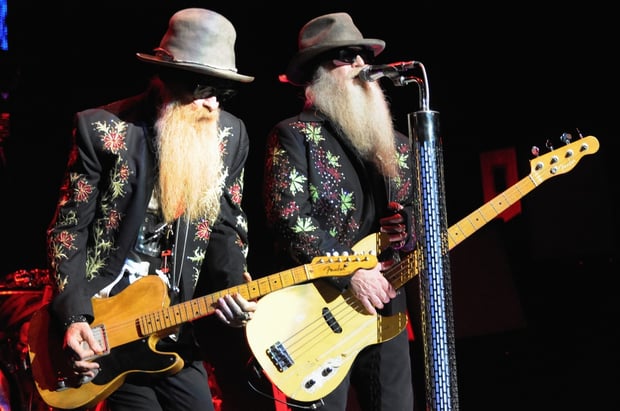 Image via Shutterstock
If your dad (or partner, brother, or uncle) is a picker, strummer, or shredder, you're in luck. Gift options for guitarists are nearly limitless and span all price ranges. We've taken the trouble to compile a few of them with a slight bias toward the cheap and a flair for the idiosyncratic and rare.
Father's Day is Sunday, June 19. Now you know it. No more excuses – time to blow that guitar player's mind. (And if you find something you just have to have in the process, nobody needs to know.)
1. Dan Erlewine's How to Make Your Electric Guitar Play Great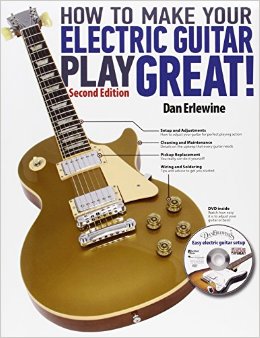 Image via amazon.com
This common-sense title lives up to its name in every respect, sharing hundreds of tips from intonation and tuning to truss rod adjustments and making your own nut from a plastic blank. Illustrations and idiot-proof plain language instructions are provided for every operation, and it's hard to fathom any scenario Erlewine doesn't cover in this comprehensive guide.
Cost: Starting at $12 for a used copy with guitar-polish stains on it.
Where to get it: Amazon or other online booksellers. Your local music shop might have copies as well.
2. The Kyser capo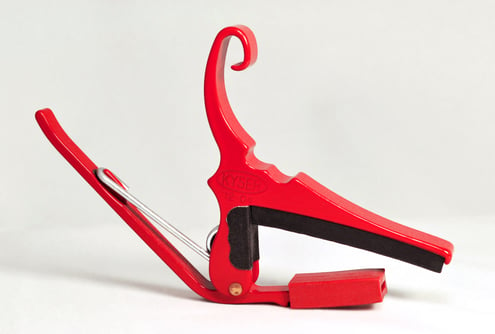 Image via Wikimedia Commons / CC BY 3.0
Many people get a bad first impression of capos when they use those sketchy hook-and-rod hippie capos, always too tight or too loose, that cause endless string buzz and embarrassingly bad tone. Say goodbye to all those issues with the simple, elegant Kyser capo.
I always keep at least two of these gadgets around the studio, and I'm guessing some of mine are at least 15 years old. They work perfectly every time, adjust in three seconds, and clip to your headstock (without stripping any finish) when you're not using them. In a pinch, they can also clamp lyrics, setlists, and sheet music to a music stand... or seal a bag of chips.
Cost: $17.99
Where to get it: Any online or local music store; it's a staple.
3. The rare and ultra-useful Guitool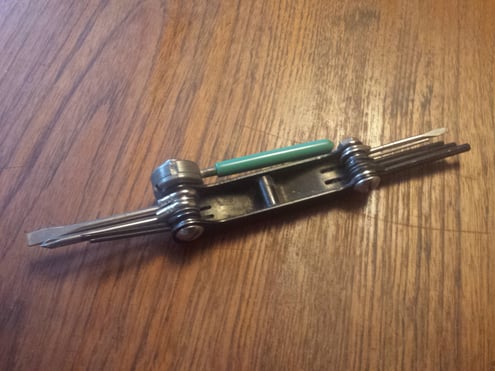 Photo by Jesse Sterling Harrison (used with permission)
Many guitarists keep a toolbox or tackle box of hex wrenches, screwdrivers, and wire cutters around so that they can deal with setup and adjustment issues on the fly. The famous Guitool is all of those things. Featuring small and large drivers, a full suite of hex keys and an onboard string-cutting tool (that actually worked perfectly), the Guitool folds up all its pieces inside a heavy-duty black steel housing.
Sadly, these things went out of production years ago, and most pros have long since lost theirs at a gig or had a bandmate steal them away. If you can find one via an online auction, tag sale, or vintage gear store, snap it up. They're not easy to find and no other multi-tool quite measures up.
Cost: Unknown, but most likely reasonable.
Where to get it: Online auction sites are your best bet. This is a rare bird these days.
4. Build-your-own Les Paul kit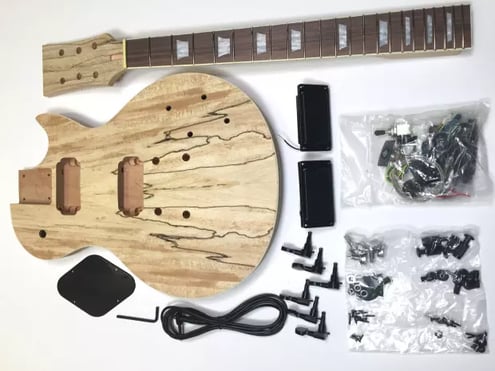 Image via reverb.com
Guitar players tend to be DIY handypeople and restless tinkerers, always moving on to a new project. If your guitarist really mastered those one-handed arpeggios this year, why not treat him to a do-it-yourself guitar kit? Some of these kits allow you to build top-notch instruments that sound as good as the real deal (in this case, a Gibson Les Paul replica), especially if you set them up with the Erlewine book and the Guitool.
The builders have done the hard stuff: testing the design, building the neck, and assembling the parts. Your guitar-playing dad gets to do the fun part: the assembly, painting, setup, and whatever customization he'd like. When he's done, he'll have an excellent instrument for comparatively little money, set up just the way he likes it.
Cost: $165
Where to get it: Reverb.com for this one. Other models can be found with a quick web search.
5. Mastering software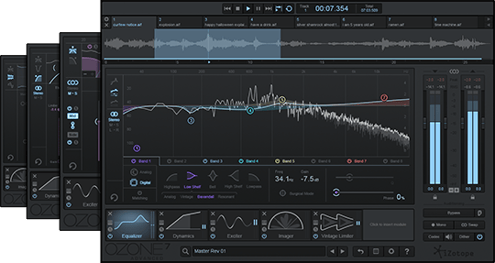 Image via izotope.com; used for promotional purposes
Did that mastering suite that Dad downloaded as a trial version for his last CD expire already? That's okay – it only had half its functions enabled anyway. When he records his new 12-minute Jimmy Page-inspired opus this summer, help him achieve the pro sound of his dreams in that final mix.
There are tons of great options out there. Read the comments, see the specs, and listen to tracks. Then pick one up for Dad. They're all a lot better than the dead version taking up space on his laptop hard drive.
Cost: $200 to $500, with great variation.
Where to get it: Many software purveyors. iZotope makes this product a specialty.
6. A copy of the debut album by Masters of Reality
You might have to dig a little for this one, too. Maybe you haven't even heard this record, but if you have any interest in blues, garage rock, ZZ Top-style funk, or psychedelia, this album is an absolute clinic. Produced by Rick Rubin, this eponymous debut is a smorgasbord of superb tones, blazing lead work, creative songwriting, and textures from outer space. A must-listen for any musician dad.
Cost: $25
Where to get it: Used CD or vinyl vendors, locally or selling through Amazon.
7. A good ol' A 440 tuning fork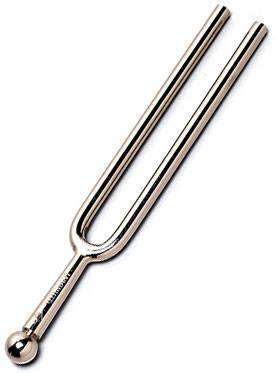 Image via long-mcquade.com; used for promotional purposes
More accurate than plucked harmonics. Never runs out of batteries. Works in humid or dry conditions. More or less indestructible! It's the A 440 tuning fork. Best of all, it's tuned to your second-lowest string, the one that's the easiest to tune the other strings to. Get one with a round ball at the end, so it won't scratch the finish. Tap it on something, hold it against the top of your guitar, and that perfectly tuned A will sing out. A cheap, space-saving gift that always works.
Cost: $8 to $10
Where to get it: Your local music shop, especially if it caters to school bands.
Jesse Sterling Harrison is an author, recording artist, and part-time farmer. He lives in Massachusetts with his wife, three daughters, and a herd of ducks.