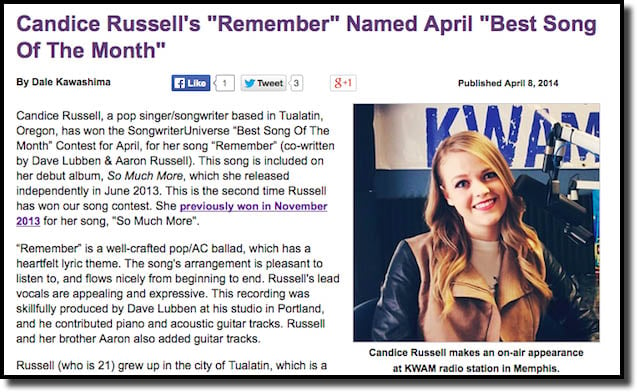 Candace Russell won SongwriterUniverse's "Best Song of the Month" contest in April 2014.
Songwriting is a tough business, and many elements go into a successful tune. SongwriterUniverse aims to bring attention to those excelling at the undertaking – it's both an art and a craft. Its regular "Best Song of the Month" contest is accepting applications now through the end of the month, in which the winning songwriter gets a featured article in SongwriterUniverse and much more. Don't think this is just a winner-takes-all kinda thing, either. SongwriterUniverse spotlights the top five songs it receives every month. We chatted with SongwriterUniverse head honcho Dale Kawashima about the opportunity.
Tell us how the contest got started. What was the inspiration?
The SongwriterUniverse "Best Song Of The Month" Contest started 11 years ago, in 2003. The goal is to spotlight a talented singer/songwriter, writer/producer or pure songwriter each month. We write a very positive lead article on the winner each month, and the four other finalists are also featured. You can also listen to the top five songs submitted for our contest each month.
The inspiration for this endeavor came from my belief that talented songwriters deserve to be publicized on the site. I know that many music industry pros read about the winner and listen to the top five songs each month. I personally interview the winner each month and write their article.
What do you consider to be the most important factors when assessing a song's writing and composition?
An outstanding song usually has a strong melody, good structure, a memorable title and/or hook in the chorus, plus unique and insightful lyrics. It helps if the demo is well produced, because that's what industry pros are looking for, but a good song can be presented with more basic instrumentation.
What makes a song stand out to you?
A song which has a unique lyric concept and title, plus a strong, memorable chorus will stand out. It also helps if the song is marketable and sounds professional, because music pros will want to market the songs. This means the song and demo can be placed with major label artists, or showcase a talented new singer/songwriter, or be placed for film, TV, commercials and video games.
How do artists benefit by being selected for the "Best Song of the Month"?
The top five songs can be heard by music pros and songwriters worldwide, so there's excellent exposure and terrific networking opportunities. The feature articles on the winners remain online indefinitely in our archives.
Who's the audience for SongwriterUniverse? Who can artists expect will check out their song thanks to this honor?
Many music publishers, A&R execs, songwriters, artists, record producers, managers and agents read SongwriterUniverse. Many winners have been contacted by music pros as a result of receiving exposure in SongwriterUniverse. Plus, many winners and finalists have received excellent co-writing opportunities by being featured on our site.
Have any past winners gone on to acclaim and success?
Two contest winners were signed to staff writer publishing deals at HoriPro Entertainment Group, a large Japanese company which publishes the catalogs of KISS and REO Speedwagon. One writer/artist, Matt Palmer, was signed to HoriPro for three years, released two albums in Japan and had a cut on one of Big Time Rush's albums.
Several other writers signed music publishing deals and label deals, although not as a direct result of winning our contest. In January 2006, Levi Kreis won our song contest; several years later he won a Tony Award for playing the role of Jerry Lee Lewis in the Broadway musical Million Dollar Quartet.
Submit your song by May 31, 2014 for your chance to be SongwriterUniverse's next "Song of the Month" winner!