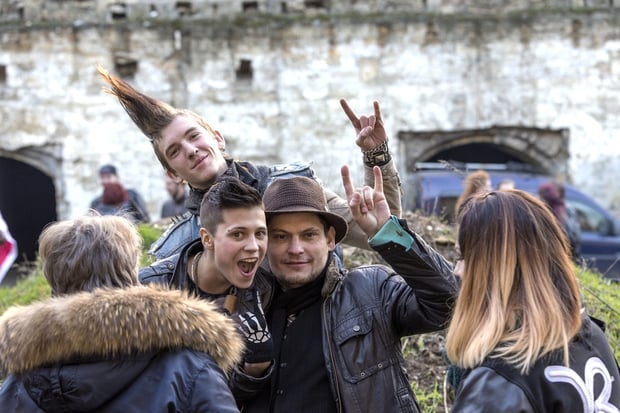 Photo by A_Lesik via Shutterstock
Branding is a way to directly connect you with fans in lucrative and incredibly personal ways. Really! It's actually a method with which you can find your best, most passionate, and most ardent supporters.
There are three rather massive ways that branding can create the best fans, and it goes beyond just listening to and loving your music. Take these pointers to heart.
1. They become walking advertisements for your band when they wear your merch
Your brand and imaging is most visible in your merch – your tees, your hoodies, your boy shorts, your totes. Fans love to sport the graphics, whether it's the logo, the album cover, or a lyrical phrase. It's like a way for them to announce their proud membership in an exclusive club. If you have super cool merch with awesome designs and a rad logo, fans will want to wear multiple pieces.
Thirty Seconds to Mars always have memorable symbols in their merch and materials. Fans absolutely eat that stuff up, and it creates a sense of community.
Fans wearing multiple pieces of merch is how they go a step beyond merely enjoying and supporting your music. This is the fan making that extra effort to let the entire world know they're your fan.
It's also a form of free advertising. Actually, it's profitable advertising, since the fan paid money to purchase your merch. This is how branding separates the men from the boys, so to speak. So make sure your branding, from your artwork to your logo, is cohesive and unforgettable. It's critical that you put time and thought into these things.
[5 Out-of-the-Box Band Merch Ideas Your Fans Will Love]
2. They're willing to be ambassadors for you (which means powerful word-of-mouth marketing)
True fans will take it to the streets. They're willing to be ambassadors and work on your behalf for free as members of a street team, whether physical, digital, or both. This can be officially sanctioned by a label or management, or it can be totally on their own. But the fact that someone is willing to invest his or her free time to help spread the word about your band really says something. These people have to be "all in" and believe on every level that you are worth the investment of time to try and help foster the community and educate others about your band, pulling them into the fanbase.
It's your branding – your image, your look, and your aesthetic – that helps the fan, who doesn't know you intimately, invest in your music on this kind of next level besides loving, sharing, and purchasing your music.
3. True diehards might even make your band's brand a permanent part of them
So many fans these days will go as far as to get a tattoo related to their favorite band. It can be lyrics. It can be the band name. It can be the band logo or symbol. From the iconic Rolling Stones lips and tongue to the Avenged Sevenfold death bat to the HIM heartagram (which mashes up a pentagram and a heart), these symbols travel well and translate wonderfully in the body art format. Fans will get these symbols or imaging tattooed on their bodies permanently, simply because they mean so much to them on a personal level.
Make no mistake – having a super unique signature, such as an one of the aforementioned images, will connect you with your fans for life. Plus, it's an emblem that anyone and everyone who is a true fan will recognize upon sight alone. That's impactful and powerful.
Amy Sciarretto has 20 years of print and online bylines, from Kerrang to Spin.com to Revolver to Bustle, covering music, beauty, and fashion. After 12 years doing radio and publicity at Roadrunner Records, she now fronts Atom Splitter PR, her own boutique PR firm, which has over 30 clients. She also is active in animal charity and rescue.