As Digital Immigrants – those of us who have experienced an analog world, and are constantly adjusting to new technologies as they pop up – the biggest source of our confusion and frustration about the way music is consumed today is likely due to the fact that we don't understand the mindset of Digital Natives – people who have only ever known ubiquitous connectivity and content.
Hypebot recently shared a new report published by analyst Mark Mulligan of MIDiA Research that sheds some light on the behaviors and attitudes of Digital Natives. "While the slow down in digital revenue growth revolves around spending transition of high spending Digital Immigrants," says Mulligan, "it is the attitudes and behavior of the Natives that give us the best indication of how the digital music market will evolve."
Here is what the average Digital Native looks like: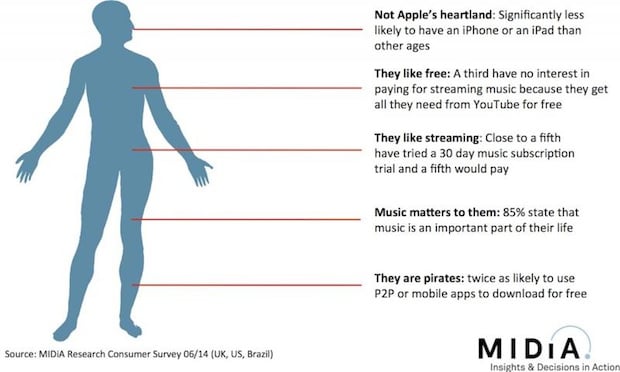 Hypebot elaborates on some of the key behaviors that were detailed in the report:
Online music video and radio are the two most widespread music activities for Digital Natives, both with 69% penetration.
With 52% penetration, streaming is the digital music zeitgeist for Digital Natives.
Digital Natives differ from other consumers most in free music activity.
P2P adoption is widespread but it is a new wave of piracy technologies, such as free music downloader apps and YouTube rippers that appeal most to Digital Natives.
Free music downloader apps are most widely adopted by Brazilian Digital Natives – with 48% penetration – whereas YouTube is popular across all markets.
Music matters to Digital Natives, with 85% stating music is an important part of their life.
A third of Digital Natives say they do not need to pay for streaming music because they get all they need from YouTube for free.
Have something to add? Leave your thoughts in the comments below!