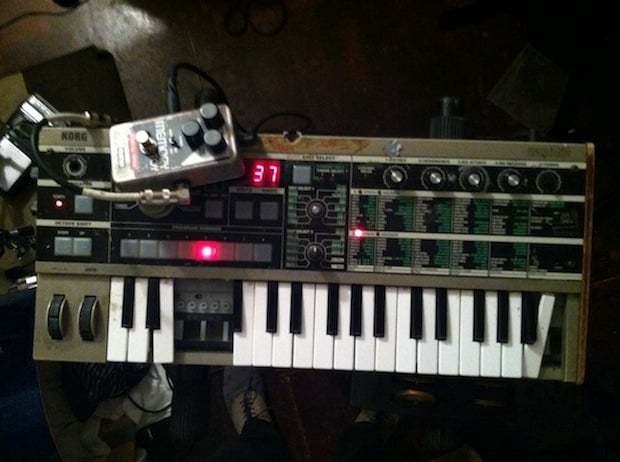 Photo courtesy of Jeff Tobias
This is my microKORG. From 2005 onward, I've used it on more tours than I can accurately recall. I don't think it has any of its original patches at this point. It's been dropped, thrown and mailed. A few knobs have gone missing, requiring some replacement and modification. As a consequence of my abuse and negligence, its already-modest three octave range has been reduced by nearly a third, leaving the poor keyboard looking like a meth addict's lopsided grin.
Like all microKORGs, it's 20.5 inches by 9 inches, features five "performance knobs" to allow for easy, on-the-fly sound editing, and in a pinch, it runs on AA batteries.
But considering our long history together, my favorite feature of this particular microKORG is that it still turns on.
While considering my ball-and-chain relationship with this instrument, I thought it would be interesting to take a look at how the microKORG has become a staple of the modern musical landscape.
When Korg rolled out this synthesizer in 2002, it didn't take long for it to become a common sight on the touring circuit. As for why everyone decided they needed a synthesizer, take your pick. Maybe it was the fading glory of the so-called "garage rock" revival. Or, perhaps recall that LCD Soundsystem's first album came out in 2005. In his book The Psychic Soviet, punk icon Ian Svenonius makes a provocative argument that rising housing costs diminished urban space, causing electric guitars and acoustic drums to be shelved in favor of electronic sound sources, which can be equally utilized in a practice space or a bedroom with headphones on. In other words, we could blame electroclash on Alan Greenspan.
Whatever the case may be – and it's likely a combination of these and other factors – the microKORG became an increasingly frequent aspect of the typical indie rock band's setup. While Korg can't divulge sales specifics, Korg product training manager Richard Formidoni says that "we know that the 200,000th microKORG was produced in 2008." Since then, Formidoni says, "36,925 of them have been sold at retail in the USA alone."
For Korg, the microKORG has its roots in the DNA of a few of their older products. "There is plenty of precedent for a small synth in Korg's history, going back to Korg's [early 1970s] analog synths such as the MiniKORG 700 and 700S," says Formidoni. "The microKORG's architecture is based on the popular MS-2000 and MS-2000R analog modeling synthesizers. The MS-2000 draws its lineage from the MS-20, and some design elements are reminiscent of that connection."
Although the MS-20 emerged as an admired analog synth upon its release in 1978, it was taken out of production from 1983. In the years since, it'd become increasingly sought-after. Even after Korg decided to re-release the MS-20 in 2013, the originals still go for upwards of $1,400 on eBay. Around the time of the MS-20's debut, the New England Digital Corporation unveiled the Synclavier, the first digital synthesizer. According to author Greg Milner, the Synclavier retailed at a hilarious $13,000 upon its release. As such, it was generally used exclusively by universities, studios and Frank Zappa.
While the MS-2000, released in 2000, was meant to be a digital answer to the analog sounds of the MS-20, it wasn't nearly as user-friendly or tidy as the microKORG. And compare the microKORG's modest price tag with the aforementioned MS-20 and Synclavier: While the original microKORG retails for a not-terrible $399.99 these days, I seem to remember spending something more like what it goes for on eBay now - $250 or something along those lines.
While the microKORG has been responsible for a substantial democratization of electronic sounds, the instrument has been put to use in many stock settings. It seemed that even if a band didn't quite have a good reason to integrate an analog modeling synth into their sound, because they were so affordable, they might as well give it a go – all "coulda," no "shoulda." But like anything, when placed in capable hands, its inherent versatility shines. Expert application of microKORG magic can be as complex as the player's talent will allow, even when fooling around.
"The goal was to design an affordable, powerful and easy-to-operate synthesizer that anyone could use," says Formidoni. Because of the twin attributes of accessibility (low cost) and user-friendliness (simple design), not only has it become easy to get a microKORG, it's become easy to learn how to best apply it in your musical project. Websites like The microKORG Cookbook have emerged, brimming with suggestions for patches that sound like kalimbas, saxophones or otherwise unexpected sounds. And Korg has done their part to help to foster this community: On June 23rd, the company will be hosting an event they're calling "Under the Hood," where "customers can bring their microKORGs to visit us at the famous Knitting Factory, and learn how to use it more effectively," says Formidoni.
In 2013, to commemorate Korg's 50th birthday, the company produced 2,000 microKORG-GDs. They're exactly like the microKORG, with one difference: a gold exterior. It's a bit gaudy, and in my opinion, doesn't play to the instrument's strengths. It's for the novice, the economic underdog. It's fun to use, cheap to buy. And I can attest to this as well: it's durable.