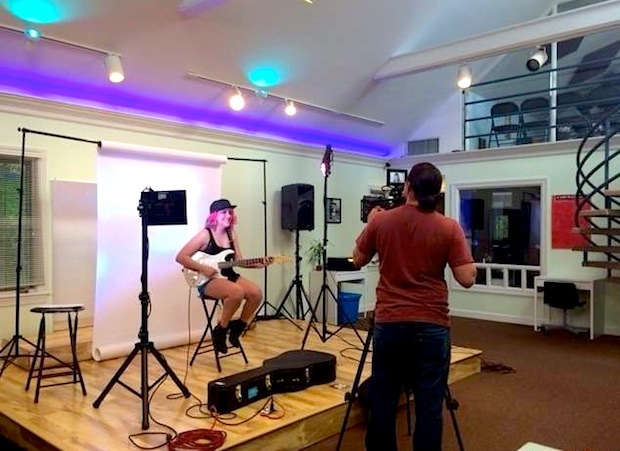 Image via thepopmusicacademy.com
Music videos are one of the best (and most fun) marketing tools for any artist. But, as with most things in the music business, they can get pricey fast. There are certainly levels to it though… and you definitely get what you pay for. But the point is: a good visual piece of art to accompany your music is accessible for various different budgets. Without going too conservative or too over the top, here are some important things to consider, and a sample budget to help you plan for your first music video!
1. Location
The most important thing to consider when doing a video is the concept and how it relates to the location you choose to shoot at. Most videos are shot at a professional soundstage, or alternatively, shot somewhere on location, though it should be noted that you cannot just film anywhere. You can't really shoot in public places, especially since you'd need to avoid getting any random passersby in shots (you'd need releases for any faces that ended up on camera), and filming on private property also isn't quite legal without the permission of the space owner. So your options are to either film by the "shoot and scoot" method and run around for the day hoping to not slip into any of the previously mentioned pitfalls, or consider going through the process of obtaining permits for all desired locations. If you're doing the latter, plan far in advance for that, as it could take some time to get those in – and even then, you should definitely have a backup plan in place if something doesn't work out.
2. Extras
Though we all have a handful of family and friends that would be down to play a part in our music video, sometimes they're not all the right fit for the concept, and other times, you'll find yourself at the mercy of human nature: people not showing up on time, not being dressed properly, lack of professionalism, etc. All of these things are normally stuff you could deal with in real life, but when you're in a time crunch and footing the bill, you'll see how quickly those little "quirks" your best friend has will get old. Consider the option of hiring some extras to avoid any issues the day of. You can hire out people you know to ensure that they'll be prepared for the occasion, or bring on some green actors/models from local agencies as needed.
3. Director, producer, and staff
These are definitely the most important decisions, since the people you choose to hire will make or break your music video. For the kind of money that has to be spent for something like this, it's worth it to make sure these people have some level of credentials and successful track records before signing deposit checks. Make sure you've vetted the director's work, and that he or she has experience in the style you'd like to use to create your work. Check out your producer and any other related staff that would be brought on board to ensure that your investment will be in good hands.
4. Props and supplies
Make sure those last-minute items don't actually end up last minute! Here are some of my favorite day-of woopsy-poopsies that people often overlook:
tape
hairspray
phone charger
clothing accessories
manicure kit
umbrella
change of clothes
set props being brought from home
checkbook
bottled water
fan
jacket
extra makeup
pen/paper
portable music speaker
Don't let a minor issue become a major problem due to lack of preparation. It'll end up costing you big time in the end!
As a starting point to help you better understand the costs involved, here's a sample budget for a middle-of-the-road music video:
| | |
| --- | --- |
| Sound stage | $500 |
| Extra actors | $500 |
| Director | $2,000 |
| Producer | $700 |
| Camera operator, grips, PAs, and other camera/sound staffing | $1,800 |
| Hair and makeup | $500 |
| Wardrobe | $500 |
| Set designers and assistants | $1,000 |
| Props and supplies | $300 |
| Meals and travel | $250 |
| Video editing, animation, and compositing | $1,500 |
| | |
| Total: | $9,550 |
Christine Occhino is the founder and artistic director of The Pop Music Academy and has experience working at Columbia Records/Sony Music Entertainment, in addition to working as a performing artist for over a decade. She has a bachelor's degree in music business & management with a concentration in entrepreneurship and vocal performance from Berklee College of Music, where she was a vocal scholarship recipient and former editor-in-chief of The Berklee Groove. She is also the proud founder and CEO of Hope In Harmony, a 501(c)(3) nonprofit organization that brings music to those in need.