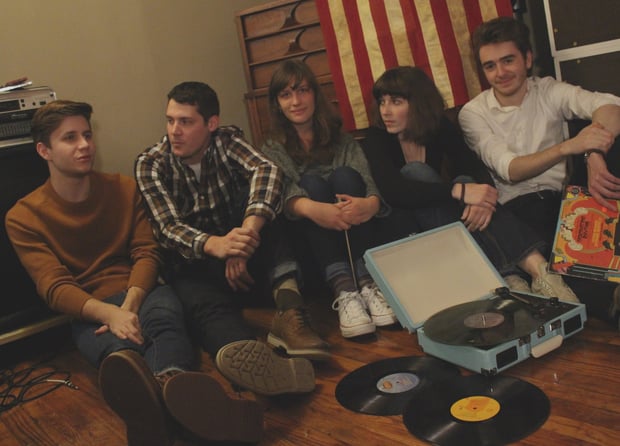 Image courtesy of the artist
We write songs, in essence, because we aspire to communicate something: emotions, stories, inspirations, ideas. There is no wrong way to write a song, but there are many right ways that we can study in order to hone our craft and discover our unique songwriting voice.
Georgia English, a Nashville-based songwriter and front woman of roots-soul group Georgia English and the Jukebox Kids, has dedicated a lot of time to crafting her sound, and the industry is noticing: she's won several songwriting competitions through Sonicbids, including Songwriter Universe's "Best Song of the Month" and In Search of a Song's "Indie Spotlight," and she was a finalist in the Americana category of the Great American Song Contest.
What really blows us away about Georgia is how authentic her voice is. She's not addressing the same love stories that we constantly hear on the radio – she's diving into deeper, more eccentric waters, with incredible results. We caught up with Georgia to learn about how she found her voice, and her advice for fellow songwriters who are looking to do the same.
You have a unique edge to your music. How would you describe your sound? What steps did you take in order to find it?
I would describe my sound as Americana-soul. Americana has become kind of an ambiguous style, but what it means to me is that there is a musically historical element to it, a respect for tradition. My music nods to the sounds of Stax records, The Band, traditional jazz, early country, ragtime, the blues. As a kid from San Francisco, none of these are authentic to me, but they have always been what I am drawn to.
All of my musical mentors are dedicated to honoring the legacies of American roots music. Dave Ricketts, the bandleader of the amazing San Francisco swing band Gaucho, taught me how to play guitar when I was a kid, and has continued to inspire me. Later, I had the opportunity to learn from Paul Rishell and Annie Raines in Boston, who opened my heart and ears to country-blues and ragtime-style guitar playing. Mark Simos, the fantastic tunesmith and songwriter, helped me discover the power of tying in musical tradition with contemporary expression.
I think I stumbled into my sound when I began playing with the juxtaposition of old-school style songwriting and the forwardness of 21st century womanhood. One example is my song "Chasing After You," a ragtime song about a woman who is sexually underwhelmed by her guy. So I guess I found my musical sound by studying with my musician mentors, delving into my influences, touring with my awesome band, Georgia English and the Jukebox Kids, and writing hundreds of songs.
When you have a blank sheet of paper in front of you, what's your approach to writing a song?
I have been an avid notebook collector since I was 14 years old, so my notebooks serve as tiny idea ecosystems that songs travel through and develop over long periods of time.
It is very rare that I face a blank page without any idea of what I want to write. Much of my writing happens off the page – I will spend a few months or years paying specific attention to one thing. Most recently, that thing was shame, which was the common denominator on my most recent record, Good Girls. I became obsessed with it, and specifically how it relates to womanhood. I wanted to showcase all of the sides of that state – songs where the character is free from it, songs where she belongs to it, and some where the speaker is simply observing it.
So, when it comes to starting a fresh song, I usually start with a concept, look through my entire collection of notebooks for things that could relate to it, pay attention to where it lives in my environment, and then find chords and a melody that embody the narration.
How do you tell when a song of yours is complete?
I always feel like a song is complete when I perform it and it feels like the character in the song has some kind of "aha!" moment. It is hard to explain what that feels like, because there is nothing else in the world that matches it. It also feels complete to me when I play it without singing the lyrics, and then recite the lyrics without the accompaniment, and they both make me feel like I am communicating what I mean.
When you get recognized publicly for your songwriting, such as the competitions you've won and the positive press you've received, does that impact your writing process at all?
Finding a way to pay the bills while committing to my dreams are both very important to me. But I don't think I could continue to write authentically or stay connected to my voice if I included the prospect of recognition into my process. I think in many pop styles, that is possibly more a part of the process, but because I am a weirdo and write about weirdo characters who aren't used to winning stuff, it would cause standstills. What I find myself thinking sometimes is, "Will this work in a set with my band?" Because not everything will.
However, the opportunities I've gotten through Sonicbids have helped me showcase my intention as a writer. It has also helped me create a good pile of press, which has helped greatly with touring with the band, and in turn, writing!
If you could give three pieces of advice to aspiring songwriters looking to get their music recognized more widely, but are still struggling to find their voice, what would you say?
Have fun! It's kind of cheesy, but I don't think there is ever a destination with these kinds of things. I think the most important part is falling in love with the whole process.
I have found that revisiting the first albums I fell in love with when I was a kid can be a great tool in staying inspired.
Nothing beats community! I am lucky to be a part of an awesome music scene in Nashville. Some of my favorite local musicians (DAEM, My Politic, Natural Forces, Tumbleweed Company, Daphne and the Mystery Machines, and countless other bands) are also some of my favorite people. We all push each other and support each other. Creative scenes have been at the heart of this country's musical ethos for centuries. While I think solitude is an important part of the creative process, feeling lonely can be destructive. I would encourage all songwriters to find their crew!