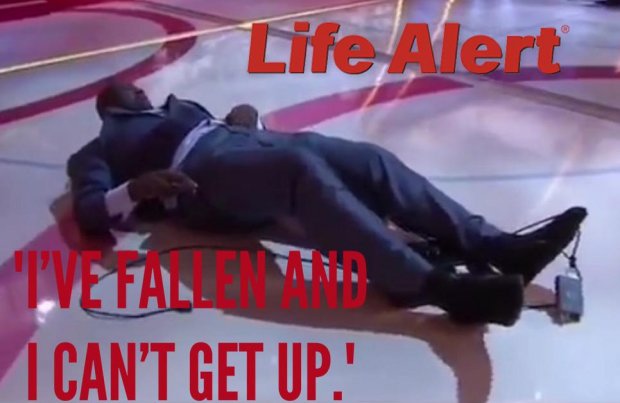 Shaq isn't a musician, but we couldn't help ourselves. (Image via twitter.com)
Like in life, making mistakes onstage is part of the deal as a band or solo artist. We all know even the most famous or critically acclaimed performers are susceptible to public blunders, oftentimes before massive crowds. Newer bands still honing their skills, then, are even more prone to regrettable goof-ups. And that's okay.
What really isn't acceptable, though, is when the errors are predictable. If a lack of preparation is even partly to blame for your unsatisfactory set, for example, then taking responsibility for the problem is a huge part of avoiding its repetition.
You know this works: learn from your mistakes, then move forward. But when you've just stepped offstage after a disappointing show, it's easy to let the bummer halt the process of bouncing back. We hope you'll remember this guide the next time you experience a less-than-stellar show. (And yes, unfortunately, there will probably be a next time.)
Overcoming an embarrassing accident
Did you fall off the stage? The Edge of U2 and Madonna have both done it recently, and chances are, your tumble didn't take place in front of thousands of people or during a televised awards ceremony. Did you rip the seat of your pants while epically shredding? So did Iggy Azalea and Jake Owens last year, as well as tons of other artists.
Whatever the blooper was, you can overcome it. One of the best ways to do that is by laughing at yourself. Don't try to act like it didn't happen, because it totally did. Imagine if you saw someone else do the same – assuming there were no injuries, you'd probably laugh, right? Address the embarrassing moment onstage, and keep going. Take a cue from Shaq and make a joke of it on social media, even.
If you can't find the humor in the situation, at least shrug it off. Sometimes recalling another embarrassing moment in your life can help remind you that you'll eventually recover. Remember, humiliation happens to everyone.
Preventing the preventable problems
While there's no way to predict a slip-and-fall, a bad set shouldn't be a surprise if you didn't prepare well beforehand. Depending on the degree of terribleness, you might want to apologize to fans on social media afterward. If you do, be sure to let them know you've taken steps to ensure it won't happen again.
Some common issues and how to best prevent them:
Missing necessary equipment: You didn't bring a bass amp because you thought the venue would provide one? There's your problem, then. Don't assume the venue has what you need. Talk with the appropriate person (venue owner, booking agent, etc.) about equipment well before your show.
Gear failures: Avoid using unreliable gear. And, if you must, bring a backup. (Do we have to mention backup strings and sticks? Don't forget those.)
Low attendance: You should promote your show a minimum of two weeks in advance, but a month or more is even better. Social media, flyers, reaching out to press, the works. It's still no guarantee that the turnout will be amazing, but it certainly can't hurt. After all, fans can't attend if they don't know you're playing. (Duh.)
Someone played poorly because they hadn't practiced: If you haven't thoroughly rehearsed, you're kinda doomed to fail. This should be common sense for any hard-working band or artist. Read some tips on getting the most out of rehearsals here.
Someone got wasted and ruined everything: Address that, and do it right away. That's one of those issues that's likely to become a recurring one. Set boundaries for the band's alcohol consumption before a show if need be, otherwise sloppy sets might become a habit.
For more show preparation help, check out our seven-step guide.
Jhoni Jackson is an Atlanta-bred music journalist currently based in San Juan, Puerto Rico, where she juggles owning a venue called Club 77, freelance writing and, of course, going to the beach as often as possible.