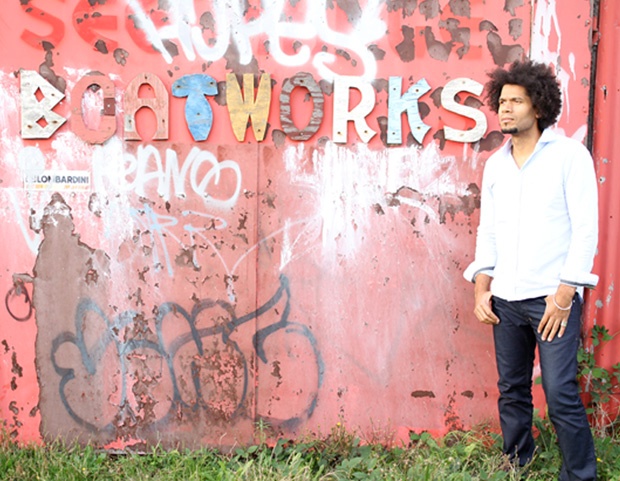 Photo by Ronnie Minder
How many times have you just wished there were more hours in the day to work on your music? We've all been there: feeling overwhelmed by life's responsibilities and just wishing we could spend all day doing what we love. But it's not that easy as a self-managed artist. Not only do you have to juggle your day job and your music, but you have to act as a manager, publicist, booker, and more, all of which eats up your creative time to work on your craft and songs. Damen Samuel, an international singer-songwriter and traveling troubadour based in Melbourne, Australia, has more than a lot on his plate. Between having two children, a full-time job, and managing his own music, he still finds time to successfully submit to and perform at big events like the CMJ Music Marathon in New York. We caught up with Samuel to find out just how he manages to do it all.
As a self-managed artist, how do you allocate your time between working on music and working on the business side of things, such as planning tours, budgets, and PR?
I always say that writing music is the easy part, but finding the time and head space is the real challenge. To be honest, I sadly probably only spend around 10 percent of my time working on music and 90 percent of my time on administration and the business side of things. As an independent and self-managed artist, I'm basically handling bookings for shows/tours, creating flyers, posters, and artwork, and [managing] all of the PR and social media on my own. The only time that changes is when I'm recording an album or when I'm on tour. I do a lot of my songwriting when I'm on tour or traveling between shows.
[How to Take Control of Your Career as a Self-Managed Artist]
Do you have any outside help, or do you handle every aspect of your career yourself?
I do most of it myself, but I have friends helping out whenever they can, like shooting video clips or taking promotional photos. I'm lucky to have some pretty creative and talented bandmates. They helped me with creating my website as well as doing quite a bit of pre-production on my last record. I'm also on the artist roster of Monté CrisToph Music in NYC; they mainly help with finding the right opportunities and exposure for my music around the US.
What's typically on your plate at any given moment?
Answering or sending out emails, updating social media platforms, playing guitar, working on a song idea, contacting bookers, working on artwork or photos, selecting and editing video footage, and other things.
How do you strike a balance between your day-to-day life and your life as an aspiring musician?
I'm lucky that I can function on very little sleep. I'm basically taking care of all my day-to-day life responsibilities during daytime, and then I work on the music business at night. I'm also fortunate that my job is quite flexible, and they are very understanding when it comes to my music commitments.
[How to Balance Your Day Job With Your Music Career]
I work in a youth detention center, teaching different aspects of music and the music business to disadvantaged and marginalized young people. So even though I might not be directly working on my music every day, in a way, I'm constantly growing and learning as a musician in my work with these young adults.
When daily life commitments eat up your time to work on music, how do you deal with that feeling?
I think after years of doing it, I have found a certain rhythm and balance in my life. Even though my mind is consumed by music 24/7, I know that I could not do what I do if the rest of my life was not in order. I try to see the big picture and not get too frustrated with the inconvenience of that moment.
Do you find yourself being more productive when you have those small pockets of time to work on music, as opposed to having all the time in the world?
Being a dad of two little boys, the term "all the time in the world" is quite foreign to me. I have to say that I definitely noticed how I have become much more productive since becoming a parent. When every minute of your life is planned out, you sure learn quickly to make something happen in a short amount of time. In the past, I used to write much more and then afterwards try to select the best ideas. These days when I write, my time is so precious that only the strong ideas stick around, and in the end, I spend a whole lot less time reworking song ideas.
[12 Simple Ways to Be a Happier and More Productive Musician]
When you feel like you're being pulled in several different directions, how do you prioritize? What comes first? Do you use any time management apps, tools, or techniques to stay on top of things?
I usually keep all my important dates and deadlines in my head. I usually know on any given day what needs to be finished next and when it's due. In the past, I've tried to use calendars and different devices/tools to keep track of things, but I found it didn't work too well for me. When things get extremely busy, I usually create a handwritten list that I keep in my sight, usually in front of my computer. I list all the things that I need to take care of on that particular day or in that week, and I mark or circle the ones that are most urgent.
Going forward, do you think you'll enlist a manager to help lighten your load and let you focus on just the music?
I would definitely like to have a manager, so I could concentrate more on my craft as a songwriter and musician, but at the same time, it is one of those things that is not really up to you. From my experience of talking to fellow musicians, managers usually find you and get involved because they want to be part of what you're doing. Let's be honest, there is not a whole lot of money going around in the music business, and as a manager, somebody would really have to be willing to do a lot work for little financial reward. So there you go. If it sounds tempting, give me a call.
[Are you ready for a manager? Find out!]
Tell us about the role Sonicbids plays in helping you self-manage your music career. What have some highlight moments been for you?
One of the most recent highlights has been my participation at the 2014 CMJ Music Marathon in NYC, where I was selected through Sonicbids. A big gain for me is the time it saves me when I use Sonicbids. A big chunk of time is spent on researching and finding the right opportunities that might further my career or help me to showcase my music and find new audiences. The time I save when I use Sonicbids I can use for other areas like songwriting. And I also have been able to form long-lasting relationships with people in the industry because of being selected as an artist through Sonicbids.
You've had a lot of great luck with festivals. What has helped you the most to get on those stages? Any tips for fellow musicians on DIY touring?
I think good research that helps you find the right festivals for your style is one half, and then timing is the other half. I personally find it helpful to create a timeline around certain festivals that I really like to play. For example, if you have already organized a tour or an album release with radio and promo dates around the same time of the festival, then that will definitely give you a better chance of being picked. The other big advantage is that you won't be sitting at home, spending your time waiting to hear back from that one festival, because the festival will just be one part of a bigger plan/schedule.