It's been a killer month for Seattle. The Seahawks just stomped the Broncos in the Super Bowl, hometown hero Macklemore cleaned up the Grammys, and to top it off, Bumbershoot submissions are now open!
Seattle's premier music and arts festival is entering its 42nd year, and to help make this installment one of its best, Bumbershoot will be choosing four Sonicbids artists to play. Selected artists will be compensated for their performance with a travel stipend of $250. More importantly, they will be sharing the stage with some of the biggest names in the game. Last year's performances included MGMT, Charles Bradley, Death Cab for Cutie, alt-J, Kendrick Lamar, and many more.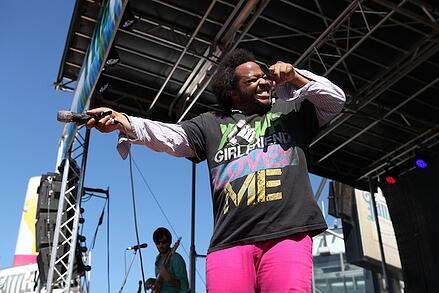 Bumbershoot takes place over Labor Day weekend at Seattle Center, the glorious 74-acre park built to house the 1962 Worlds Fair. The festival takes full advantage of the park's fantastic amenities, including indoor theaters, outdoor stages, sprawling green lawns, and a rockin' outdoor stadium.
Over 100 Sonicbids artists have been selected to perform at Bumbershoot since 2006, including Kris Orlowski, Massy Ferguson, Allen Stone, Kore Ionz, Parlour Steps, Brian Vogan, Hey Marseilles, Ian Moore, Barcelona, Tyrone Wells, Feral Children, Natalie Portmans Shaved Head, MONO IN VCF, Sera Cahoone, and Velella Velella.
Get your EPK together and submit to play Bumbershoot today! Submissions close on March 21, 2014.