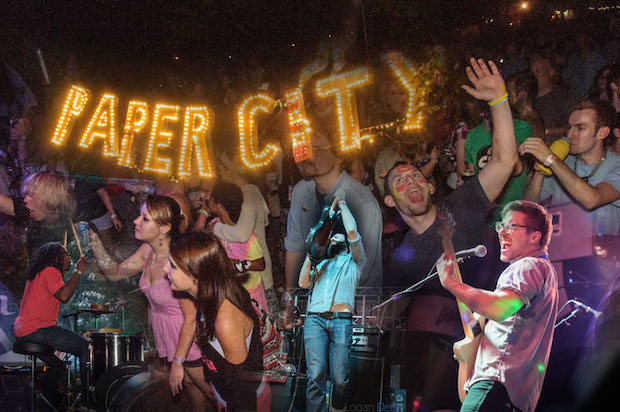 Image via Marc Secoy
Paper City Music Festival started as a small local event in Chillicothe, OH, and has quickly evolved to become a premier festival for independent artists. Paper City's focus is put on taking small bands and giving them the kind of treatment and hospitality that a big headliner would receive, then putting them in front of a crowd of loyal music lovers.
Paper City has been partnering with Sonicbids since 2012. This year, Your Town Entertainment is looking for six Sonicbids bands to play at the festival. Marc Secoy, co-owner of Your Town Entertainment, has been with the Paper City Festival since the beginning. We recently talked to him about the event and what Sonicbids bands can expect.
Could you give us a little background on the festival?
Paper City Music Festival (PCMF) spawned off from a local one-night festival-style concert that was hosted by a local band, and after the band parted ways, percussionist Dennis Foreman wanted to continue a unique music experience for bands to perform in Chillicothe, OH. His newest band spearheaded the first try in the summer of 2010 by lining up bands they had performed with on the road. Unfortunately, weather wiped out much of the effort, with dangerous storms, torrential down pours and high winds closing things up early and dampening the attendance.
Later that year, Dennis threw his own 40th birthday bash, which fell on Labor Day Weekend. Some of his best friends jammed up on a hay wagon, hundreds of people showed up, and had a phenomenal time. This inspired Dennis and his bandmates at the time to try the festival again during Labor Day Weekend in 2011. The lineup expanded to two days featuring several local bands that just wanted to play live, and other great friends from the road.
2012 marked the first year of the festival operating on a business plan. 2012 was also the first year PCMF looked to Sonicbids to discover new artists that the team may not have known about otherwise. Once submissions started pouring in, Dennis and I saw that there were so many talented bands just looking to pick up another gig, and that's when the mentality struck the team to really focus on independent bands.

What makes this a great opportunity for artists?
First and foremost, the artist is fed fantastic meals with drinks to compliment them. Paper City has a full hospitality team to welcome the artist, make sure they get their passes, food/drinks, place to stay, and that all questions and concerns are addressed. There is a lot of time put into advancing the show so that everything runs smoothly for the artists.
Paper City Music Festival promotion is as grassroots as it gets – tons of hand bills, posters everywhere, TV commercials, online advertising, radio spots, interviews, banners, yard signs. The band names are plastered all over the place, creating impressions whether or not an individual shows up. A familiarity is associated with the artist as they have gotten their name out to new potential fans.
The goal of Your Town Entertainment and Paper City Music is to build personal relationships with artists, not just transactional bookings. In fact, some bands have been booked through YTE as many as 11 times within a year for various events following their initial performance. YTE also catalogs every submission received from Sonicbids in a pool for prospective gig opportunities as the company builds and is asked to fill more and more entertainment needs for organizations.
You mention in the gig listing that bands aren't necessarily required to have a huge following. What do you do to get people to come out when the majority of the bands on the bill are small and independent?
Paper City Music Festival is by far one of the most indie festivals out there. In reality, unless a band is huge, they aren't going to pull people to a festival solely on their name since tickets are more expensive than seeing them at a venue. YTE has been working very hard to build the Paper City name so that people know when they see a Paper City event, it will be a quality production and the bands will be awesome. Therefore, the Paper City name itself is what drives people to come out and become new fans for the indie bands performing.
Have you brought in any big name headliners in the past to supplement the lineup?
YTE has not brought any big name headliners to the festival yet. It is in the long-term plans, but much like a band, PCMF has to build its fanbase to obtain larger sponsorships that make a major headliner possible. One of the mottos of PCMF is "We can't afford you next year," meaning the band has taken off to the next level and is doing well for themselves.
How do you determine which Sonicbids artists get the slots?
There are several key factors that help determine who gets a slot at the festival or any other show put on by Paper City Music. Number one is how well the EPK is put together and if it includes all the necessary tools for YTE to promote the band. Are there great recordings, videos, pictures and a description of the band? How about a website and other social media platforms?
PCMF does prioritize its selection based on artists who are making the ultimate sacrifice going on the road, missing out on beds, showers and home cooked meals. They will be selected over a part-time band just looking for a gig to make a few extra bucks.
What advice would you offer a to a Sonicbids band that is really excited about this opportunity and would like to get involved?
YTE respects and appreciates all artists who have a membership with Sonicbids and paid a submission fee for the gig opportunity. A Sonicbids submission to PCMF from an indie artist will always take priority over any emailed correspondence, website or social media inquires, and any direct messaging to the event coordinators.

In the past YTE has offered critiques to artists who have requested feedback on their EPK if they were not selected, and in addition YTE has allotted free tickets to artists who would like to attend the festival that were not selected to perform.

If you're interested in submitting, here are a few tips:

Keep your EPK up-to-date and only put your best of the best material online.
Know that the opportunity is great for bands to network with other bands, and that the entire Paper City Staff is really awesome!
Stay relaxed and humble.

If you are considered for a Sonicbids opportunity, remember that you are one of many, and if it becomes a hassle to work with any given artist, it's easy to move on to another one.
Remain patient and positive.

Check the deadline and response time frame, and realize it could take that long to get an answer. Don't get discouraged if you don't get selected. There is only a finite number of slots, and the great part is that with your submission, it's guaranteed that your EPK has been reviewed. If PCMF doesn't work out, something else possibly could!