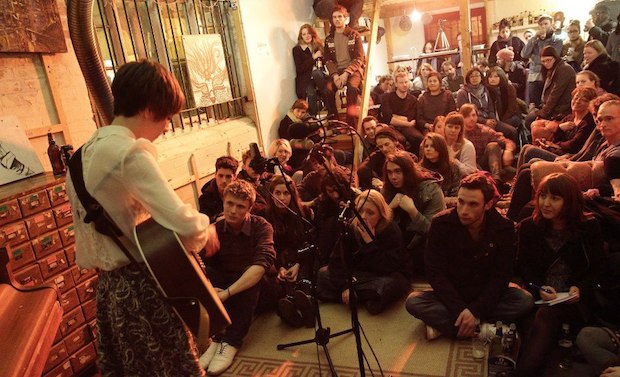 Image via Facebook
Have you ever looked out into the crowd while you're performing a song that you've poured your heart and soul into, and realize that half the people are looking down at their phones or having side conversations? It's certainly an accomplishment to get booked for an acoustic set in a popular coffee shop or to get your band on the bill at a hip bar on a Friday night, but it can be a serious struggle to find performance environments that don't come with loads of distractions from your music.
"One of the top frustrations of artists is when they're playing a show and the audience is just there to socialize with each other, and not pay attention to the music," says Carolyn Lederach, the area coordinator for Sofar Sounds Philadelphia. That widespread frustration is one of the biggest reasons why Sofar Sounds was created in the first place – and why its down-low, intimate shows have gained so much popularity among musicians and hardcore music fans alike. "These intimate shows offer artists a room full of people who love and appreciate music enough to quiet down and just be there to listen," she says.
Jeanette Sangston, the city leader for Sofar Sounds Cleveland, adds that Sofar shows are best described as "the musical version of the hushed silence when you go to an art museum and stand in front of a painting and delve into its depths." She says that for musicians who simply want to showcase their artistry to packed room of people whose only desire is to soak that up, Sofar shows are, hands down, the best place to do that.
But with all eyes and ears in the room focused on you and only you, what can you do as an artist to captivate the audience's attention? We asked the experts at Sofar Sounds, and they gave us their top tips for rocking an intimate show.
Get the audience involved
1. "Intimate does not mean library-like. Don't be afraid to bring some energy and really get the crowd involved and participating – even on their feet!" – Jeanette Sangston, City Leader, Sofar Sounds Cleveland
2. "Get the crowd to participate in some way: give one or two of them a shaker, have people work in hand claps, or feed them a line/chant that's part of a song. It may be the first time the crowd has heard your music, so it's good to feel familiar with something. It helps draw them in and leads to a more memorable experience." – Armen Sarkisian, Founder/Leader of Sofar Sounds San Diego
Tell your stories
3. "Weave some storytelling into your set. Audiences love those glimpses into [what goes on] behind the scenes. It makes the performance a very personal event, and the audience will connect with you on a more personal level." – Jeanette Sangston
4. "If there's a good backstory about one of the songs, please tell it – especially if it's funny. Getting people to laugh at a show is always good. Any exciting stories that are unique to your experience as a band are a great thing to let an audience in on." – Armen Sarkisian
Switch up your set
5. "Use the opportunity to rework a song or two for a really one-of-a-kind experience. Alternate versions of songs are super cool." – Jeanette Sangston
6. "You most likely won't get to play your entire discography, so choose a wide variety of your songs. Don't simply choose the five songs you think would be most commercially successful. Choose five different songs that show five different sides of you. These intimate shows are wonderful in that you are showcasing YOU, not just the songs you wrote, and you want to showcase as many sides of yourself as possible." – Lexi Rathel, City Leader, Athens, GA
7. "Some artists never really get to play stripped-down, intimate shows, so it may be hard to decide what kind of setup to use. Take a chance and try to be fully unplugged if possible. It will be a new experience that could make you think of your music differently, as some of our past performers have mentioned." – Armen Sarkisian
8. "'Practice makes perfect' is still relevant. Especially since these shows are usually stripped down/acoustic, and sometimes that might not be a normal set. Don't be afraid to switch it up and make things interesting." – Carolyn Lederach, Philadelphia Area Coordinator, Sofar Philadelphia
Prepare for a unique crowd
9. "Be prepared to engage all sorts of people. An audience in my city, the small college town of Athens, GA, may be completely different from a crowd in Brazil or Paris or Denver. Not only is the intimate show experience unique and special in its own right, but it is unique and special in every different city you play in." – Lexi Rathel
Be vulnerable and embrace awkward moments
10. "Accept the awkwardness. A bunch of strangers gathered in a strange room can be as awkward as it sounds, but it doesn't have to be. If you embrace the situation around you, and maybe find a lighthearted joke around the situation to mention between songs, it can lighten the mood." – Carolyn Lederach
11. "Make yourself vulnerable to the crowd. Even if the crowd doesn't appear outwardly engaged and accepting, you never know what they're thinking. In my experience, a crowd being silent and attentive means they are internalizing what you're giving them; they're taking to heart the very heart you're pouring out to them with your music. So just put yourself out there, don't apologize for who you are, or for being awkward, or for not quite knowing what to say in the silence between your songs. Your songs say enough." – Lexi Rathel
Stay connected after your set
12. "These are perfect events to stick around the whole night and not only connect face to face with new fans, but often you can make further connections with other artists and learn new things. Plus, it might be a lot more obvious if you left or you're sitting in the back or outside ignoring people." – Carolyn Lederach
"At the end of the day, intimate shows will always be my favorite because they allow you to connect with an artist… on a level you would never hope to achieve at a 3,000-capacity venue," says Lexi Rathel. "You can literally make eye contact with the artists as they're playing their hearts out. That connection is what music is about, and it's what brings people of all backgrounds together, all over the world."
We couldn't agree more!
Sofar Sounds is currently looking to book artists for intimate shows around the United States. Click here to check out the listings and apply for free on Sonicbids.
Lisa Occhino is the managing editor at Sonicbids. She's a pianist, singer, award-winning songwriter, graduate of Berklee College of Music, and founder of songwriting collaboration website SongwriterLink.