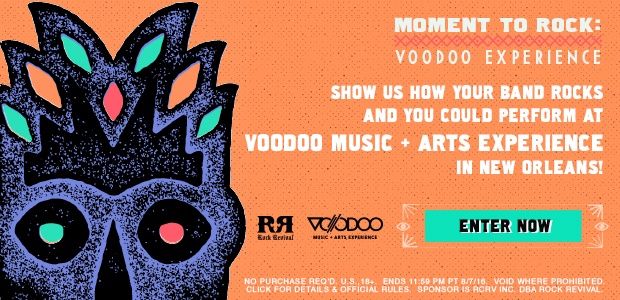 Image courtesy of Live Nation
Have you ever yearned for the opportunity to perform at a major festival and live it up in the incredible music city of New Orleans? Well, you're in luck – Los Angeles-based denim brand Rock Revival has just launched a nationwide talent search, where one winner will be selected to perform at the Voodoo Experience Music & Arts Festival in New Orleans, LA.
In true Louisiana fashion, Voodoo Experience is described as a musical gumbo, combining all things music, art, community, and cuisine. The festival has been around for over a decade and has previously been nominated twice for Pollstar's Music Festival of the Year. Not only are there over 65 musical guests, but there's also traditional Louisiana food (can anyone say shrimp po'boys?) and massive, interactive art installations. This year, the festival is going down on Halloween weekend, October 28–30, 2016.
In the past, the festival has invited some pretty big names to grace its stages, such as Snoop Dogg, Metallica, Red Hot Chili Peppers, Neil Young, and Eminem, just to name a few. And this year's line-up is just as killer, with Tool, Arcade Fire, and The Weeknd headlining.
In addition to the festival slot prize, the winner will also receive other prizes including a private meeting with an industry executive, three-day artist passes for the festival, travel and hotel accommodations, a $1,000 pre-paid cash card, and more.
Interested? Here are the details and how to enter:
The competition is open to musicians who are not signed to a professional contract.
You can enter as a solo artist or in a band with up to six musicians.
You've got to be a US resident and at least 18 years old to enter.
Complete the registration form on the Rock Revival website.
Submit a YouTube video of your best original song and a photo of the band.
Submissions will be reviewed by a panel of industry professionals who will choose the winner.
The submission period begins at 12:00 PM PT today (July 6, 2016), and ends at 11:59 PM PT on August 7, 2016. See the full contest details here. Good luck!