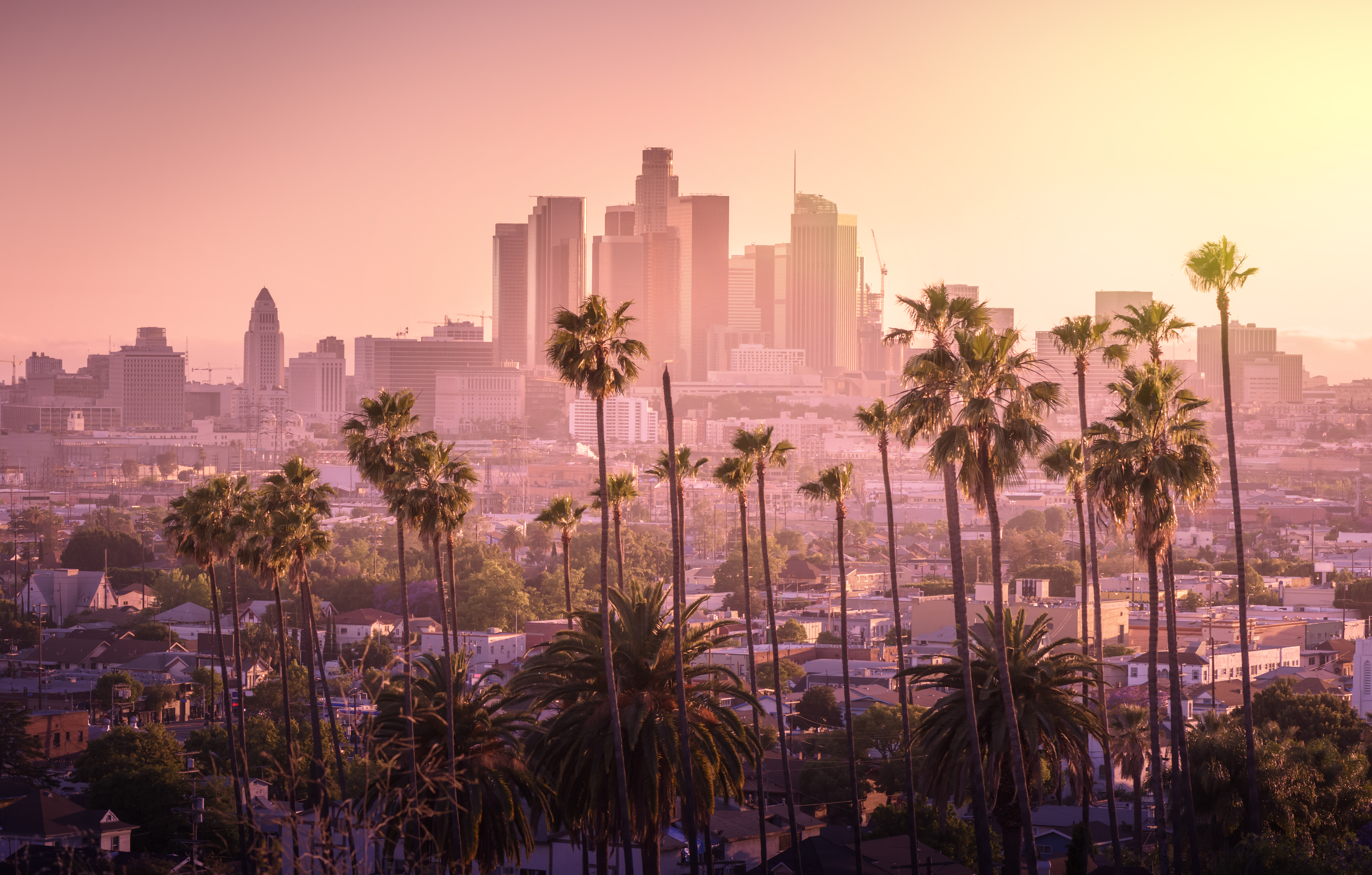 While we're stuck inside, we're chomping at the bit to get back out and explore the cities we love most.
As the heart of the global entertainment industry, the musical talent in Los Angeles ranges far and wide from bands and artists, to songwriters, record producers and event curators. The scene has always thrived on transients, a fast pace, and an eclectic mix of locals, unicorns, and wayward travelers taking risks and shaping the future of the business.
Jump to:
HOT SPOTS
Venues come and go quickly in a fast-paced city like LA, but some have stood the test of time, and continue to thrive and offer incredible live music and hangs for musicians and fans alike. Along the way, a few new ones have popped up, and others in not so conventional ways. Here are a few spots you should know.
HOTEL CAFE
Known as a singer/songwriters haunt and for facilitating intimate pop-up shows by legendary artists like John Mayer, Hotel Cafe is an LA staple, hosting live music every night of the week on two stages.
See their calendar here.
BLACK RABBIT ROSE
The brainchild of LA's acclaimed nightlife/hospitality gurus, the Houston Bros., Black Rabbit Rose is a magic themed bar that's become a hotbed for some of the city's most esteemed talent. And a place to hear a surprise performance from world famous musicians. It's not uncommon to see the likes of Lady Gaga, T-Pain, Theophilius London or actor Jeremy Renner hop on stage with the band to sing a song or two. The bar outfits it's entertainment schedule with a swath of incredible local players, writers and groups. On Saturdays, three time Grammy award winning songwriter, Dave Yaden, performs original material with his band. Every Thursday, Fred Durst of Limp Bizkit hosts the Tyler Hammond Experience, a jazz quartet led by drummer and skater Tyler Hammond.
Check it out here.
THE GEOMETRO PARTY
The Geometro Party began as a vehicle for LA based band, Meen Streets to perform outside of the club environment. Capitalizing on what they perceived as young people's lack of interest in seeing live music at an expensive nightclub, they started throwing a party and of their own. Since, the party has grown into a bonafide happening with performances by; Saro, Tilly, Ariana and the Rose, Mishcatt and American Teeth. The event boasts sponsorships by White Claw Hard Seltzer, Wild Riot and Perrier.
RSVP to Geo here.
EMO NITE
Emo Nite LA was founded in 2012 by Morgan Freed, Babs Szabo, T.J. Petracca. The event features music on three stages, with straight ahead emo, live bands and DJ remixes. Celebrity performers include Jimmy Eat World, MKG, Post Malone and The Used. The event has also become a vehicle not only to celebrate nostalgia but to break new artists.
Learn more here.
JAM NIGHTS
Jam nights are the lifeblood of the LA music scene. They're a place for artists to scout musicians and furnish their bands, a place for those players to network and find touring and session work, and just an all around good hang to network or blow off some steam "after work".
SUNSET JAM
The Sunset Jam has run every Monday nearly non-stop since 2016. After humble beginnings at State Social House on Sunset Blvd., the turnout for the event grew so high that it had to move up the street to the world famous Viper Room.
The jam has featured over 1,200 performers since its inception, hosting theme nights, tributes, charity fundraisers and procuring a whole slew of sponsors from; TC Electronic and Bogner Amps to Keeley Electronics and Boss.

Check it out here.
SOUNDCHECK LIVE
Soundcheck Live (SCL) is a monthly event at one of Hollywood's sharpest venues, world famous bowling alley and concert venue, Lucky Strike. Outfitted with a killer Bose sound system and attentive staff, the event has been run for nearly four years by keyboardist, Steve Ferlazzo, best known as the musical director for Avril Lavigne. With celebrity guests like Nancy Wilson of Heart, Tom Morello and Nuno Bettencourt of the band Extreme, the night has showcased players of all backgrounds and genres.
Learn more here.
ULTIMATE JAM NIGHT
Ultimate Jam Night has been a Tuesday night staple at the Whisky a Go-Go for the past five years. Coordinated by Quiet Riot bassist, Chuck Wright, the event features mainly performances in the hard rock/metal genres and is free to attend.

Check it out here.
SUPERSOUL MONDAY
SuperSoul Monday is an r&b/soul jam currently held at the Houston Bros. Dirty Laundry bar in Hollywood. The event features an 8-piece houseband and invites you to #getdown with live music and deejay's every week. World famous session players in the jazz, funk and soul genres will regularly sit in.
#Getdown here.
SAYERS SESSIONS
The Sayers Sessions were born after founder Jason Scoppa, ported his Bardot Sessions (at nearby Bardot, where School Night is now held), to the Sayers Club on Wilcox in Hollywood. Held every Thursday night and directed by bassist Nick Rosen, the sessions have given rise to stars like L.P. and host a slew of star guests and session players from all walks, including house guitarist Rod Castro (Beyonce).
Check out Sayers here.
SHOWCASES
Like any major city, and with a demand for artists that want to showcase their skills for the most important people in the business, showcase nights identify the need and fill the gap. LA has several popular, recurring showcases that you should know!
BREAKING SOUND
Founded by British pop singer Calvin Goldspink in 2015, Breaking Sound now curates 20 live shows a week across the globe, with five venues in Los Angeles. "We showcase the hottest emerging artists in LA. Our goal is to give them a platform to perform on stages to the people who mean the most to them." says head of booking, Ya'el Kempe.
The shows normally feature four acts, with 30 minute sets, across all genres. Breaking Sound alums include Lauv and lovelytheband. Check them out here.
WFNM
We Found New Music (WFNM) was founded by Elektra Music Group A&R scout, Grant Owens, in 2012. They put on weekly showcases in LA with past performers like; Billie Eilish, Sigrid and Kim Petras. In addition to their showcase, the WFNM network hosts interview sessions, blogs and radio shows.
Check them out here.
SCHOOL NIGHT
School Night was founded in 2010 by KCRW DJ, Chris Douridas, and Matt Goldman [MFG]. Considered by many to be a milestone for any LA artist, School Night helped to break an incredible array of them including; Billie Eilish Moby, Alt-J, Hozier, Miguel, Billie Eilish, BØRNS, Capital Cities, Alt-J, Dua Lipa, Haim, Icona Pop, Hayley Kiyokoto and Lizzo.

The event is held every Monday at Bardot in Hollywood. Learn more here.
Don't forget, the best way to book gigs in Los Angeles is on Sonicbids.