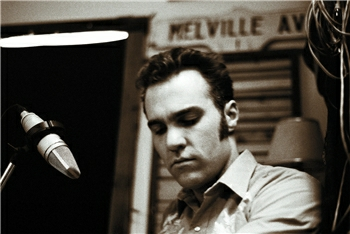 Reid Jamieson is one of those singer/songwriters who's figured out how to take a classic sound and make it fresh and impactful. The proof? Reid was named the grand prize winner for Folk in the John Lennon Songwriting Contest March 2012. Since the Session II deadline to submit to this year's JLSC is upon us, I wanted to learn a bit more about him and see what words of wisdom he might have about being involved in the contest.

Most people pick up the guitar by playing other people's music before writing their own - is that how it worked for you or was there a different experience when you found out you had a talent for songwriting?

I did the usual – played every Beatles song until they were part of me. I grew up painfully shy so songwriting was a nice, controlled way for me to interact with the world. First attempts were not my best, but you have to start somewhere!

Tell me about your JLSC winning song, "Rail." Any story behind the tune?

Rail was written for a train trip I took with the host of a popular radio show here in Canada called Vinyl Cafe. I was just going to perform train/travel themed covers, but my wife (Carolyn Victoria Mill) insisted we create an original for the show too. We sat down with our thoughts on trains – which had more to do with overgrown tracks and the lost potential of urban rail travel (both literal and metaphorical), poured our hearts into it, and by the end of the day we had this driving song about not giving up on yourself. Although we had written together before, this song solidified us as a songwriting team, and had brought us much joy since. Rail will always be very special to us both.

How has winning the Grand Prize for the JLSC Folk category helped you in your musical career over these past few months?

Every artist has to write an elevator pitch, or short bio that you send out when looking for gigs or press, so it certainly helps to add 'Winner of the JLSC...". Every little bit helps! And the prizes have filled out my home studio very nicely, so I am better able to cook up the next batch of songs. Having the best tools makes a difference, and there was some pretty great gear from my favourite companies included in the win. My wife wishes one of the sponsors was Fluevog so she could have scored some nice boots for her part in it, but what can you do? ;-)

Any tips you can offer songwriters looking to get exposure in a songwriting contest like JLSC?

Many contests are not worth the entry fee...you really want to stick to really well known ones like the JLSC, otherwise you are just one of a thousand aspiring songwriters to be taken advantage of. It's becoming big business. But if it is an established contest, even just being a finalist can give you an edge. And if you don't enter, you won't win!

What's in store for you that we should be on the look out for – new songs, tour, or a music video at all?
We are very busy writing and recording the next batch of songs, and keen to write for film and television as well. So much music to work on, we will never run out! [We're] saving up for a sabbatical from our day jobs, so we can take a year and focus on music exclusively. Currently working on an animated video for a song we wrote to encourage organ donation, it's called Gift Of Life. It's great if you can use your music to make a difference in any way, and that is something I hope to do if I can.

Find out more about Ried Jaimeson via his EPK or his website, www.reidjamieson.com. Find out more about The John Lennon Songwriting Contest and submit your songs here (deadline to Submit is December 15th!).