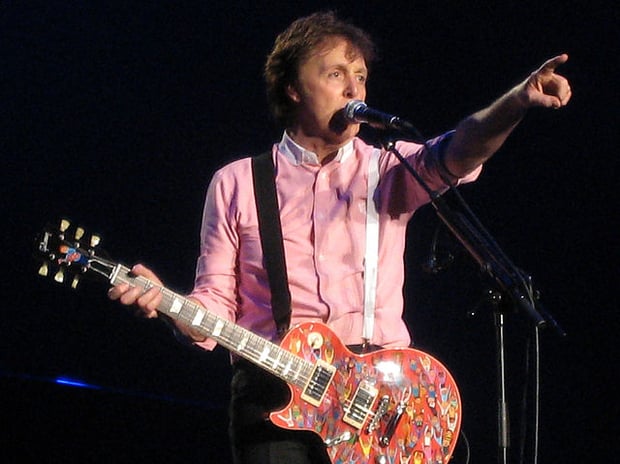 You don't want a Paul McCartney/Michael Jackson situation. (Photo by Eddie Janssens via Wikimedia Commons; used under Creative Commons)
Retaining ownership of copyrights may be one of the most important decisions in your music career. The person who owns the copyrights is the one with the control over how those works are used, and also the one entitled to the money earned from those uses. But sometimes, holding on too tightly to copyright ownership may prevent you from taking advantage of opportunities to grow your career. The age-old adage that sometimes you have to give a little to get a little is true, but you need to look at the opportunity cost and decide if giving something in a specific situation is worth what will potentially be gained.
Here are a few instances when giving up copyright ownership may be permissible.
1. When it will make you a lot of money
I'm not suggesting one should sell out just for a hefty paycheck, as sometimes dollar signs can't substitute for artistic integrity. I've also seen a lot of deals (especially in music library situations) where an artist or writer is being offered just a few hundred to a few thousand dollars in exchange for full or partial copyright ownership of a song that is really valuable to the artist or writer's catalog and career. In this instance, such a small amount of money may not be worth the control and potential revenues lost later if the song does well in the marketplace.
On the other hand, I have some clients who write consistently and don't care about giving up ownership as long these songs will churn out money, especially for placements. They feel they can always write another song and are more concerned with making their music earn money for them over crafting songs to define their careers.
2. When it will give you opportunities you wouldn't get otherwise
This is a situation where working with a certain company, or in many cases, a certain producer, will be able to propel an artist's career forward and help that artist achieve notoriety that wouldn't be achieved otherwise. Hit producers often don't even co-write the compositions, but granting them a percentage of songwriting ownership is mandatory for being able to work with them. After all, you could retain 100 percent of a song that most people will never hear, or you could give up 20 percent and have the song hit the Top 10, make a lot of money, garner name recognition, and bring more opportunities than you would have gotten otherwise.
In this case, it seems like a small trade-off and can be used as a means to an end. You might have to give up some ownership in the beginning of your career, but that could lead to a level of status in the industry where you can retain ownership and call the shots on future projects.
3. When it's in line with your goals
If you're a new artist seeking a label deal, especially a major label deal, you're not going to own your masters. Similarly, up-and-coming songwriters wanting a publishing deal will have to give up all or part of songwriter ownership. This is what comes with the territory of growing your career via the traditional industry structures. It makes sense from a business standpoint because labels and publishers are not going to invest time and money into an artist or songwriter without getting something in return, and part of their return on investment is ownership of intellectual property.
However, if you have a vision of making a living off of music in a completely DIY structure, or if the freedom of complete control is more important to you than working with others who are more established in the industry, then sharing ownership might not be the right choice.
Whether to give up copyright ownership is a big decision, and it is one that should be discussed with your advisors. The right choice for one artist may not be right for another. If you need help deciding whether to give up copyright ownership in a deal you've been offered, book a consultation with a music attorney.
Do you have questions that you'd like to get answered in an upcoming "Ask a Music Lawyer" article? Please send topic requests to askamusiclawyer@gmail.com. Please note that specific case advice cannot be given, and if you have questions pertaining to an issue you are personally experiencing, you should seek a consultation with a music attorney.
Disclaimer: This article is for educational and informational purposes only and not for the purpose of providing legal advice. The content contained in this article is not legal advice or a legal opinion on any specific matter or matters. This article does not constitute or create an attorney-client relationship between Erin M. Jacobson, Esq. and you or any other user. The law may vary based on the facts or particular circumstances or the law in your state. You should not rely on, act, or fail to act, upon this information without seeking the professional counsel of an attorney licensed in your state.
If this article is considered an advertisement, it is general in nature and not directed towards any particular person or entity.
Next up: Copyright Essentials: What Every Musician Should Know
Erin M. Jacobson is a practicing music attorney, experienced deal negotiator, and seasoned advisor of intellectual property rights. She protects clients ranging from Grammy and Emmy Award winners to independent artists, record labels, music publishers, and production companies. Ms. Jacobson also owns and oversees all operations for Indie Artist Resource, the independent musician's resource for legal and business protection offering template contracts, consultations, and other services designed to meet the unique needs of independent musicians.