"Welcome Home."
It's a sign that has hung at the entryway to the Kerrville Folk Festival for many years at the Quiet Valley Ranch in Kerrville, Texas. Since 1972, singer/songwriters, bands, and artists of every ilk, instrument, and genre have made the journey to the hills of Texas to play for a supportive and collaborative community of musicians, teachers, and music lovers. It's a place where you could be performing on a stage one minute, and strumming a guitar next to a campfire another.
One of the main draws to the Kerrville Folk Festival is the New Folk Competition, where hundreds of up-and-coming artists from around the country submit original music in the hopes that they will be chosen to perform at the historic festival. Using Sonicbids as one of its primary tools, the New Folk Competition has enabled musicians to get their music in front of people who have a rabid desire to hear it.
We sat down with one of the producers of the festival, Dalis Allen, to talk about what makes this 18-day event in the beginning of the summer so unique.
The Kerrville Folk Festival has been a pretty big staple in the singer/songwriter community since it started in 1972. How is it unique compared to other festivals that have popped up in the last 20 or so years?
Well, it's the only festival that supports songwriters in particular. I only hire and book people who write original music. It can be any genre: blues, bluegrass, jazz, rock, folk, klezmer – it doesn't matter as long as it's original and it's excellent. We have 18 straight days of a variety of music. When you come to the festival, you might hear songs by George Strait or Garth Brooks or Lucinda Williams that have been on the radio – but [performed] by the person who actually wrote it.
18 days is pretty extensive. Is it hard to book talent to fill all those days of the festival?
It's not difficult at all! In fact, I could probably fill every spot two or three times just from the list of artists that I have. I travel to hear them live, mostly…. For instance, I just came back from the Folk Alliance Conference, and I could give you a list as long as my arm of folks I've heard for the first time who have entered our New Folk Competition, which is particularly what we work on with Sonicbids. It's just one way for people who write to get in front of a really good, receptive crowd who wants to hear their songs, and quite often that is a vehicle that can help them along the way with their booking. That's part of our mission as well: press people, radio people, and venue people all come to the festival so that they can hear these artists and help them take the next step in their careers.
It sounds like so much more than just a live music event, but more of a celebration and a gathering of a musical community. How have you seen that evolve over the 40-some years that the festival has been running?
It's really reflected in the letters that we receive where people tell us, 'Coming to this festival has changed my life. I found a community, I found a family… I found people who do what I do and who encourage and support me.' We do music camps for teens in the summer and collaborate with the Boys & Girls Club. Everything we do is aimed at the larger community that music creates. Our campground hosts hundreds of campfires, whether there is actually a fire in the middle or not, but just groups of people that gather and perform songs 24 hours a day. If you aren't a billed artist, you can come here and you still get to play – you just find your tribe, hang out, and co-write and present your songs to avid listeners. People can stay for a whole month and find a whole new family. We have a sign that says 'Welcome Home,' and it's just become a part of the culture of our event; once you get here, you've found a home if you want it.
The New Folk Competition sounds like it's become a very important vehicle for songwriters who want to find success in music. Is it tough to narrow down all the submissions to just 32 finalists?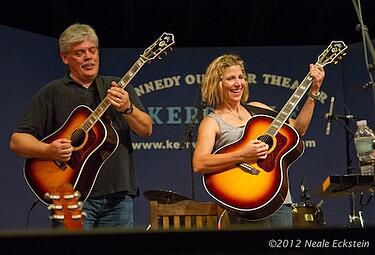 Absolutely. Thankfully, we have a system now, but it used to be that just the producers listened to all the submissions from every artist. We have 40 or 50 people who have access to a listeners' site where all the songs are uploaded, and we take submissions of two songs each from up to 800 artists. Those are all listened to and scored anonymously, and then we listen again and again. The scores are compiled by the platform, and we see who gets the highest scores. A lot of the time, we get half or more of our submissions through Sonicbids.
What advice could you give artists who are looking to submit to New Folk, or even to just come down with some instruments and play for people around a campfire?
I would say know that whatever you bring is going to be accepted. You're going to get a lot of encouragement and advice there, and you can learn a whole lot by the people that you are surrounded by. Lots of the time, many of the billed artists are also at the campfires, and you could be sitting next to anyone at a campfire, like Guy Forsythe for example. Everyone loves coming and hanging out and being a part of the whole event. With the submissions, make sure you're entering what you feel the best about, and know that you will be performing to an audience that is pin drop quiet and ready to be blown away by whatever you bring.
The deadline for the Grassy Hill Kerrville New Folk Songwriting Competition has been extended to March 8, 2014. Click here for information on the guidelines and prizes, and click below to apply for your chance to be a part of the festival.