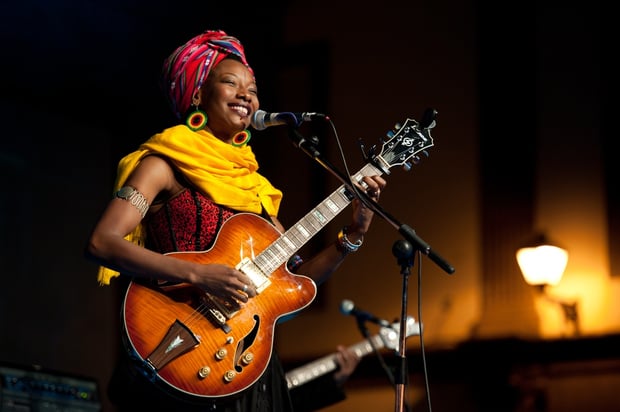 Photo by Criben / via Shutterstock
Let's talk about marketing. If you're a frequent reader of the Sonicbids blog, you already know that social media plays an important role in your music career. From building your brand to interacting with fans, so much of your growth and opportunities to connect come from these spaces.
But what about using them as marketing platforms? In a way, you may already be doing this. After all, every successful interaction you have with your fanbase is a chance to further any marketing goals.
If you're feeling stuck, check out these tips for how to market your music in a way that's sure to grab the attention of not only your fans but the music industry at large.
Marketing means more than Facebook Ads...
When you hear the word "marketing," your mind probably instantly goes to numbers and advertising. While it's true that's a piece of it, it's not the whole puzzle.
When we talk about marketing in this article, we're talking about an overall drive to bring sales and attention to your music, but that doesn't mean it's all ads-based. So much of marketing has to do with branding and the way in which you convey your message. It's those brand-specific, cleverly worded and executed messages that not only grab attention but stick with people and get them talking.
And when fans talk, the industry listens.
...but Ads can be used effectively
Ads can, however, be a powerful way to get in front of fans new and old, you just have to know how to use them correctly. While we could write an entire article's worth of content on the dos and don'ts of advertising on each social-media platform, there are a few key takeaways you'll want to keep in mind:
Target the right audience
This is not a good time to cast a wide net and see what sticks. For ads to be effective, they must be highly targeted. For instance, if you sound like The Front Bottoms, your brand is heavily intertwined with skateboard culture, and you know your fans tend to fall between aged 18-24. Therefore, you'll probably want to target people who like The Front Bottoms, skateboarding, and are aged 18-24.
[A Guide to Facebook Advertising for Musicians]
Write thoughtful captions
If you've hooked people with your photo or video, you don't want to lose them on the caption. It should be creative and engaging, but it should also be relatively short. Focus on conveying your message in a concise way.
Get creative with packaging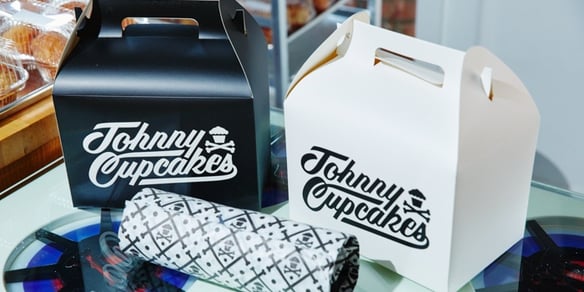 Image via moo.comPart of having a strong marketing game is knowing how to package your merch. Take brands like Johnny Cupcakes. The Boston-based chain sells clothing, yet their entire brand and marketing is a callback to bakeries, and they follow that theme in everything from their retail stores, to their packaging, to special events and promotions.
Their store is set up like a bakery, including baking trays and retro ovens that hold T-shirts. Instead of using bags for their customers' purchases, they sell and ship in bakery boxes (see above).
They stick to their brand, and because of it, they've created a massive following and sales from it.
Think about how you can take this method and apply it to your music. For instance, including handwritten notes with every online order or customizing your shipping boxes with personalized drawings. You can even make custom tissue paper to wrap your shirts in — it's actually pretty affordable!
Industry professionals are paying attention, even if you can't tell
All of this brings me to one central point: Trust that the industry is always watching, always paying attention, always taking notice of the little things as well as the big ones, even if you don't notice.
Most of us who are active industry professionals are doing all the same things your fans are; we're reading blogs, checking out the social media of bands we're curious about, going out to shows, and our friends are telling us about bands doing cool things. In short, we're tuned in to what's happening, and if you're making noise, we're going to hear about it.
It's kind of like that rule of always playing like you're in front of 1,000 people, even if it's only 10 — you never know who's going to be in that audience.
Next up: 3 Essential Steps to Finding the Right Social Media Platform to Promote Your Band
Angela Mastrogiacomo is the founder and CEO of Muddy Paw PR, where her artists have seen placement on Alternative Press, Noisey, Substream, and more, as well as the Director of Community and Events for Music Launch Co. She's also the owner of music blog Infectious Magazine. She loves baked goods, a good book, and hanging with her dog Sawyer.