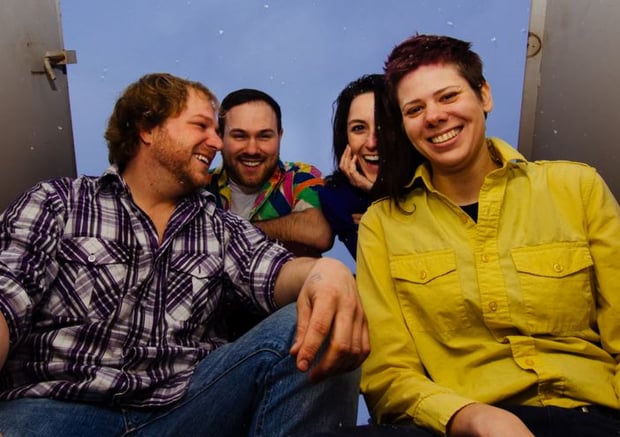 Image via sonicbids.com
Boston's own indie-pop outfit Marriage Material recently achieved what many bands only dream of: they staged a successful Kickstarter campaign. As a result, they were able to get some killer recordings on tape, land larger gigs via Sonicbids, and nail opening slots for the Rare Occasions and Talisco.
The whole process has taught them a lot about being in the music business, and they were kind enough to share some of their insights with us during their recent office gig at Sonicbids in Boston. Here are three tidbits from Marriage Material vocalist Chelsey Reynolds to you. Use them and get your music out there!
"Don't get angry when someone tells you that you don't sound super live, and don't settle if someone else tells you that you sound awesome. There's always room to try new things and get better."
"Stick around to watch the other bands perform, and keep in contact with people you meet at gigs. If you've ever played to an empty room, you'll understand how much it means that openers stick around for support. One day, you could be a part of a collective album (check out Full Circle from Static Motor!), play a crazy house party together, or need to borrow gear or band members for shows."
"Quit your day job (at least once), because sometimes you need to be backed into a corner to see whether you really want this whole 'music thing' to be your entire life."
So now that the band's well on their way to climbing that elusive indie ladder, what's next? Recently, Marriage Material added guitarist extraordinaire Gianlorenzo Galiano to the mix to expand their range. Along with reworking some of their older songs and recording new ones, they're looking forward to performing in Boston and Providence this spring and can't wait to hit the road at the end of the year.
Check out the band's performance of "We'll Talk Later" live from our Boston office, and don't forget to catch them on tour!