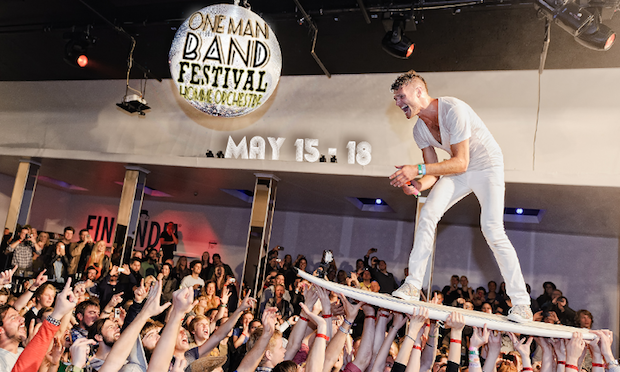 Whether it's due to financial limitations or technological advancements, artists today are discovering new, innovative ways to record and perform their music. The One Man Band Festival is a unique event in Montreal that brings together solo performers from around the world to celebrate and showcase the creativity of one-man/woman bands.
In its three years of existence, the festival has been the subject of several features, including a BBC radio documentary, and has grown to accommodate nearly 100 artists from Canada, the United States, Britain, France, Portugal and Japan.
The festival programmers were so impressed with the caliber of Sonicbids artists that they've accepted over 40 of our members to perform at the event this week, including Boxwood, Delta Will and Shotgun Jimmie – just to name a few!
Creative Director Jonathan Cohen assures us that this year's fest is going to be like none other, and that it's "a gift to anyone who thinks they've seen or heard it all." Below, Jonathan tells us more about this unique opportunity for one-man/woman bands and the part that Sonicbids has played for the festival.
How did the One Man Band Festival come about?
I was touring for five months as a one-man band across Europe in 2012. During this time I was traveling from city to city, country to country and experiencing a wholly different culture and scene every night. I was meeting a whole host of artists along the way, many of whom were one-man bands like me. One night I had a dream that I was alone in a theatre, watching a succession of one-man bands performing on stage, one after the other. Each one had a different style and a different set of instruments. Each one created a whole new experience and brought a totally new atmosphere to that theatre. When I woke up, I knew that I had to create exactly that experience. And so the One Man Band Festival was born.
Why is this festival important for solo artists?
There is no other community like this in North America. Traveling as a solo artist is liberating, but it's also challenging and extremely lonely at times. The One Man Band Festival doesn't only introduce these artists to new audiences, but it also introduces them to each other, and invites these artists to experiment with the versatility of traveling solo. Many of the artists who have performed at previous years' festivals have kept in touch with the other artists they met, and have formed lasting friendships across long distances. There's an element of solidarity among lonely troubadours.
What's the experience like?
If the festival were an object, it would be that legendary magician's hat. One time you look at it and the magician pulls out an endless stream of handkerchiefs of all different colors. Next he pulls out a white rabbit, and then the next time he tips it upside-down and a bucket full of glitter falls to the ground. Every time you come to the One Man Band Festival you'll be met with something unexpected, something magical and something you never thought could come from a single person.
Why is this a good opportunity for Sonicbids artists?
We are constantly impressed with the creativity and originality of the artists who submit to us through Sonicbids, and these artists are often the ones who impress the audience the most. The festival presents a great opportunity for artists who submit from Sonicbids because our audience knows that when they come to an OMBF show, they are in for an audiovisual treat. The artists we choose come from all over the world, and every one of them brings something unique and special to the festival.
How has Sonicbids been beneficial for the festival?
Sonicbids has taught us so much about the variety of talented musicians out there. We've been fortunate to have been introduced to a whole huge number of artists, each doing a different thing and every one bringing something new to the table. We've had submissions from every country you can imagine, from Japan to Scandinavia, and it's been eye opening and affirming for us as a festival to have contact with all of these artists. I wish we were bigger so that we could give the deserved time to all of these artists, but at the same time I'm so grateful that we've been introduced to such a wide variety of artists.
Describe one of your favorite festival memories.
I clearly remember being very nervous last year when the festival began and people slowly started to creep into the shows. I was sure it would be an epic failure. But then, as I watched the first artist get on stage and blow everyone away… I knew it would all come together and that it was worthwhile!