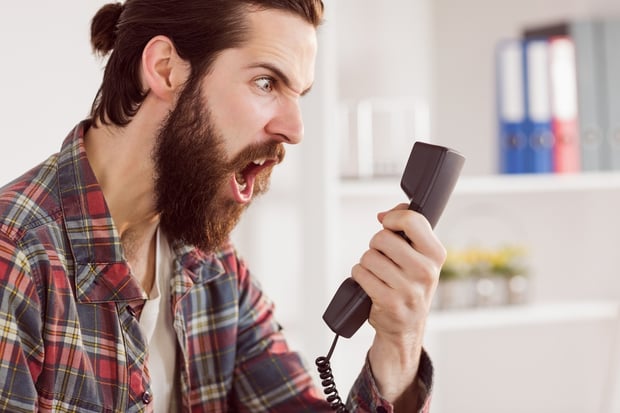 Image via Shutterstock
Here on Sonicbids, our readers are primarily musicians and artists of all levels. We aim to offer advice and knowledge to help you build your careers. In this piece, though, I'm preaching to the choir in an effort to not only show you that we've got your back, but to maybe assist you in communicating with your fans and the public about a topic that's sometimes tough or uncomfortable to bring up. Feel free to post this on your socials if you think it'll help.
Today's topic is one particular sentence to stop saying to artists. (Admittedly, there are a few sentences, but we're focusing on just this one.) I'm not one to coddle artists, but this line keeps coming up, and I've yet to see it result it anything positive. It can be hurtful, insulting, uncomfortable, and/or just downright awkward. Everyone from morning TV news anchors to music fans of all ages are guilty of it.
"I've never heard of you before."
It's also said in many other forms such as, "Why have I never heard of you?" or, "I couldn't get any of my friends to come to the show, because none of them have any idea who you are," or, "I played your music for my friends and none of them knew it." Regardless of the specific word choice, the message itself is cringe-worthy.
There are, of course, some artists who don't give a shit about this. But from where I stand, it seems that for many, whether indie or major, nationally touring or playing Saturday night open mics at the local bar, their names (real or stage) are their brand. Like in any business, artists want their brand to be known. Some spend hours, others decades, hustling to get their names out there.
Now, I'm not recommending that we all start lying to artists, saying we're familiar with them if we're not. But there's a better way to communicate our lack of knowledge while also lifting them up. It's kind of like telling someone they "clean up well," versus just saying they look nice. Here are some examples:
Instead of: "I've never heard of you before."
Try: "I'm a new fan!" or, "I'm not familiar with your music, but I'd love to hear it!"
Instead of: "Why have I never heard of you?"
Try: "I can't believe I'm just now joining the party!"
Instead of: "None of my friends know who you are."
Try: "I'm turning my friends on to your music!"
Instead of: "You might not know his name, but you may have heard his music. [Artist] is here to perform."
Try: "You've likely heard his music, now see him perform. We're honored to have [artist] in the studio/house/venue today!"
One could argue that not knowing an artist is a reflection on us – that we're out of touch – rather than the artist's level of notoriety and success. For instance, my father had no idea who Miley Cyrus was, even after the "Wrecking Ball" video. So rather than look stupid and risk insulting someone (and, well, sounding like a douchebag, too), we could choose our words wisely and maybe end up forging a really wonderful relationship with our new favorite artist.
Laura Goldfarb is the owner (aka Big Kahuna) of music public relations firm Red Boot PR in Los Angeles and NYC, which encourages a family-like vibe for its diverse roster. For almost 10 years she's also been the host, writer and producer for BreakThru Radio's "Jam Session," reporting to the Relix/Jambands Radio Chart. She recently started writing a column on the #FlyingSolo concert experience for Relix magazine. Follow Red Boot PR on Twitter at @redbootpr.