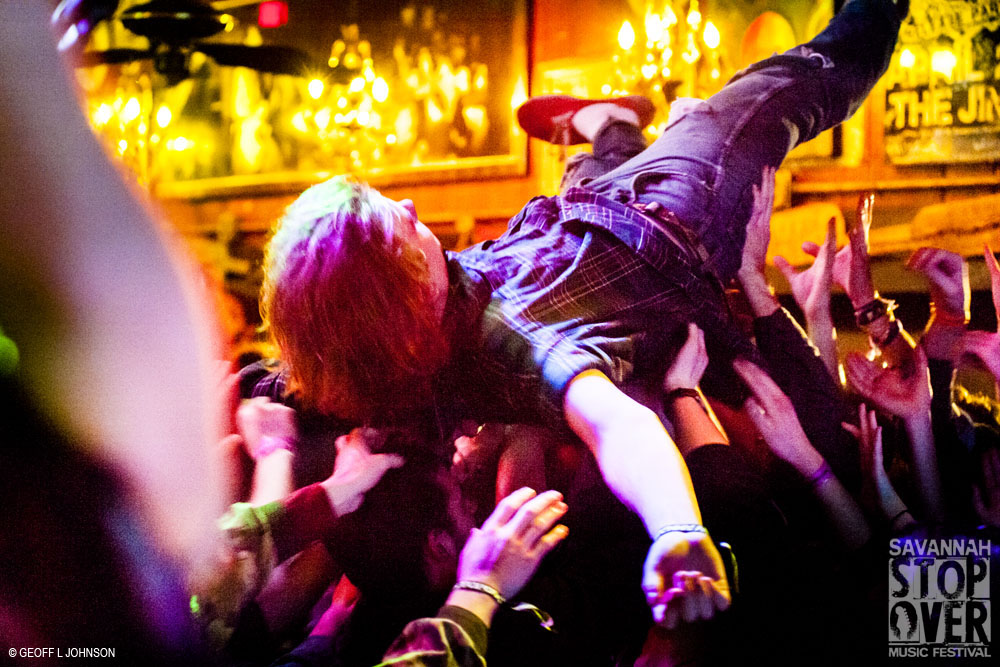 Inspired by the success of Austin's SXSW, forward-thinking entrepreneurs around the country have been launching their own versions of the festival. Athens Slingshot and Savannah Stopover — two March fests that have popped up in Georgia only within the last five years — are both excellent models of how tailoring a festival to the needs and strengths of a community can pay dividends.
"Taking the temperature of what the community needs was kind of the first step," says Kai Reidl, one of the founders of Athens Slingshot. A longtime resident of the Southeastern hub of music and culture, Reidl saw an opportunity in the dearth of local events with emphases on technology, or connecting Athens' substantial artistic brain trust with the greater national and international communities.
"Trying to meet that need was the main impulse," Reidl says.
Now in its second year, Athens Slingshot has already made great strides toward those goals, and toward establishing its longevity. This year, they've landed partnerships with Dos Equis, MailChimp, Urban Outfitters, and more. Reidl credits this to having simply started doing.
"I think one of the smartest things was that last year, we had a choice of trying to put together a small-scale version of what we were doing, or waiting until this year and making this the first year," he says. Having something to point to, an example of the founders' vision for the festival, was instrumental to their growth. 2014 has been another formative year for Slingshot, which has acts like Tinariwen and Kishi Bashi on the docket. In the future, Reidl looks forward to partnering with Sonicbids to book his fest.
Kayne Lanahan, who founded Savannah Stopover in 2011, has been using Sonicbids for the last three years. "So many bands use it. It's so widely available. It makes it really easy," she says. This year, the lineup includes heavy hitters Future Islands as headliners.
After relocating from New York to Savannah, Lanahan quickly realized that up-and-coming artists weren't booking shows in her new hometown. Capitalizing on the fact that Savannah is on the way to Austin for many touring bands, and understanding that booking shows along the way to Texas provides musicians with much-needed gas money, Lanahan created a festival that serves the needs of her community and touring bands alike. The Stopover takes place annually on the weekend before SXSW and offers bands some much-needed Southern hospitality.
"We felt band hospitality was something we could do better," says Lanahan. "It's called the Hostess City. We put them up in local homes and feed them homestyle dinners …. We looked at Savannah in terms of what a hospitable city it is."
Savannah, too, benefits from the arrangement, in terms of jobs for locals and an uptick in tourism.
"We try and do an economic impact study each year. It's an estimate, but one of the main objectives of the tourism board in Savannah is to continue to attract a younger demographic. Every year we have more and more people coming in from out of town," Lanahan says. She also mentions that almost everything needed for the festival — from graphic design to equipment rental — is provided by local businesses.
In both cities, people have materialized who want to help make the festival a success, lend their expertise, or offer new opportunities to expand the breadth of the event. Savannah's festival now boasts a juried art contest and a storytelling event, for example, while Slingshot is still in the process of building such connections across different parts of its local community.
"You want to find that sweet spot between what the community thinks it needs and giving it something it doesn't know it needs yet," Reidl says. If their early years are any indication, both Athens Slingshot and Savannah Stopover have found that sweet spot — and turned it into something even sweeter.