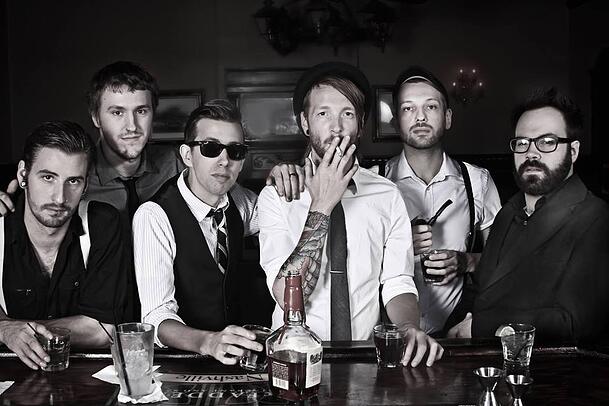 J.D. Short, far right. Photo courtesy We Are the Finale.
As any band that takes their craft seriously — especially those who play largely in their own hometown — knows, it can be easy to fall into the rut of playing shows with the same few bands over and over again. Maybe you want to play with your friends, maybe you have a group you can share a backline with, or maybe you just know that the fans of your band overlap with the fans of the bands you often share a bill with. But the ease and convenience of falling into a booking routine may mean missed opportunities to grow your fanbase or learn from other musicians.
J.D. Short, guitarist for the chaos pop band We Are the Finale, figured this out early in his musical career with his former group, The Compromise.
"In the earlier days of my pop-rock band, The Compromise, we would purposefully [book shows with bands we didn't play with often] to not only try to widen each other's audiences, but to turn our own audiences onto other genres as well. For example, one of our shows was a 'mash-up party' with our friends in a local hip-hop group called Streetlight Allstars. We would play a set of originals and cover songs, invite one of their DJs on stage to play with us, then transition into their full group coming up to play. By the end of the night it was a mix of both bands, and the crowd loved it."
Especially in scenes that are typically unfriendly to certain types of acts, booking with bands that don't sound like yours can be an opportunity to create access where there was none before.
Matt Rowe is a guitarist in the Busan, South Korea-based "aggressive dance rock" group Release the Robots. The recently played a show with The Strangers, a group of Korean musicians who have been playing music in Busan for years. "Tragically, the Korean bands have the hardest time playing clubs here. They usually have to piggyback on the shows of foreigner groups," he says. "Those guys are all mega-talented. The Strangers opened for us for our second show, and one of the members, Jun, was asking me after the show to please book another show so we could play together. We didn't really make any new fans that night other than them, though that was totally worth it, 'cause I have musically idolized those dudes since the first time I saw them."
Joel Martin of the Atlanta metal band Sourvein was on the receiving end of such treatment on a recent European tour. "First thing that comes to mind is an Italian band called Grime. I never really knew of them until we did this tour, and they kinda reached out before we even got over there just to say, 'Hey, we'd like to play a few shows with you,'" he says. "Even when they weren't playing, they would show up every now and then at our shows. That type of commitment to a scene or a genre and just supporting other bands, to me, was key to getting ahead. This sounds cliché, but the more you give to a scene, the more you get back." Martin returned to the States with a refreshed perspective on how to make his own scene better.
Whether on the road or at home, doing the extra work to form partnerships outside your normal circles can pay dividends, both in terms of broadening your fanbase and enriching your music community.