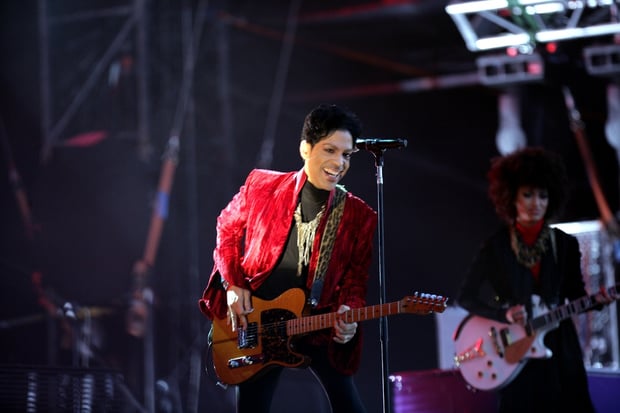 Image via Shutterstock
Yesterday, the world was shocked when the news was confirmed: Prince, the chameleon of the pop world, was dead at 57. His sudden passing touched every reach of the music community with an outpouring felt across the globe. For many, Prince had been a revelation, an artist like none before him, who proclaimed, "I'm not a woman, I'm not a man, I'm something you'll never understand," leading many to speculate that he hadn't died, he'd just "transcended."
Born Prince Rogers Nelson in Minneapolis, the shortening to just his first name wasn't the artist's only rebranding. In 1993, Prince infamously changed his name to a symbol, an amalgamation of the male and female symbol, and went by the moniker "The Artist Formerly Known as Prince." Why? Because he was railing against the constraints of his contract with Warner Bros. records. Over the course of his decades-long career, Prince championed the rights of independent artists; during his legal battles with the major label, he frequently wrote "Slave" on his face in protest of the control over his music.
"People think I'm a crazy fool for writing 'slave' on my face, but if I can't do what I want to do, what am I?," he told Rolling Stone in '96. "When you stop a man from dreaming, he becomes a slave. That's where I was. I don't own Prince's music. If you don't own your masters, your master owns you."
Eventually, the two parties settled their dispute, and Prince released albums on the label as recently as 2014. At the time of his death at his Paisley Park residence in Minnesota, he was working on a memoir; no word yet on whether or not it will eventually be released.
An outpouring of grief obviously enveloped the internet on Thursday. Here are a few highlights from Twitter:
I'm Crushed!! UK news reporting Prince Is Dead?! For Real?! Massive Loss for us all! What a Genius! Speechless.

— Samuel L. Jackson (@SamuelLJackson) April 21, 2016
Today is the worst day ever. Prince R.I.P I am crying!

— Boy George (@BoyGeorge) April 21, 2016
Only now do we know what it sounds like When Doves Cry — the absence of music from loss of The Artist. RIP Prince (1958-2016)

— Neil deGrasse Tyson (@neiltyson) April 21, 2016
One thing's for sure: no one will ever take Prince's place. His incredible mark on the industry lives on even when he's "transcended" to another plane.
What's your favorite Prince song? Share your memories in the comments!