QR (Quick Response) Codes are a fantastic way to utilize the popularity of Smartphones to grow your fan base! There is a ton of different ways that a band or artist can make use of this valuable tool- here are a few!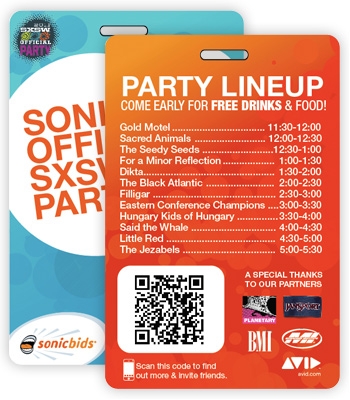 1. To grow your social media presence. Add QR Codes onto marketing materials like posters and stickers. Offer a free track to fans that "like" your Facebook page or follow you on Twitter! Free downloads are sent directly to phones via mobile site links or SMS, so this is also a great tool to encourage music discovery away from the computer!

2. To promote gigs and grow your local fanbase. QR Codes can also link to a mobile site including tour dates and upcoming shows. Playing a number of local shows? Fans can scan the QR Code at a venue to find out when you'll be in town next. Don't forget, a local following is the best way to get noticed by regional and national tastemakers!

3. To maximize promotion efforts and get the most out of your tools. Did you print up hundreds of posters or stickers for your last tour? Have you plastered your local and national markets with these tools? That's great, but they might have old information and dead links! With QR Codes, you can always change the mobile site destination. Fans can scan the QR Code during at a gig for a list of tour dates, and then scan it months later for a link to your merch page or Facebook fan page. The possibilities are endless, and you (the artist) are in control!

This year at South by Southwest, Sonicbids used QR Codes directing fans to RSVP via Facebook to our SXSW showcase. It was a great success, and this could be an awesome way for you and your band to make the most out of summer festivals! Have you tried using QR Codes yet? Have any unique ideas or success stories? Tell us about it!