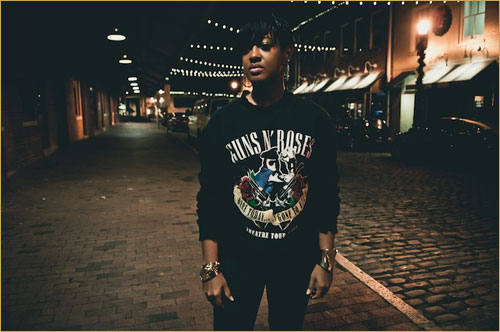 Get to know Sonicbids member Rapsody. She is the owner of one of the best verses on the BET Cypher in 2013, artist on 9th Wonder's It's a Wonderful World label, and collaborator of Erykah Badu, Ab Soul, Kendrick Lamar and Estelle. Post cypher, I wanted to chop it up with Rapsody, to learn more about her process in becoming one of the most relevant artists in the game. After a few tweets and e-mails, the following conversation took place via telephone on a blistering December afternoon. I hope you enjoy reading this as much as I enjoyed getting know her. #respect.
Let's break the ice, what'd you have for lunch?
Wow, hahaha. For lunch I had a Bojangles kids meal, 2 chicken strips, fries and an orange juice.  I'm a picky eater but I love kids meals.
You signed with 9th Wonder in 2008, how did you connect with him?
I met 9th while I was in college, through a friend of mine named Tom Foolery, there were a bunch of us. We started a hip hop organization on campus. We made a compilation of music. The group had all different types of artists in it. Graffiti artists, musicians, producers and a few others.  I was doing poetry then and wasn't rapping yet.  I was holding on to the rap dream in silence. 9th heard my CD in late 2005 and he gave honest feedback.  He said that it was a good start but that I had a few things to work on.
Where was your most memorable first live gig?
It was this place called The Brewery in Raleigh, North Carolina everybody in the city knows it.  It's not there anymore though,  it was torn down a year ago.  A lot of local artists performed there including Little Brother.  When I signed with 9th, we had our first shows there and performing at that place was like a rite of passage. I remember this performance at The Brewery where this one girl in front started crying, that was a pretty wow moment for me.  That was a memorable one for sure, R.I.P to The Brewery.
What are some obstacles you faced early in your career, and how did you get past them?
I'd say early on just being patient. Focusing and honing in on what you want to do. Understanding that it takes time to get to where you want to get.
All artists struggle with not having, I remember thinking about where I was going to sleep at night.  Right before I signed with 9th I got really sick and I moved home, which is an hour away from here. I used to sleep the studio but there was no shower.  I would just wake up and figure out whoever friends house I would have to shower at and then go back to the studio.
Be patient, stay dedicated by practicing your craft. It's all about remaining hungry and staying focused. Currently in my career I'm starting to understand the differences between being a female and a male in hip hop. Those are the types of obstacles I'm tackling right now.
What advice would you offer artists who are starting now in today's climate?
9th always says this to me. "If there's something you want to make your life, you have to make it your life." It's true,  you have to wake up and go to sleep doing it. You have to practice everyday, your first thought when you wake up should be what can I do today to make my dreams come true.
What do you wish you knew when you were starting up that you know now?
I think with me, most of it has to do with my rhyming and skill of it, you know about cadence and melody and things of that nature.  It would've been great to know about how important that is when I first started. If I knew that, I think things would have moved faster, I wouldn't change anything though because this has been a great journey.
Thinking about the past, when I listen I can hear my progress and how much i've learned.  It all comes together at once.  Just like when Neo is in the matrix when all of the bullets are coming at once and then they slow down. I've started to see things from a different angle.
Our mission is to be THE career platform for artists.  In your opinion, with someone artists on the scene how can an emerging artist make their brand stand out?
A lot of times, it's about your creativity and having the ability to do something different. At the end of the day what can set you apart is the product that you're putting out. Your product has to be honest, something people believe in, something that they want to invest the money that they worked for in, something that makes them want to take the drive to go to see you perform. It's all about making sure your product is great.