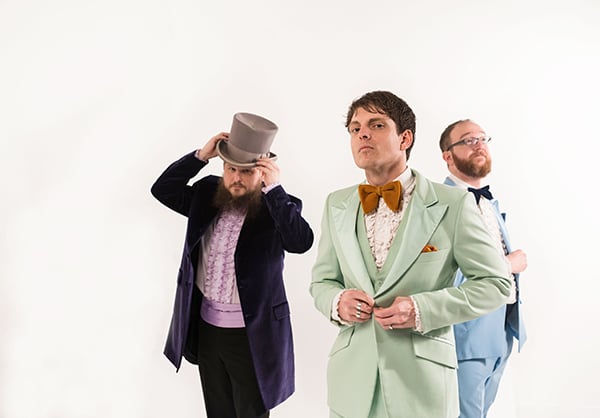 Last year, pop/rock band Red Jacket Mine took Bumbershoot by storm. They were one of five Sonicbids acts selected to play Seattle's premier festival. We chatted with RJM about preparing to play Bumbershoot, advice for artists applying this year (scroll to the bottom for submission details!), and what's next for the band.
Red Jacket Mine began as a solo recording project back in 2003, when I was still attending college in southeast Missouri. I moved to Seattle in late 2004, and by the following fall, our longtime drummer Andy Salzman and I were playing our first band shows. Ten years down the line, I feel like we're still growing and becoming what we set out to be.
When you were first starting out, what did you look for in a gig?
Money is always nice, and helps it all go 'round -- but especially in the beginning, it was all about exposure to new audiences. Sharing stages with artists we admired was goal number one, whether they were like-minded local bands or national touring acts. We paid our dues with lots of Tuesday and Wednesday nights, believe me... and we met a lot of great folks along the way.
What was it like playing Bumbershoot last year?
We'd been angling for a shot at Bumbershoot for years, and it was a pretty amazing experience. Your band's presence on the festival roster alone, regardless of the time slot, can open a lot of doors in terms of press, publicity, and other gig opportunities. Playing the festival itself was a blast... lots and lots of new (and friendly) faces in the audience, and amazingly professional sound and crew.
How did you prepare for the festival?
We rehearsed and toured our butts off, basically! Our third album, Someone Else's Cake, was released in February 2013, and we spent the months between the album's release and the festival playing as many shows as possible. We were actually on the road when we got the news that we'd been accepted -- we were about to play an in-store at Music Millennium in Portland, Oregon. That was an auspicious beginning to a tour!
What made Bumbershoot such a unique experience?
After eight-plus years of slogging it out on the local/regional scene, it was really satisfying to be acknowledged with a slot at the Bumbershoot festival. We really brought our best on the day of the show, and seeing so many friends who had supported us for years in the audience made it extra special.
What advice would you give to artists who want to play Bumbershoot this year?
Don't give up. There are a limited number of slots for regional acts, and the folks at One Reel have some very tough decisions to make every year. Keep applying, and make your interest in playing the festival known. If the music is great and you can bring folks out to the clubs, your time will come. And it'll be worth it.
How has Sonicbids benefited you as a band?
Sonicbids provides an easy framework for approaching big opportunities like Bumbershoot, SXSW, and CMJ, and takes the guesswork out of it -- who to email, what information to include, etc. All of the essential data is right there, in an easy-to-digest format. It also makes it easy to track the gigs you've applied for, which can be helpful in busy times.
What does 2014 have in store for Red Jacket Mine?
We're currently in the studio with producer Johnny Sangster working on the follow-up to Someone Else's Cake, which we plan to release in early 2015. We're hitting the road for some regional dates in May and June, and hope to play a festival stage near you this summer!
This year, Sonicbids is partnering with Bumbershoot to book four North American artists. Selected artists will be compensated for their performances with a travel stipend of at least $250. Submissions close March 21st, so click below to apply.