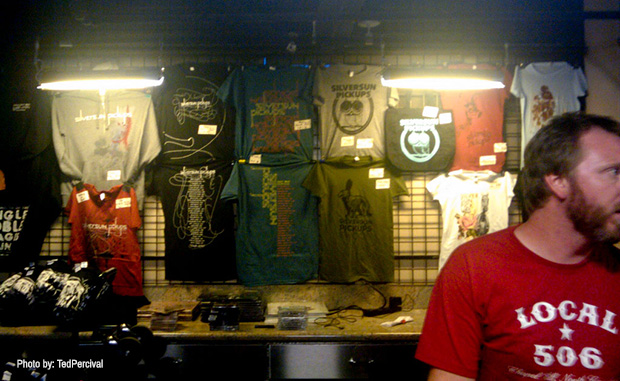 With album sales on the decline and streaming services generating about one thousandth of a cent per stream, merchandise is quickly becoming a top way for bands to put gas in their tank and bring in revenue while on tour. Sell enough and you can even upgrade from Taco Bell to Chipotle.
We know that buying merch can put a strain on your wallet though, so we've teamed up with Vistaprint to help save you money. When you place your order through the link below, you'll save 10% off your order.
So what should you stock your merch table with? Well, your music is a given. It's always a good idea to support any live show you play with an album. Whether that takes the form of CDs, vinyl, or even download cards is completely up to you and how you think your fans will want to consume your music. Many producers will even bundle the record with a digital download link, so your fans can have the best of both worlds. No matter what you choose, the idea is to offer them a way to take home the experience with them.
Besides making your music available for purchase at your shows, consider filling up the rest of your merch table with these three must-haves:
Bring your music from the ears to the eyes of the masses. Whether you've got a classic logo, a great band name, or maybe even both, make sure to have your shirt inventory stocked. The brighter and weirder, the better.
Some call them koozies, some call them cozies. Regardless of what you call them, just make sure you have them for sale at your merch table. 16-ounce cans of ice cold PBR are great in theory, but in reality, ice cold is too cold. Your fans will get to rock out in comfort with no worry of frostbite -- and as an added bonus, just imagine how many BBQs and tailgates they'll be showing off their koozies at (with your band name on them) in the future!
With the exception of the music itself, there's no single piece of merch that inspires fans quite so fervently as concert posters. There's a growing community of poster traders, so tap into this with your very own tour posters. Trade chicken scratch for real scratch: offer signed posters for a little extra, and they may be worth more to your fans in the future. Remember, when they hang your poster in their dorm room or man cave, they're doing the advertising for you.