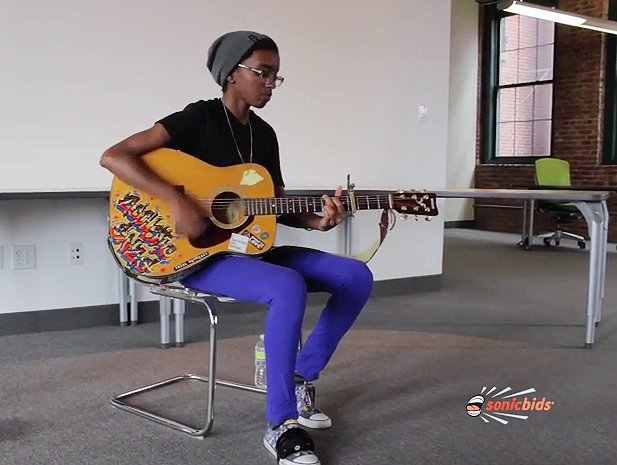 Stripped-down, acoustic perfomances are sometimes the way artists bare their innermost thoughts. Not to mention expose their musical prowess for all to see, and of course, have a little fun along the way. The supremely talented SeñoritAwesome! – the stage name of singer-songwriter Lauren Fareira – recently stopped by the Sonicbids headquarters in Boston for our office gig series, where she performed her feel-good, folky pop tune, "A Song That's Sadder Still." With a smile on her face and instrument in hand, SeñoritAwesome! caught our attention, our hearts, and our ears.
A self-described "guitar-strumming, ukulele-plucking, egg-shaking singer and songwriter," SeñoritAwesome! travels around the country to perform at a variety of events, ranging from music festivals and concerts and even to Hot Topic at local malls. When asked about her favorite performance so far, she said, "I played the Kite Festival in Georgia. There were swarms of people on the sidewalk, like 3,000 people there, and it was the biggest show I've played so far. It was kind of scary...but also really pretty awesome."
Wrapping up her spring 2015 tour, SeñoritAwesome! has plans to record in the studio and start working on her next EP soon, hopefully for a July release in time for her summer tour.

Watch SeñoritAwesome! perform "A Song That's Sadder Still" at the Sonicbids office:
Want to be featured on the Sonicbids blog? Tell us your story by June 21, 2015!