Influenced by the twangy country of an older generation and the new age pop sound, Derek Astles has found his own original sound. Dubbing his unique music "folknrolln", he's been spreading the genre-bending love all up and down the east coast. We recently caught up with Derek to chat about his favorite gig, the art of a physical album, and where you can see him next.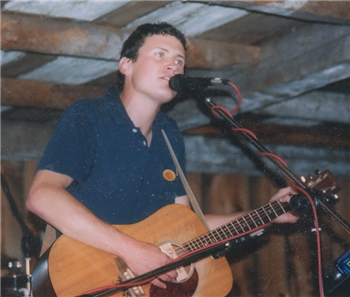 What do you hope listeners will get from your music?

I'm a lyric lover. The right words put together with the right music makes my knees weak. When I was a little kid I remember every time 'Where Did Our Love Go' by The Supremes came out of the radio it made my chest numb and my spine tingle. An amazing rush would sweep my brain away. There was something magical in the way that song made me feel. Some of the songs I've written do that to me now and I'd like to find out if there are people out there who might feel the same.

What's the best gig you ever played?

It was a month n' a half into my first ever tour. I'd booked about 20 shows from New Hampshire to California. I was with a harmonica player named Streetlight and we had a van and a tent to sleep in and a rock n roll dream. We started the tour off around Halloween in Bradford, NH and over the next two weeks snaked our way into Dixieland through VA, NC and eventually in Knoxville and Nashville. I bought the van a new transmission in Lenoir City, TN then we played some in WV and Kansas and rode into the sunset and Colorado for a few weeks then to the land of Enchantment, New Mexico. At this point I was really feeling good about my playing and mixed with the spirituality of the landscape I was hypnotized, in a total cowboy trance when we rolled up into Taos. And it all came together that first time I stepped to the mic at The Historic Taos Inn. It was the perfect setting for the acoustic western rock style I'd been playing. The night was alive, the crowd was perfect and it definitely felt like the best show of my life when I crawled into my room at the Inn that night for my first good sleep in a while.

What's your prediction for the next big advancement in how we find/listen to/share music?

This is the hardest question for me to answer. What else can we do? It's tremendously easy to listen to any artist or song you can think of in a few clicks. On the TV, the computer, your phone…from anywhere. I'm sure we could figure out a way to stream music from any household appliance or embed it into your bed sheets to discover new artists in your dreams. I do hope this 'digital only' album thing is a fad. Even if they were just collecting dust somewhere I'd hate it if my albums weren't out there in a tangible form. To answer your question I think the next big advancement is already here, in abundance, and it's going to take a while to get everything dialed in.

What's your favorite way/tool/site for you to interact with your fans in the digital age? Do you recommend anything to other artists?

Everyone is on Facebook so it's kind of hard to compete with the numbers. There are a whole lot of potential fans there. I just recently made a FolknRolln Derek Astles page but honestly I probably won't be asking for too many 'likes'. Pandora is great. There are a million outlets to get the music through and it all works. The business side of things is a lot easier in the Digital Age, especially booking. But is anything ever going to be more effective than interacting with your fans live and in person? I don't think so.

What's your next big gig coming up? When/Where?

I'm playing at All Asia in Cambridge on Dec. 14th. I live in Boston now so I'm hoping to really get into the mix here in the coming months. I'm looking to start a band too if anyone's out there (bass, drums).

Check out more on Derek Astles here.