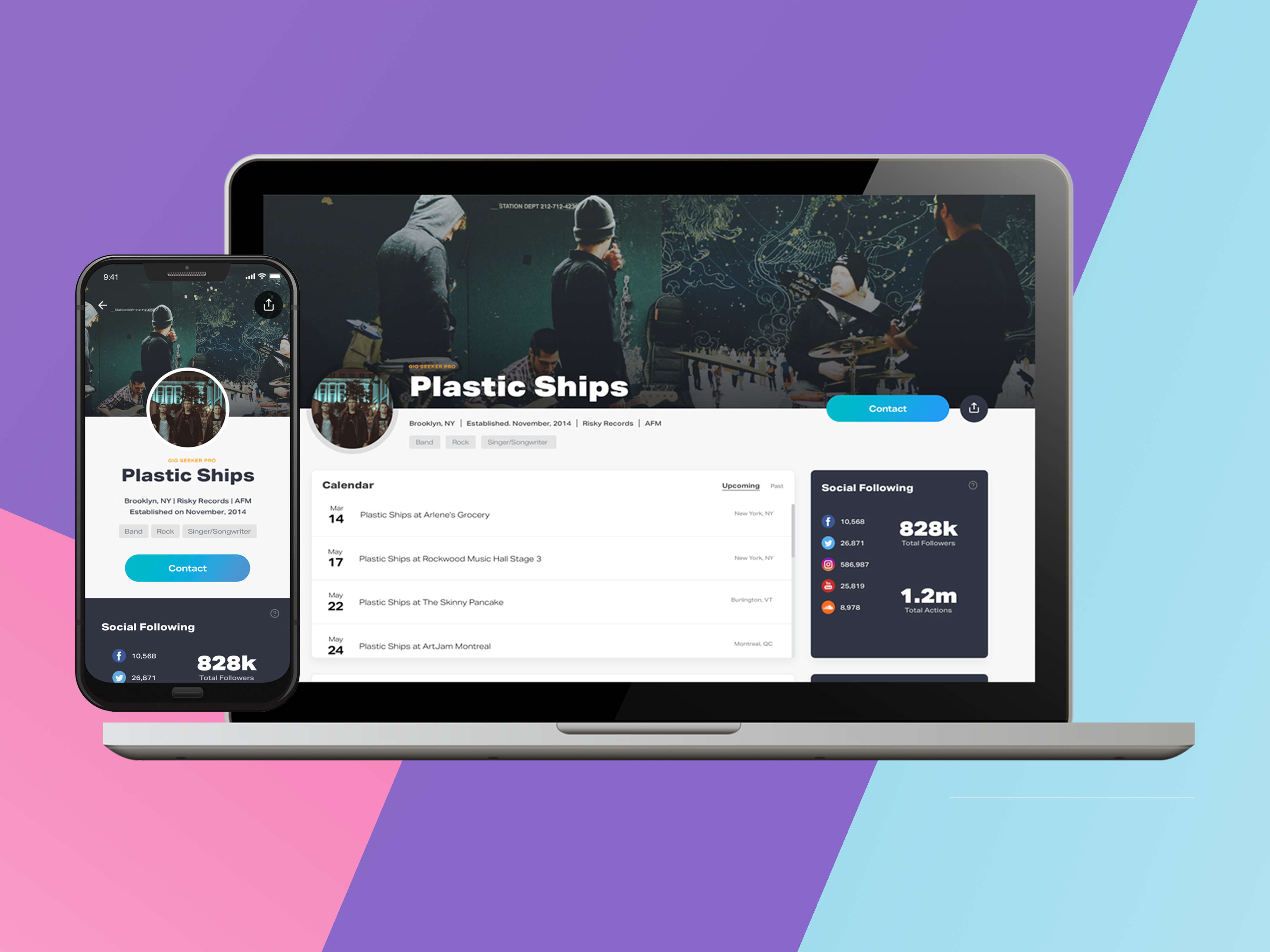 We're insanely proud that Sonicbids has long been an industry leader in bridging the gap between promoters and bands with our professional EPKs. We have connected thousands of artists with opportunities across the globe – from premier local clubs, to major festivals, to career-making contests.
Not content to rest on our laurels, we're always looking for new ways to help our Sonicbids artists succeed, so we upped the ante and revamped everything about our EPK – making it cleaner, more efficient, and better than ever! Let us give you the rundown of its highlights.
Rebuilt from the ground up
We've sat down with decision-makers to find out exactly what they wanted to see in an EPK – and we gave it to them. Completely redesigned with a cleaner, more beautiful layout, all the information is easily readable and right at bookers' and promoters' fingertips. Music, discography, press blurbs, bio, and more are instantly available at a glance.
There's even a place to upload your rider – no more having to send it off in an e-mail. This translates into time saved for bookers and promoters, and more information about you available instantly!
Mobile friendly
When EPKs first came on the scene, the desktop and laptop reigned supreme. Now, more and more people are relying on their phones and other smart devices – few decision-makers take the time to sit at desktops and scour listings anymore.
Accordingly, we revamped our EPK to be mobile friendly as well – it works just as perfectly on your iPhone or Android device as it does on a desktop! Bookers and promoters can now access your EPK with a tap of the screen.
EPK-only subscription service
You asked, we listened! While the Sonicbids EPK is and always will be free to use, you can now get a turbo-charged EPK with unlimited media and sends for only $5 a month.
This plan is great for bands looking for a fully loaded EPK who aren't yet ready to use the full feature set of a Sonicbids Gig Seeker Pro membership.
Instant social media info
Every band knows how important social media statistics are to their success. We've enabled linking to the sites promoters care about most and aggregate not only how many followers you have but also how active they are. This gives promoters the opportunity to see how rabid your fanbase is, even if they won't fill a stadium... (yet!).
Combined with our status as a top source for opportunities, our new EPK could be just the edge you need to take your career to the next level. With a new layout that's designed to get you booked, we are putting that power in your hands. The rest is up to you – make sure your EPK is as complete as possible with pics, tour dates, reviews and music.