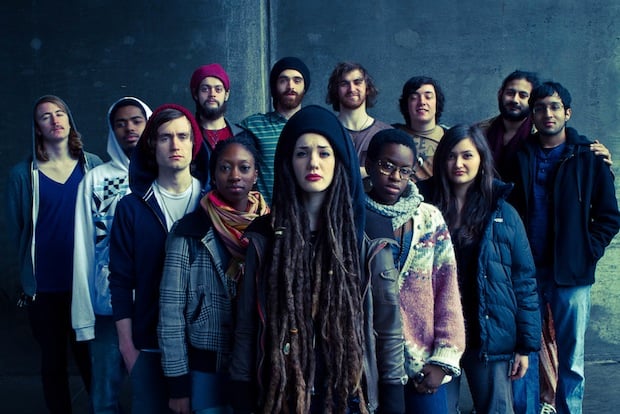 Sonicbids band Endangered Speeches played Boston GreenFest 2011. (image source)
Sonicbids has created an opportunity for 10 artists to perform on the GreenSoule Stage at this year's Boston GreenFest, an environmentally conscious, musically eclectic and decidedly multicultural event taking place in the heart of the city. Past performers on the GreenSoule Stage have included Endangered Speeches (pictured above), Mark Merren, Jazmin Yvonne and Black Alley, so hip-hop, funk, R&B and jazz artists should get on this and apply by July 1. The three-day festival takes place August 15-17, and in addition to giving acts great exposure, GreenFest also supports their endeavors by not taking a cut out of merch like many festivals do –artists keep 100% of sales. Win-win!
We spoke with Olawumi Akinwumi of AfroDesiaCity, the event marketing and consulting company programming the stage, about GreenFest's mission and why artists should get involved.
How did you decide to start working with GreenFest? Did its message and mission resonate with you?
Back in August 2011, I applied for an event at City Hall Plaza to organize the first Neo Soul Fest in the heart of Boston… [but] I received a letter from City Hall that the date I wanted was already reserved by Boston GreenFest. I was introduced to the founder, Karen Weber, and asked her about collaborating together to add a more diverse collection of music to the festival. After I got to know the mission of Boston GreenFest, I knew this would be a great opportunity to advocate about how the environment can be saved through music.
What do you think an opportunity like this provides an artist? What kind of potential new fans will they be in front of?
Boston GreenFest provides artists with the opportunity to tap into many markets in the heart of Boston. We attract a wide variety of tourists from all over around the world who stay in the Financial District area, as well as voyagers who are seeking a musically inclined adventure.
How would you describe the personality or vibe of the GreenSouleStage?
The Boston GreenSouleStage is a mixture of organic and home-bred musicians and artists who provide vibes of R&B, soul, funk, afrobeat, jazz, hip-hop and even spoken word.
When you're considering artists for the stage, what would make one stand out to you?
For the past couple of years, Sonicbids has been our call-artist hub for serious submissions. We were provided access to an amazing network of artists interested in sharing their craft with the world. Most artists we look for are a great package, which includes an EPK with a biography, music, videos and history. [We're also looking for someone who's] social media savvy and has an attractive fanbase.