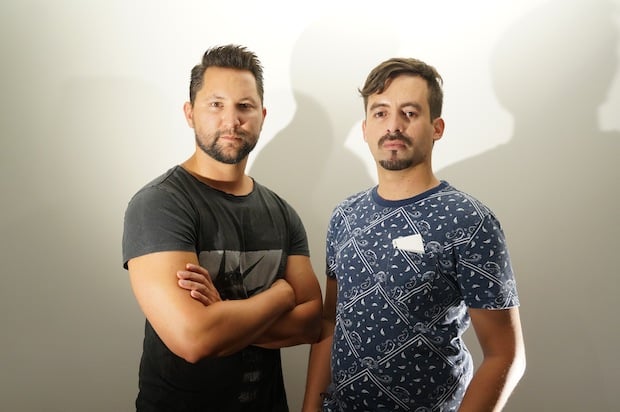 After living in separate countries for 16 years, cousins David M and Daniel Acero have reunited to form electronic/hip-hop duo Lost in Fabric in Miami, Florida. Having both had a passion for music from a young age, they wanted to collaborate together on a style of music that neither of them had attempted before. And it seems like their strong bass lines and catchy synths are starting to pay off – their song "South Florida" was recently chosen to appear on the Tony Hawk RIDE Channel through an opportunity posted by Pulse Records on Sonicbids.
We recently spoke to Daniel about the duo's music, why they use Sonicbids, and what it feels like to be selected for such a huge licensing opportunity.
You two are cousins and spent 16 years without seeing one another. What prompted the decision to get together?
Everything just happened without planning. David was in Miami on vacation, so it was good to see him after so long. It felt like when we were kids – it was nice to see the friendship was still there. As we caught up on life, we kept talking about each other's projects and so on. He showed me a project that he started in Uruguay, and it was mindblowing because I was thinking of something very similar. I always wanted to combine that sentimental feeling you get from electronic music with the stories from classic hip-hop. As we kept talking, we realized we had the same vision, so we decided to work on a track together. The process felt right. We knew that we had a great opportunity to start the project that we now call Lost in Fabric.
How long has it been since you two have reunited and started working together on music?
It has been about nine months since we produced our first track. Since then, we have produced more than 36 tracks and are now working on two albums with some independent artists.
What is the usual process for creating a song together?
Well, we both work on our own time on different tracks. Then we get together and share our ideas, and we incorporate those ideas into the tracks. There have been times when we end up with a completely different track than what we started with. It has been an easy process because we are very open to what the other has to say, so unless we're both 100 percent satisfied with the final product, the track is never released.
What made you decide to sign up for Sonicbids?
Once we started to get great feedback from fans, we decided it was time to get more involved in the music industry. As we did research, we came across Sonicbids on a forum. So we started to look more into Sonicbids and what they actually did for musicians. Soon we found out the amount of tools they give you. They definitely help artists take that leap that will bring the material to the next level.
What's your favorite feature of Sonicbids?
The feature we love the most is the "find gigs" page. There are hundreds of different gigs for all types of musicians. This is an amazing tool because artists can choose from a variety of gigs, from live concerts to companies that need music for TV, movies, or shows. There's something for everyone – definitely a tool every artist needs.
When you heard you'd been selected for the Tony Hawk RIDE Channel, what was that like?
It was an amazing feeling – it helps you to keep believing in yourself. We were very happy to know that what we're doing, we're doing right. It's great to know that your music is appreciated and that it has potential. We are so glad to be part of Tony Hawk RIDE Channel. We both believe our music is a perfect match for it. We want to thank Sonicbids for giving us the pathway for that gig, and to the Tony Hawk production team for the opportunity to be part of the channel.