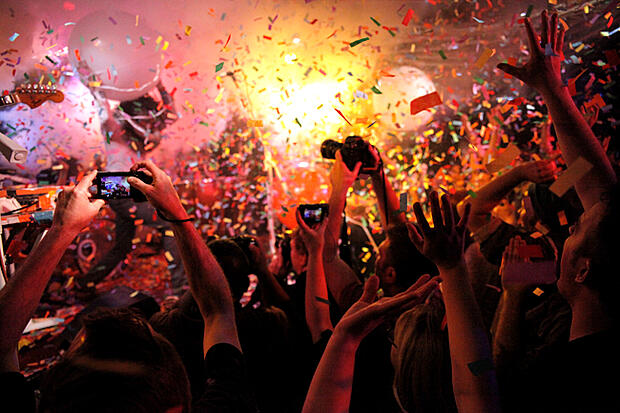 The Flaming Lips at Noise Pop Festival 2012 (via blog.thrillcall.com)
Now in its 23rd year, San Francisco's Noise Pop Festival has been a great launching point for underground bands and established artists alike. Noise Pop also encompasses film and art that embrace the same values as the independent music that they are featuring.
Noise Pop has hosted the most influential artists of our time, including The White Stripes, Death Cab For Cutie, Modest Mouse and so many more. This year, five Sonicbids artists will be chosen to perform at Noise Pop alongside over 150 other musical acts. To learn more about the festival and what it has to offer performers, we talked to Talent & Brand Manager Chad Heimann.
How did you get involved with the festival?
I started off as an intern during the summer of 2011. I worked really hard and because of it was brought on the team as an assistant in December 2011. I'm now the talent buyer and handle brand partnerships for Noise Pop Industries.
How has the festival grown and evolved over the years? Did it always have the film and art aspects?
Since joining Noise Pop, it's been great to see new life brought into the festival each and every year. Noise Pop has now started dabbling in independent electronic bookings over the past few years. This past year was the introduction of Noise Pop HQ, which we hope to see become a cornerstone to the festival for years to come as a central place for artists and fans to gather.
What sort of experience does the festival provide for the artists? What is the experience like for the independent acts versus the more established artists?
Noise Pop gives artists the opportunity to play at a festival while still providing an intimate club setting. For headliners, it offers them the chance to play in front of fans along with strong up-and-coming local talent. For the smaller acts, it gives them an opportunity to share the stage with an act they may look up to. We really pride ourselves on offering opening slots to local bands we want to champion for!
I've noticed a number of music festivals have, over the years, expanded to offer film, art and all sorts of other outlets. What sets Noise Pop apart?
In regards to the film and arts components of our festival, I think our curation is really top-notch! We really try to focus on showcasing the best up-and-coming as well as underserved films that have a big indie rock component. We also try and get to them early and be the first to premier these films in the bay. As for art, we really try and find well-known musical artists who also have a very creative art side that some people may not know about. Some artists' work we've showcased have been Grimes, Nick Zinner of The Yeah Yeah Yeahs and my personal favorite, Teebs.
What is the market for the festival? What sort of audience comes out?
Noise Pop's attendees are the festival itself. While the majority of attendees are from the Bay Area, we get a lot of folks from all over the West Coast and the world who come out to check out our festival's lineup and soak up the vibes of San Francisco.
How has your experience been working with Sonicbids?
Sonicbids is a great way for our team to organize talent submissions for artists who don't have a booking agent and are looking for an opening slot during the festival.
What are you looking for when evaluating a Sonicbids artist that has applied to play?
The three things I immediately look for are:
1. Does their sound fit in well with the festival?
2. Are they local?
3. What is their show history like, and have they opened a show at a venue that we use for Noise Pop?
Think your band is ready for Noise Pop? Apply for your chance to snag one of five performance slots!