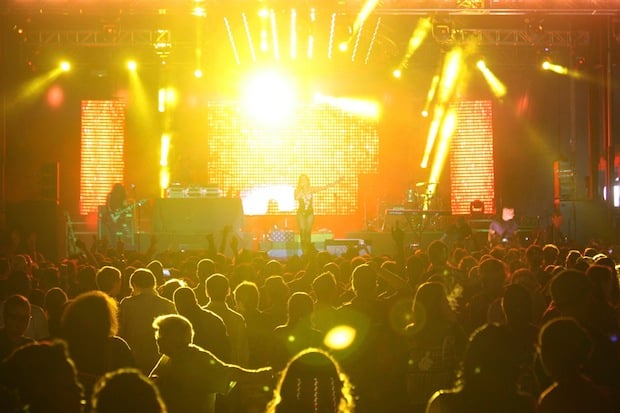 With over 300,000 annual attendees, Atlanta Pride is one of the largest LGBTQ festivals in the country. They strive to promote unity, awareness and self-confidence among members of the LGBTQ community. At least six Sonicbids artists who apply by August 1, 2014 will be selected to showcase their talent in front of a lively, broad-ranging audience in beautiful Piedmont Park. We recently spoke with Atlanta Pride Committee Executive Director Buck Cooke about why the festival was created and what they're looking for in performers.
Why was the Atlanta Pride Festival created?
This is our 44th annual Atlanta Pride Festival. While the format has changed greatly over the years, Atlanta was one of a small number of cities who commemorated the anniversary of the Stonewall uprising that occurred in New York in late June 1969. From those origins grew the large festival we know today.
How did you get involved with Atlanta Pride?
I started off as a general volunteer for the Logistics Committee. I did that for a few years and then joined the Festival Committee as one of the Entertainment Chairs in 2009. I joined the staff in 2012.
How have you seen the festival grow over the years? Has the mission of unity and awareness stayed the same?
While our mission has stayed largely the same, the way we advocate for LGBTQ visibility and equality has changed and grown over the years to meet the needs of our community. Our festival and parade have grown, and we have added new elements like the kids' event, yoga and a college fair featuring LGBTQ welcoming colleges and universities.
What kind of musical acts are you generally looking for?
We like all different types of artists for the festival, but we are always looking for acts that have great energy and talent. We love receiving submissions from LGBTQ artists, but we also enjoy showcasing allied artists who want to mirror our quest for equality.
Why should bands apply to play at Atlanta Pride?
In addition to the great exposure, bands should apply because it is an excellent way to show their support for LGBTQ equality.
When you're evaluating artists for the festival, what makes someone stand out?
Talent, style, innovation and a personal connection to our mission as an organization. Again, an act doesn't have to be LGBTQ for us to like them, but we do look for a sincere commitment to LGBTQ equality.
Describe one of your favorite moments from the festival.
I have many favorite memories from the festival, but one of the most vivid is when we bring our committee and board onstage to thank them in front of our huge crowd of attendees. These people give their time and talent and receive very little thanks, so it is very important to me as executive director that we thank them in front of our community.

Apply to play the 2014 Atlanta Pride Festival by August 1st. For more info on Atlanta Pride, check out their website.