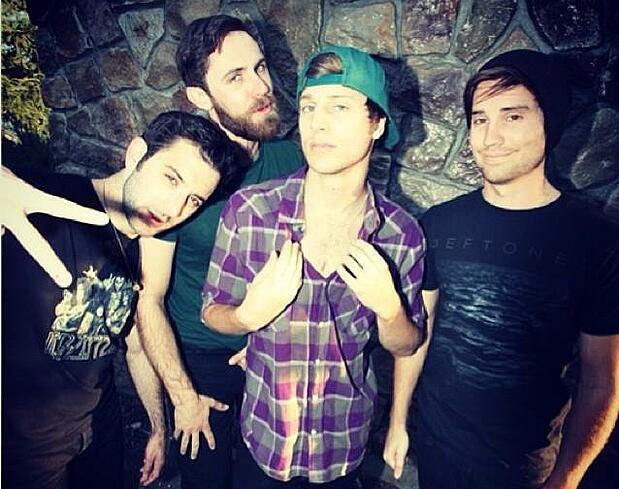 Los Angeles-based quartet and Sonicbids act Green Light Theory just released its debut EP in February. Packed with crunchy guitars and earnest enthusiasm, the six songs on A Gift From Your Ex-Boyfriend veer through lovestruck, tuneful songs reminiscent of Cali pop-punk and Midwestern emo. We recently caught up with Corey Rutchland (guitars, lead vocals), Scott Waldman (guitars, vocals) Drew Holliday (drums) and Kyle Rutchland (vocals, bass) to chat about the band's brief but brisk existence.
Tell us something we won't find on your Sonicbids EPK.
We're a mix of trained and self-taught musicians. We all come from different musical backgrounds, and have all been shaped by different influences, like '90s alternative, 2000's pop-punk, and metal. We bring these things together to create our own music. We once all sat down together, and each person played a song for the others that inspired their style or sound. We try to understand each other, so we can see and understand where our ideas are coming from. Plus, we actually get along really well! The four of us hang out all the time outside of rehearsals.
What has been the most helpful lesson, experience or piece of advice you've had about working in the music industry?
Drew: For me, it was something my old drum instructor said. When people asked me what I "did," I'd tell them whatever my current job was, be it barista, EMT, whatever. My instructor told me, everyone has to know me as Drew the drummer, first and foremost. It's really blown up my networking. Random people know someone else who can help you.
Corey: The most helpful lesson or realization is that just like any career, even music isn't all just fun and games – there's a lot of work that goes into building the foundation to making music a career. You have to take it seriously, and still have fun with it, to make it worthwhile.
Scott: No one, no one, is going to do the work for you. You need to build a successful foundation yourself and work at it daily.
Kyle: I've learned that if you want to make it in this industry, there are two major keys: it takes time, and you have to be consistent. Some people try to be an actor, musician or dancer and they give up after their first year. If you want to make it, you have to give yourself time.
How has Sonicbids played a role in your band's career? And how do you typically use the platform?
We love the blog Sonicbids sends out! We were just reading an article you guys put up about traveling cheap while playing gigs. There's a ton of good reading material in your blog. We've also submitted to a handful of events and gigs using our EPK. Having access to gigs without having to go out and look for them makes it easy for those lazy days!
What would you tell artists new to the platform about how to get the most out of it?
Make sure you are on every pertinent site you can possibly be on first – Facebook, Twitter, Spotify, Instagram – everything you can, then link them all to Sonicbids. It make your profile a one-stop place for people to see everything you've got going on… and try to make it as unique as possible. Check out the blog, we love to read the articles. There's a lot of cool and informative stuff to be found.
On that same tip, you guys are relatively young but have had some success. Any other advice you'd give bands just starting out?
Get a plan going. What do you want to achieve collectively? How are you going to do it as a team? For us, the traction we've gained this last year has been awesome, and we're all super grateful for the help we've had, but what it comes down to is hard work. If you're just starting out, find a fun way to promote, and bring CDs and business cards with you everywhere. Meet as many people and make as many connections as you can. Be friendly to everyone (especially the sound guy!), and humble. Rehearse, rehearse, rehearse!
Can you tell us a little about how the band came together?
Pretty organically. Our bassist, Kyle, and lead vocalist, Corey, are brothers, and both have been writing music together for a while. They had a loose idea for a band. Kyle met our drummer, Drew, when they both worked at Starbucks together. Scott, the lead guitar player, was a regular customer at Starbucks. We all knew we were musicians, but it wasn't until maybe two years down the road from us all meeting that Corey and Kyle moved on it. They showed Scott some music, he liked it. Kyle asked Drew to come by and jam on a couple songs. We met in a practice room January 2013, and it came together like magic. Green Light Theory was born. Our first show was May of that year.
You guys say you've got a unique way of promoting yourselves.
We certainly aren't the first to do what we do, but we don't see any other bands taking the same approach when we're out promoting. It's nothing crazy. We just show up to big venues on nights an act is playing, and play a show outside with our acoustic gear. We hang there for a few hours, passing out flyers, selling CDs and merch and tickets to upcoming shows. People want to take pictures with us, have us sign their CDs they bought – they cheer after every song.
The face-to-face guerrilla marketing really works, and it's very rewarding! Everyone's been passed a flyer for a band as they're leaving a show. It's usually all you get, and it's thrust at you with no enthusiasm. How are you supposed to get excited about that? We want to connect with people, let them see who we all are, what our music is, and have fun with them!