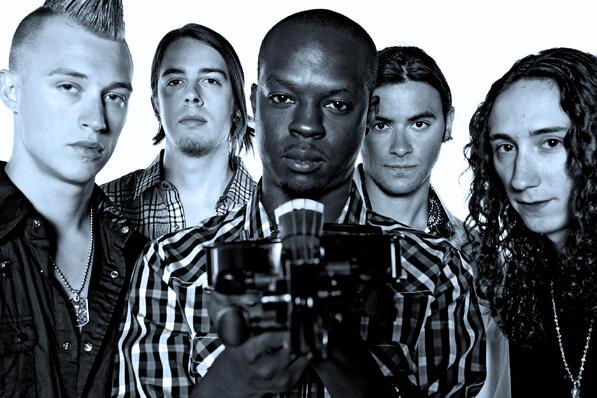 Ashanti Floyd calls himself "The Mad Violinist," and you need only to look at a photo of his frayed, frizzy bowstrings onstage with his band to know why. Floyd's band, Symphony Crack Orchestra, is a genre-defying group that includes members of a Rage Against the Machine cover band or, in Ashanti's case, serve as part of the five-time Grammy nominated production team, Kane Beatz, who've worked with the likes of Lupe Fiasco and Rick Ross. Last year, Symphony Crack Orchestra took their unique sound to Indie Week in Ireland, where they won its competition and followed it up with an appearance at Indie Week Toronto. SonicBids caught up with The Mad Violinist himself as he prepared for a much-anticipated show in his hometown of Atlanta, Georgia.
You're a Grammy-nominated producer, but your bio on Facebook only goes up through 2011. What have you been doing over the last few years?
Symphony Crack is my life! In 2011 is when things really evolved. Right before that, Symphony Crack was really partially the Yelawolf band. We were full-time in a group with Yelawolf, and after a couple of years, we departed. We bounced off of that success and put out our first album in 2010. 2011 is when we really started performing consistently and getting our name out there. We're also a production team. Half of us are in Kane Beatz. A lot of our success with Symphony Crack has come from co-producing records with artists as Kane Beatz. We were nominated for five Grammies for The Show Goes On with Lupe Fiasco. Since then, everything has been building fast. We've been performing the songs that we produced on the radio, and that has really helped. "The Show Goes On," Lupe Fiasco's song, went 2x platinum. Since then, they sky has been the limit. We sell out shows in Atlanta, Florida and even Canada.
You're blending these two styles of music – one that's really modern and used for hip-hop and pop production, the other is something that's thought of as old-school and classical. One style is so fluid and the other one is often glitchy and staccato. What made you think they'd sound good together?
I always tell people, I could explain to them how we try to combine sounds, how I pick up my violin and try to be innovative. It's simple. It's my lifestyle. If you know my story, it's my influences all in one genre. That music is the lifestyle we live, as musicians and producers. A lot of people hear it and say, 'Man, this is so different.' This is us just letting go and being ourselves. I don't think anyone in the group knew what we were creating. I think we were all open to what we had on the song. Everyone is so creative, it's easy to make it make sense. We stress music that feels good. We don't give a damn what genre it sounds like when it's done.
I grew up in Tallahassee, Florida, in a mixed community. It's one of the most segregated cities in the country. I grew up in a very urban neighborhood, and at the same time it was either urban or very country. Urban on one side and Confederate flags on the other. I had friends on both sides. I grew up on a lot of rap music, with T. Pain. We grew up doing music together. I produced on his first album. The root of that is part of my culture. I also strongly grew up on classical music. My mom is a professional violinist. She's been playing for 47 years as a classical and gospel violinist. She can make a violin talk like no other, better than anybody I know. I'm still trying to make a violin talk like my mom. You hear gospel, you hear hip-hop, you hear country, you hear bluegrass. You hear the whole band's influence. You hear Tool. You head Rage Against the Machine. We try to embrace all those influences. You hear Jimmy Hendrix, who's my number one influence.
I've noticed in photos from your performances that you more or less destroy your bowstrings while playing. What's different about your style that causes that to happen?
My number one influence is Jimmy Hendrix! I've always wanted to really emulate and be like Jimmy. I was like, 'How do you do that with a violin?' I spent many years in my room listening to his music and trying to get a sound that he gets out of his guitar into my violin. Erykah Badu is a big influence of mine. I love the vibrato of her voice. I spent a lot of time trying to emulate her voice with my violin. I also played a lot of sports, so I was crunk all the time. I was in the marching band, I was always dancing. I was always an entertainer. I believe there's no limits onstage with the violin. I can fluently improv to where I can just let go. I don't know what I'm doing onstage! I have a great group of musicians who have been playing for so long now that our chemistry is just crazy. They know where I'm going to go before I go.
You played Indie Week last year. Can you talk about that experience?
That was a great experience. When Symphony Crack first heard that we were going to Ireland, I don't think some of [the band] knew it was a competition! I was just like, 'Yay! We're going out of the country!' But when we found out it was a competition, I was like, 'Yeah, let's get this.' It was our first time out of the country as a band. It was like a 30-minute show, the first one. We ended up winning it! It was a great feeling. Then we wound up going to Toronto and building a big fan base there. We started fan bases in the places that Indie Week was held. It was a great feeling to go out overseas and test all the hard work we'd been doing over here. I think it proved that no matter where we are, staying true to ourselves works. And no matter what race, what country, what background, people like our music.