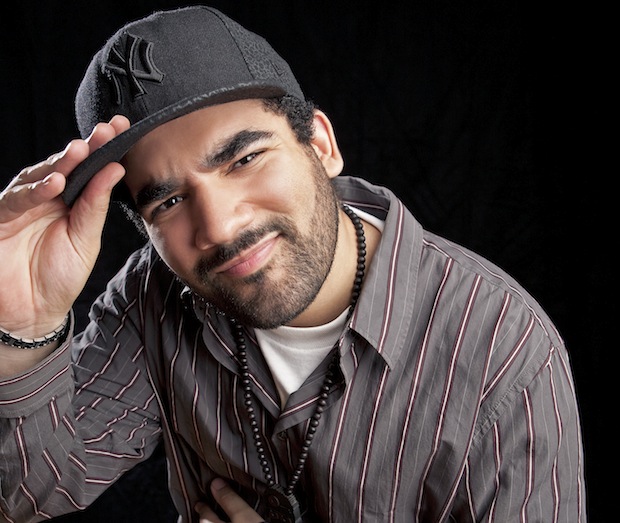 The Audible Doctor (via allhiphop.com)
Brooklyn-based rapper and producer The Audible Doctor was selected through Sonicbids to perform at the 10th Brooklyn Hip-Hop Festival on July 12, 2014 alongside headliners Raekwon and Jay Electronica. The festival is New York's largest hip-hop festival, showcasing the genre's most innovative artists while promoting social change and building community.
Originally from Madison, WI, The Audible Doctor started out playing keyboards at a young age. He quickly developed talent and passion that his parents helped to nourish by encouraging him to join a choir and study guitar. He was later introduced to hip-hop by his older brother and soon found his niche. He became a DJ in high school and started making beats, writing rhymes and recording. He eventually moved to NYC to study audio engineering and recording, which lead him to an internship at the world-renowned Fat Beats Records in Manhattan.
After meeting people in the New York hip-hop community, he formed a group called The Brown Bag AllStars and became more serious about recording and performing original music. The Audible Doctor later ended up becoming the manager and buyer for the Fat Beats Record Store, finding himself at the center of a thriving music scene. This enabled him to meet and collaborate with countless musicians. In 2010, he left Fat Beats to pursue his own music full-time. He now continues to release music solo and collaborates with others.
How did you get into the hip-hop scene?
I have to thank Fat Beats for that. I moved to New York in 2003 (on the day of the blackout), but it wasn't until I started working at the Fat Beats Record Store that I truly got a feel for what the local scene was about and how to get involved.
What has been the most exciting moment in your career so far?
A few things that come to mind are: DJing for Large Professor and having him freestyle over one of my beats, getting to drop the "Ante Up" instrumental for Lil' Fame, getting to do a full length album with Fredro Starr (of Onyx), doing a collab album with Bumpy Knuckles and producing a track for 50 Cent.... My 15-year-old self would literally shit himself if I told him he would get to do all that in the future.
What are the top things that you'd say have brought you this far?
I have to shout out a lot of people who have supported and mentored me over the years like DJ Eclipse, Large Professor, DJ Premier, Consequence, Fredro Starr and many others. [Working at] Fat Beats Record Store played a huge role in developing my sound and style, as well as teaching me about hip-hop culture and the history. But honestly, no cosign or helping hand will do anything if you don't put in the work yourself.
How did you react when you found out you were selected to perform at this year's Brooklyn Hip-Hop Festival?
I was mad excited! I rocked the BHF in 2009 with my group The Brown Bag AllStars and I've been wanting to come rock again ever since then, so I'm really looking forward to having the opportunity this year.
What are you looking forward to the most about playing the festival?
The energy. I try to go every year regardless because they always have a phenomenal lineup, but the best part is the crowd. They're actually genuine hip-hop-loving fans, which is surprisingly rare to see nowadays.
How has Sonicbids benefited your career?
Sonicbids is a great tool. It's a great way to get yourself on a lot of people's radars. It makes it a lot easier to have a direct line to submit to people who you'd otherwise have no way to contact.
How have you built your fanbase?
I've been building my fanbase slowly for years through a lot of different ways. An online presence is important, but definitely not everything. Consistently releasing quality music, as well as getting up to perform as often as possible, are big parts of building my fanbase.
What's coming up next for The Audible Doctor?
I have a few show dates coming up and a brand new EP on the way called Can't Keep The People Waiting, which will be out in a couple weeks. Then my group The Brown Bag AllStars has a collaborative album with Bumpy Knuckles coming – we're just putting the finishing touches on that. I have a lot more that I'm working on, but those are the next to drop.
What are the main pieces of advice you can offer to aspiring hip-hop artists?
1. Always try to make yourself available to your fans. Fans fuel your success, so listen and communicate with them.
2. The industry is a disgusting backwards-ass system, but the important thing is to just stay positive and not become bitter. Don't let others' successes or your lack of success mess with your confidence or change your path. Ignore everyone – just do you.
3. Keep your head down and work! Have no expectations that all your work will be recognized for the value you place on it. Just be grateful for any recognition and keep it moving.