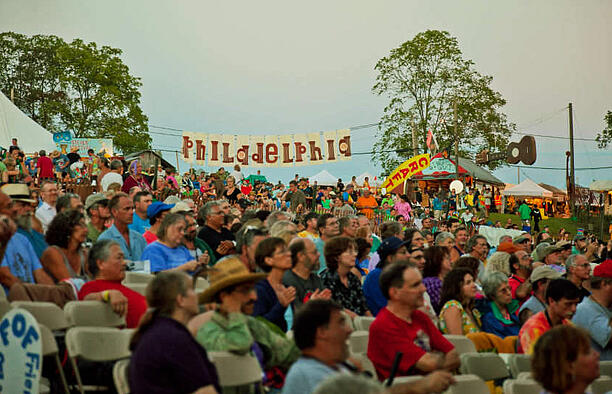 The Philadelphia Folk Festival, presented by the Philadelphia Folksong Society, is the longest continuously running festival of its size and scope in the United States. It's one of the only festivals that is run completely by volunteers and offers unique opportunities beyond simple concert showcases, such as workshops, master classes, collaborations, lectures and films. The festival caters to emerging and established artists alike, totaling over 150 hours of music on eight stages.
Jackson Browne, Joan Baez, Joni Mitchell, Pete Seeger, The Decemberists, Alison Krauss and hundreds more have graced the festival's stages over the years, and a minimum of two Sonicbids acts will be lucky enough to perform at its 53rd anniversary this August. Compensation for Sonicbids artists will be between $100 and $5,000 – not to mention the bragging rights of being on the same bill as folk and roots heavy hitters like Old Crow Medicine Show, The Lone Bellow, Sarah Jarosz and Janis Ian.
Levi Landis, executive director of the Philadelphia Folksong Society, tells us more about the festival and what makes a Sonicbids artist stand out to the programming staff.
Why was the Philadelphia Folk Festival created?
The festival was created to support the nonprofit Philadelphia Folksong Society. PFS was started a few years before the festival and continues to present programs to the public and its 3,000 members, and also supports music education to Philadelphia area schools where programs are in danger.
What kinds of people attend the festival?
Some of our guests have been coming to every Philadelphia Folk Festival since its inception, while many younger audiences have begun discovering the event thanks to our new programming staff, Point Entertainment. There's a kids' area adorned with hammocks, umbrellas, puppets and more, where kids can participate in juggling, crafts and music programs. Day attendees witness music on eight stages, participate in workshop and cultural programs, and can enjoy a wide variety of local food vendors. Nearly 10,000 people camp, with sings and jams occurring all weekend at renowned campsites that return year after year, implementing their own programs, games and traditions.
What's the overall vibe of the festival?
The PFF is a widely renowned festival, presenting some of the largest national and international musicians. Yet, it creates an organic and authentic setting for the presentation of these artists, with hand-painted signs, green programs, local food, and the camaraderie of our enormous volunteer base. Some have called the PFF campground a "time warp" back to the more earnest years of early festivals in the '60s and '70s, with a democratic network of campsites who lead jams and maintain traditions.
What do you look for in bands that apply to play Philly Folk?
PFF presents a wide variety of artists from many of the styles housed under the folk genre. While we have introduced many acts that present a contemporary style, the programming staff is still very interested in acts that preserve the folk traditions and those that are willing to participate in more substantial ways (workshops, classes, campground programs, etc.).
Why should bands apply to play the festival?
The PFF is a portfolio builder for emerging artists and is a national institution for even seasoned veterans. Artists are challenged to try new programs and collaborate with other artists to build community as well as new, high quality works. Our amenities are extensive – we have a backstage green room with catered food, a VIP/press area with hospitality, and camping opportunities with an overnight instrument check.
What's the number one perk of playing Philly Folk?
The campground experience. You can grow your audience in authentic, unique ways.
What's the key to getting the most out of the experience?
The key is being open to festival experience and connecting with other artists, whether it's during jams at the cultural tent, campground or backstage. Many artists join our Philadelphia Music Co-Op to connect with other artists, maximize on opportunities to play the fest, and build PR in the area.
Describe one of your favorite moments from the festival.
Levon Helm played the 50th Annual Philadelphia Folk Festival, which became his last performance in the area before his death. He performed the legendary song "The Weight" with David Amram, The Angel Band and David Bromberg.
Want to play the 53rd Philadelphia Folk Festival? Apply by May 22, 2014! More information on the festival can be found at folkfest.org.