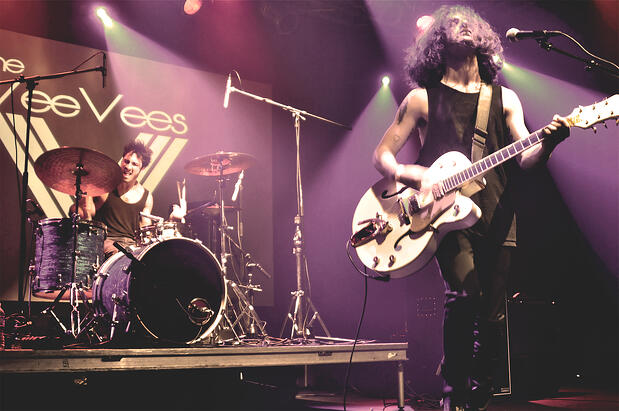 There are lots of benefits to being a Sonicbids artist, from the convenience of EPK management to the opportunities to book gigs you wouldn't normally find yourself on the bill for. That's what happened to New York rock 'n' roll duo The VeeVees last year, when they were one of two bands selected through Sonicbids to play Arezzo Wave, Italy's largest rock festival. While they were there, singer/guitarist Garrett Cillo and drummer Andrea Belfiore discovered another, unforeseen benefit: instant star power.
"We're based in New York City, and we play dive bars and venues, but we don't have sound guys and lighting guys and all that. When I walked onstage at Arezzo Wave, I had two guys waiting to put my guitar over my shoulders. I was like, are they paying both of you to be here?" Cillo says with a chuckle.
The trip also afforded an opportunity for Belfiore, who is originally from Italy, to book a hometown show in Ancona.
Arezzo Wave was a rare opportunity for The VeeVees, who typically keep a local focus when booking shows. "We've had shows in Boston, Indianapolis, New Jersey," Cillo, who also has a day job managing a branch of the New York Film Academy, says. "We're just like every other new band, in the sense that we're trying to find a nice base of people who really enjoy our stuff. I know some people like to tour and go overseas and stuff, but I kind of like the homegrown approach. We want to have a nice New York fanbase and grow out."
That effort seems to be paying off. A couple years into the homegrown approach, The VeeVees are finding a community of others who share their desire to keep the glory days of rock 'n' roll alive and share their affinity for a "grooving, infectious, and heavy" sound and engaged, exhilarated crowds.
"If you were to ask me this question three years ago, I would have said I was worried for the state of rock 'n' roll. But over the past year or two, I'm seeing more and more rock bands pop up. There's a good scene right now," Cillo says, citing compatriots like Butchers of Sky Valley and young guns The Skins as bands who give him hope for the future.
"They're really young," he says. "My friend is the oldest person in the band, and she's 21. They range from 15-21, and they're so sick!"
The VeeVees's raw, sexy swagger is pretty sick itself. At Arezzo Wave, they glimpsed the real rock star life, but they're not necessarily looking for it back in New York. For now, they're content to build a community and keep the snarling spirit of rock alive. Whether or not there's ever someone waiting at a Stateside show to hang Cillo's guitar around his neck, he and Belfiore will be there to drop the "beautiful bomb" of rock 'n' roll all over the city they love.
Sonicbids is paying one artist $2,500 to travel to Italy for this year's Arezzo Wave Love Festival. Apply by May 30, 2014.